VP Lai leaves on Paraguay trip, to transit U.S. cities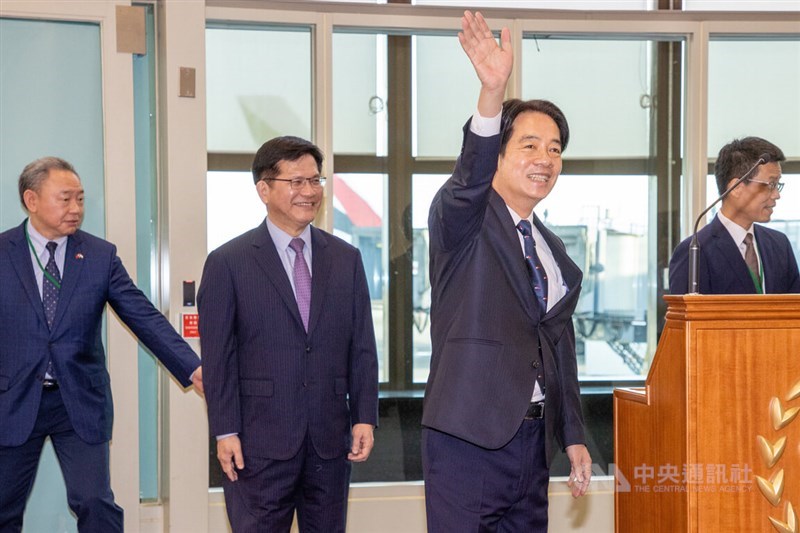 Taipei, Aug. 12 (CNA) Vice President Lai Ching-te (賴清德) said Saturday evening he looks forward to meeting with top envoys from like-minded countries while setting out on a seven-day trip that will include two days in Paraguay and stops in New York and San Francisco in the United States.
Lai, who is also the ruling Democratic Progressive Party's 2024 presidential candidate, made the comments at Taiwan Taoyuan International Airport prior to his departure.
During those encounters, Lai added, he will seek to bring attention to Taiwan's adherence to democracy, freedom and human rights and efforts to contribute to the peace and stability of the Indo-Pacific region.
At the same time, his visit to Paraguay will demonstrate the importance to the Republic of China (Taiwan's official name) of relations with the South American ally, he said.
Lai added that during his two-day stay in Paraguay, he will also seek opportunities to expand bilateral cooperation in education, public health and other areas prioritized by incoming Paraguayan President Santiago Peña, and meet with Taiwanese expatriates based in South America.
The vice president and his delegation will first arrive in New York on Saturday evening (NY time) for a stopover before they head to Paraguay on Sunday night, according to the latest itinerary provided by the Presidential Office.
Lai will touch down in San Francisco on the afternoon of Aug. 16 (SF time) on the return leg from South America and depart from the city in the early hours of Aug. 17 without staying overnight.
In addition to making stops in the U.S., Lai will land in Paraguay on the morning of Aug. 14 (Asunción time) and hold talks with outgoing President Mario Abdo Benítez and Benítez's successor, Peña, respectively, on the same day.
On Aug. 15, Lai will attend Peña's inauguration, where he is expected to encounter top government officials or envoys from other countries. He will also hold a press conference with the press corp later in the evening before departing for San Francisco in the early hours of Aug. 16.
China, which has denounced Lai's planned transit on American soil, said Friday it would hold three days of military exercises in the East China Sea starting Saturday.
In response to the announcement, Taiwan's Ministry of National Defense said later the same day it would closely monitor the situation around the Taiwan Strait and take appropriate measures.
Meanwhile, the U.S. Department of State did not respond to CNA's request for a comment on China's military drills.
Instead, a State Department spokesperson said Lai's transit on American soil is "consistent with longstanding practices, the unofficial nature of our relations with Taiwan, and our one China policy."
Similarly, U.S. Secretary of State Antony Blinken earlier said that allowing Taiwanese leaders to transit the U.S. has been a "routine" practice and there is no reason for Beijing to use the issue as "a pretext for provocative action."