Japan, U.S. must show resolve to fight to defend Taiwan: Aso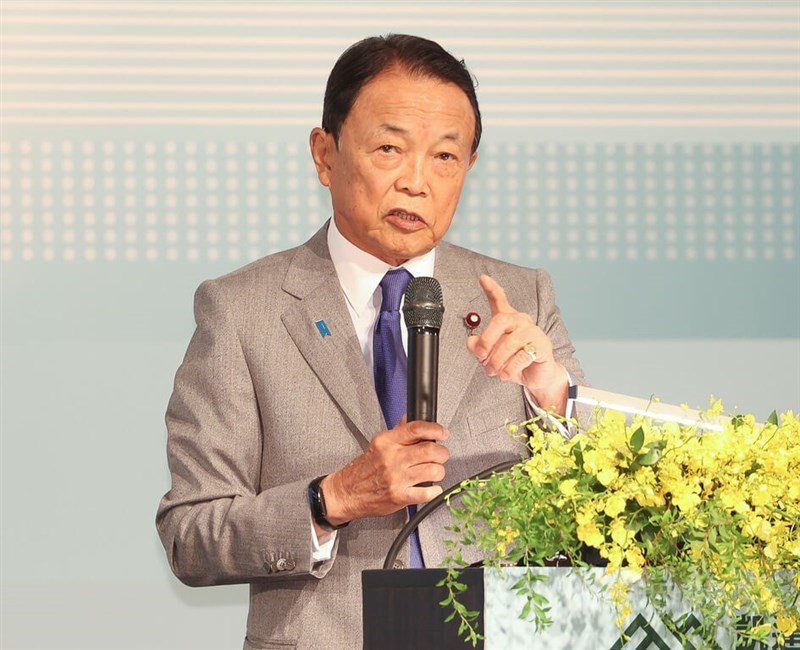 Taipei, Aug. 8 (CNA) Former Japanese Prime Minister Taro Aso on Tuesday said that Japan, the United States and other likeminded countries making it clear to Beijing that they would be prepared to go to war to defend Taiwan is the best way to deter a Chinese invasion.
Delivering an address at a Taipei security forum, Aso said that Japan considers Taiwan an "extremely important partner and friend," because both countries value democracy, and have strong economic and trade relations, as well as people-to-people ties.
"Taiwan is an indispensable friend to countries in the region and those wider afield that share the same core values," he said through an interpreter.
He reiterated that Japan and other G7 countries seek peace and stability across the Taiwan Strait, adding that China and Taiwan should resolve their differences through peaceful means.
However, the 82-year-old Japanese politician said the best way to deter an invasion is for democratic countries, including Japan and the U.S., to send a clear message to Beijing that they would be willing to defend Taiwan militarily.
Meanwhile, the vice president of Japan's longtime ruling Liberal Democratic Party (LDP) also emphasized that Japan supported Taiwan in its bid to join the Comprehensive and Progressive Agreement for Trans-Pacific Partnership (CPTPP), a trade bloc of which Tokyo is a founding member, as well as Taiwan's participation in international organizations.
"I believe Taiwan can play a very important role by sharing its experiences with the world," he added.
In concluding his half-hour address, Aso said that as Taiwan prepares to elect a new president next year, it is his hope that whoever wins will continue to share the same core values with his country and "fight alongside Japan against external pressures."
Aso made the address during the one-day annual Ketagalan Forum.
Organized by the Taiwan government and think tanks, the annual event since 2017 focuses on regional and global security issues, and features current and former officials, scholars and experts from various countries discussing traditional and non-traditional threats and challenges in the Indo-Pacific region.
The topics being discussed this year are the challenges facing the cross-strait situation and global security order; the impact of information warfare on democracy and Taiwan's role in international supply chains, according to the Ministry of Foreign Affairs.
Earlier Tuesday, President Tsai Ing-wen (蔡英文) said in her opening address at the forum that the Indo-Pacific region is at a "critical juncture," as democracies around the world and the rules-based international order both face threats from authoritarian regimes.
"There are new opportunities for Taiwan to play a constructive role. Taiwan is a crucial force in promoting the peaceful development and prosperity of our region," the president said.
Aso has been serving as deputy head of Japan's longtime ruling LDP since 2021.
The senior Diet member also served as Japan's prime minister from 2008 to 2009, and as deputy prime minister from 2012 to 2021. He has also headed the country's foreign and finance ministries.
His ongoing trip to Taiwan from Monday through Wednesday makes him the first active LDP deputy to visit Taiwan since the severing of diplomatic relations between Taipei and Tokyo in 1972.