ELECTION 2024
/
Cabinet proposes higher hoarding tax as Lai talks housing policy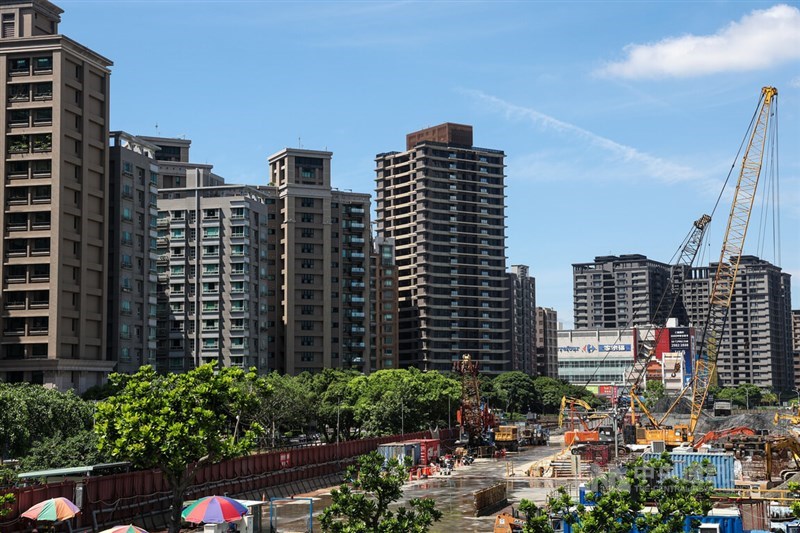 Taipei, July 7 (CNA) Vice President Lai Ching-te (賴清德) pledged Thursday to back a new house tax rate plan for owners of vacant residential properties unveiled by the Cabinet and support an increase in the benefits of a program to help first-time house buyers if elected president in 2024.
Lai, the Democratic Progressive Party's (DPP) presidential candidate, made the commitments while visiting a social housing complex that served as the Athletes Village of the 2017 Summer Universiade in Linkou in New Taipei.
The Cabinet on Thursday pushed another measure to take on property hoarding and speculation, this time proposing to increase the house tax on households owning three or more empty housing units from the existing 1.5-3.6 percent to 2-4.8 percent.
Collected once a year, the house tax is assessed on the value of the structure only and not the land (a separate land tax is also collected), and because the value is a government estimate, it is usually lower than market value, resulting in a fairly low tax amount.
Based on a Taipei tax office simulator, the house tax assessed at 3.6 percent on a 100-square-meter 10-year-old apartment on Guangfu S. Rd. in Xinyi District would be NT$28,243 (US$902), which would go up by only NT$9,400 a year under the new proposal.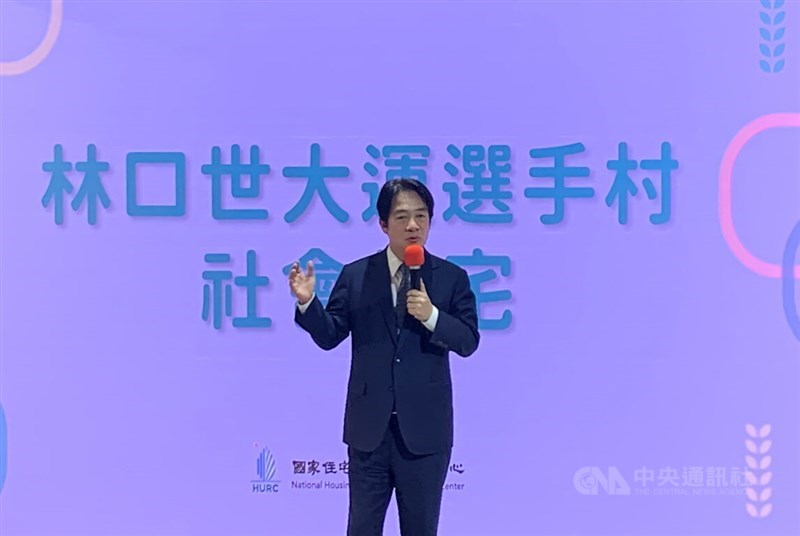 Opposition parties said the Cabinet's plan would have little effect on deterring housing speculation.
New Power Party Legislator Chen Jiau-hua (陳椒華) said raising the upper limit of the house tax rate for vacant houses to 4.8 percent would only be a marginal increase.
In order to motivate house owners to put their properties on the market, the house tax rate for unused houses should be raised to at least 10 percent of each house's value, Chen said.
Lai argued, however, that the higher house tax rates based on a progressive scheme according to the number of vacant houses owned will motivate owners to put vacant houses up for sale or rent the spaces.
The proposal would also change the method for calculating the total number of houses belonging to a household by calculating the total nationwide rather than using the current method of counting them by administrative region.
The current system has allowed speculators to hoard houses in different cities and counties without being subject to higher house taxes because the taxes are collected by local governments.
The proposal will go to the Legislative Yuan for review.
July 6: Cabinet approves initial plan to raise taxes on vacant residences
July 6: Property tax reforms get lukewarm reception from real estate sector
Meanwhile, Lai said he would back the Ministry of Finance's plan to beef up its program to reduce the financial burden of first-time house buyers.
At present they can purchase houses priced at NT$10 million or less with a mortgage of up to NT$8 million at a preferential interest rate of 2.025 percent.
But the ministry is putting together a plan that would raise the mortgage limit to NT$10 million and lower the interest rate to 1.775 percent, Lai said, though he did not say if the maximum price of a housing unit under the program would also be increased.
He also pledged to add 130,000 social housing units in eight years to the 120,000 scheduled to be either started or completed by the end of President Tsai Ing-wen's (蔡英文) current term in May 2024, Lai said.
As of May 2023, a total of 19,227 social housing units had been completed, but work on another 108,000 units had began, according to the Ministry of the Interior figures.
Tsai pledged to build 200,000 social housing units in eight years before taking office in May 2016.
According to Lai, under his plan, the central government will undertake the construction of two-thirds of the 130,000 units, while local governments will be responsible for the remaining one-third of the units.
Lai also vowed to expand other programs to rent out vacant units and provide subsidies to renters.
He said he planned to increase the number of landlords who commission the government to manage and rent out their vacant units from the current 80,000 to 250,000 in eight years and boost the number of renters getting subsidies from 280,000 at present to 500,000.
The vice president said he hoped these policies could address housing issues so that more people could afford to buy or rent a home or have greater access to social housing.
View All