ELECTION 2024
/
KMT presidential candidate could change 1-year military service policy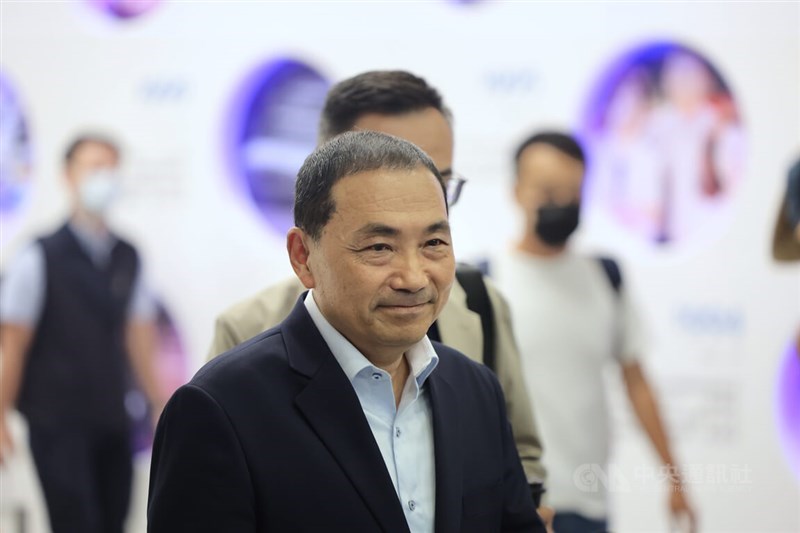 Taipei, July 4 (CNA) Kuomintang (KMT) presidential candidate Hou Yu-ih (侯友宜) said Monday that if elected he would restore the length of compulsory military service to four months as long as he was sure there was stability and peace in the Taiwan Strait.
Speaking in an interview with TVBS political talk show host Chao Shao-kang (趙少康), Hou said his basic position was that cross-Taiwan Strait relations were of the highest priority and that stability in the Taiwan Strait would determine how military service is handled.
Hou said cross-strait ties had become dangerous under the Democratic Progressive Party (DPP) government, and that it had no choice but to extend compulsory military service to one year starting in 2024.
If elected, he said, he would work toward securing stability and peace in the Taiwan Strait, and once the goal was achieved, he would shorten the one-year service period back to four months.
He did not elaborate on what specifically would be necessary for him to be convinced that "stability" and "peace" had been achieved that would allow shortening the period of compulsory military service.
President Tsai Ing-wen (蔡英文) announced on Dec. 27, 2022 that Taiwanese men born after Dec. 31, 2004 will need to serve one year of military service starting Jan. 1, 2024 as part of Taiwan's military force restructuring plan to strengthen its combat readiness in the face of China's military threat.
Two members of the government-funded Institute for National Defense and Security Research (INDSR) opposed any thought of going back to a four-month military service period.
Shen Ming-shih (沈明室), acting deputy CEO for research at the INDSR and the head of its Division of National Security Research, said a four-month military service period only provided conscripts very basic training.
A one-year service period will give them enough training to help the country form an effective reserve force and strengthen deterrence in the Taiwan Strait, Shen argued.
Su Tzu-yun (蘇紫雲), a research fellow at the INDSR, said the one-year service period was designed to maintain a balance between national security and the personal life of conscripts.
It is also closer to the compulsory service period seen in major democratic countries, Su said, citing conscription periods of nine to 12 months in Sweden, one year in Norway, two and a half years in Israel, two years in Singapore, and 18 months to two years in South Korea.
The longer period of conscription was also a response to Taiwan's declining birth rate in order to maintain a large enough force over time, Su said.
Based on forecasts of Taiwan's birth rates in the next 10 years, Taiwan will eventually have only about 70,000 male conscripts each year, which might not be able to meet the demand for Taiwan's volunteer military system.
Implementing a one-year period of compulsory military service is therefore crucial for the military, Su believed.
To make the longer service period more pallatable to younger Taiwanese, the DPP recently proposed a "3+1" plan allowing the year of military service to be considered part of a four-year college education.
Hou opposed the idea, saying it would create chaos in the education system because men could complete their college studies in three years while women would still need four years to get their degrees.
That would create an imbalance in the allocation of education resources and shorten the time students had to learn, Hou said.
The four-month compulsory military service period was instituted in 2013 (for recruits born on or after Jan. 1, 1994) after having been a full year since January 2008.
It was 22 months in January 2000 but then gradually shortened to one year over time.
View All