Government's nuclear-free policy remains unchanged: Cabinet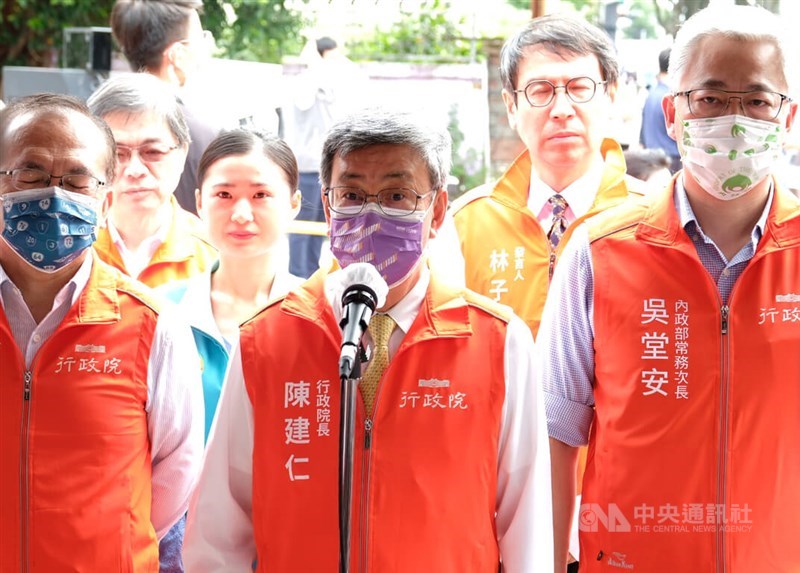 Taipei, May 29 (CNA) The government's policy of creating a "nuclear-free homeland" has not changed, and there is no consideration of extending the service of Taiwan's nuclear power plants, Cabinet spokesman Lin Tze-luen (林子倫) said Monday.
Lin was responding to comments by Vice President and Democratic Progressive Party (DPP) presidential candidate Lai Ching-te (賴清德) that Taiwan's nuclear reactors might be reactivated in an emergency situation, seemingly contradicting the DPP's policy.
Lin said in a post to reporters that the Ministry of Economic Affairs and Taiwan Power Co. (Taipower) are carrying out the phasing out of Taiwan's nuclear plants in line with the original plans and are not considering extending their lifespan.
He noted, however, that Taiwan would consider all power options, including fuel oil, renewable energy, coal, natural gas and even nuclear power in an emergency.
Taiwan currently has only one nuclear power plant still producing power, the third nuclear power plant near the southern tip of the island. It is scheduled to be shut down by 2025 and be decommissioned.
The first and second nuclear plants along Taiwan's northern coast have started their decommissioning processes. The fourth nuclear plant in Gongliao in northeastern Taiwan was nearly completed but never operated, and the DPP government shipped away its unused fuel rods.
Lai made his comments on nuclear power at a forum with National Taiwan University students on Sunday when asked about Taiwan's response to a possible power shortage in the event of a naval blockade of Taiwan by Chinese military forces.
Lai said government agencies were studying the feasibility of maintaining shut reactors so they could be restarted if needed for emergency use, which would mean keeping them at a level of readiness not provided for in the DPP's anti-nuclear policy.
Earlier Monday, Economics Minister Wang Mei-hua (王美花) said reactivating shut nuclear facilities for emergency use would be complicated, noting it would be necessary to reach a consensus among several entities on a safety mechanism to restart the service of the nuclear units.
Asked whether the government was no longer committed to its policy of achieving the "nuclear-free homeland" goal, which she has pushed as economics minister, Wang dodged the question, saying only that legal considerations were an important part of nuclear power policy.
Lai's remarks and perceived about-face sparked criticism from the main opposition Kuomintang (KMT).
KMT Legislator Hung Meng-kai (洪孟楷) criticized Lai for an about-face on energy policy, saying that Lai took part in an anti-nuclear protest in 2019 after resigning as premier but was now changing his attitude out of election considerations.
The policy turnaround also showed that the DPP's bad energy policy has left Taiwan headed for a potential power crisis, Hung said.
Lai should explain to people, especially those in areas where the first and second nuclear plants are located, what "emergency use" means and how he would make it up to those areas for constraints on their development caused by having to keep the nuclear units ready.
New Taipei Mayor and KMT presidential candidate Hou Yu-ih (侯友宜) was less critical, saying that his primary goal was to ensure an efficient power supply.
"Nuclear power is one of my options" within a diversified energy mix, Hou said, adding that if elected, he would prioritize nuclear safety and handle nuclear waste in an appropriate manner.
Chiu Hsien-chih (邱顯智), a legislative caucus whip of the New Power Party, contended that achieving a "nuclear-free homeland" was a consensus in Taiwan's society, and the country should adhere to the policy and move forward toward the goal.
Chiu was of the view, however, that there must be consistency in the government's energy policy.