INTERVIEW
/
St. Lucia deputy PM lauds Taiwan as 'very special friend'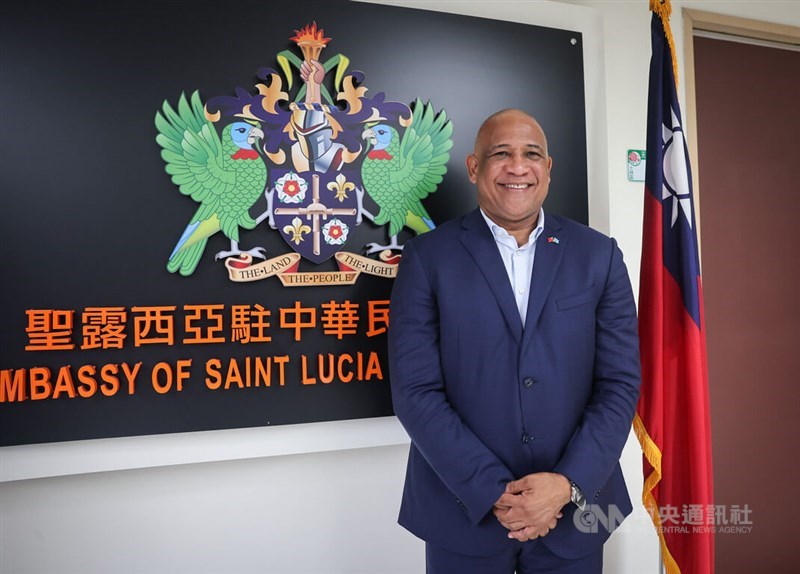 Taipei, May 22 (CNA) Visiting Saint Lucia Deputy Prime Minister Ernest Hilaire said Monday that his five-day visit to Taiwan is intended to thank the country for being a "very special friend of St. Lucia" and explore ways to deepen the two sides' already cordial relationship.
Speaking to local media at the St. Lucian embassy in Taipei, Hilaire said the main goal of his first Taiwan visit is to "express our appreciation and gratitude" to the government and people of Taiwan for the assistance and support they have given to his country.
"Taiwan is a very special friend of St. Lucia," Hilaire said, adding that the allies maintain strong bilateral relations in a number of areas.
The second objective of his ongoing visit from Monday to Friday is to talk with Taiwan's government and private businesses about how to deepen those relations in terms of agriculture and healthcare systems, as well as in the field of creative industry and cultural exchanges, according to the St. Lucia official.
Hilaire, who doubles as the Caribbean nation's minister for tourism, investment, creative industries, culture and information, said Taiwan is known for its advancements in terms of creative industries.
Earlier Monday, he visited an old wooden Japanese house-turned café at Taipei's tourism hotspot Yongkang Street.
Just by studying these examples in Taiwan, Hilaire said St. Lucia can learn to transfer the Caribbean country's historical relics into tourism attractions.
Meanwhile, on St. Lucia's diplomatic relations with the Republic of China, the official name of Taiwan, the deputy prime minister said his government recognizes its "unique relationship" with Taiwan.
"If you go to St. Lucia, and you visited communities in a very direct way, you can see the benefits of that relationship with Taiwan; you will literally walk through the communities and you will see footpaths, roads, retaining walls, you see school repair, you see housing repair," he noted.
"There's so much you can see in the landscape of St. Lucia, that's a direct relationship with Taiwan," he added.
Asked about China's influence in Latin America and the Caribbean region, Hilaire said it is for each country to make their own decision on relations with Beijing.
"We pride ourselves on appreciating the friendship that we have [with Taiwan]," he added.
Hilaire arrived in Taiwan Monday morning. According to Taiwan's Ministry of Foreign Affairs (MOFA), during his stay Hilaire will meet with Vice President Lai Ching-te (賴清德) in the Presidential Office to exchange views on current and possible future cooperation projects.
Hilaire will also meet with Foreign Minister Joseph Wu (吳釗燮) and attend a briefing for potential Taiwanese investors in St. Lucia, according to MOFA.
He will also visit the Ministry of Culture and National Palace Museum and attend a local professional baseball game, among other events, the ministry said.
Asked about the upcoming baseball game in Taoyuan, Hilaire told CNA that he spent a few years as an administrator for the cricket World Cup in the West Indies.
Therefore, he enjoys attending sporting events when visiting different countries, Hilaire said.
Although he does not know much about baseball, Hilaire added that he believes attending live sporting events is the best way to "feel the vibe and pulse" of local people.
"I mean you really can tell the nature of a society by how they relate to sport in life."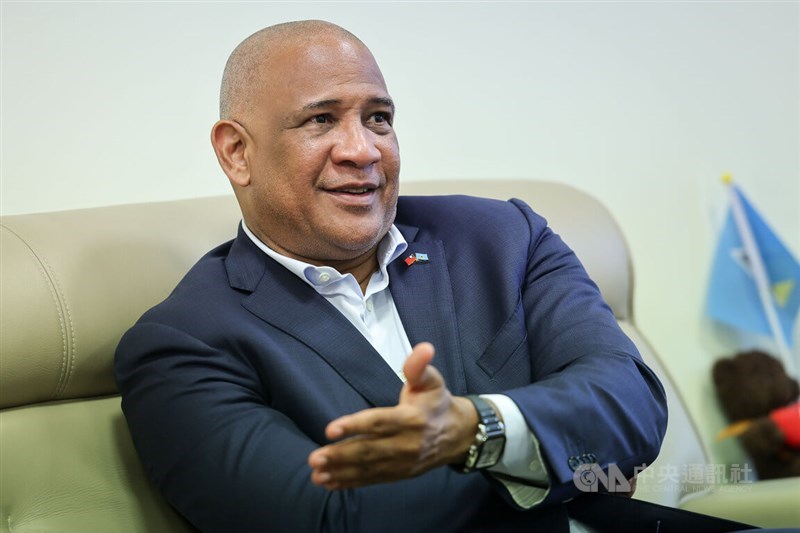 According to MOFA, Hilaire's delegation also includes chair of the St. Lucian-government funded Cultural Development Foundation Sidney Darwin Guard.
The Republic of China and Saint Lucia first established diplomatic relations in 1984, but ties were broken in 1997 when the Caribbean country switched recognition from Taipei to Beijing.
In April 2007, Taiwan and Saint Lucia reestablished diplomatic relations and China consequently severed its ties with the latter.
View All