Washington-based FAPA celebrates 40th anniversary in Taipei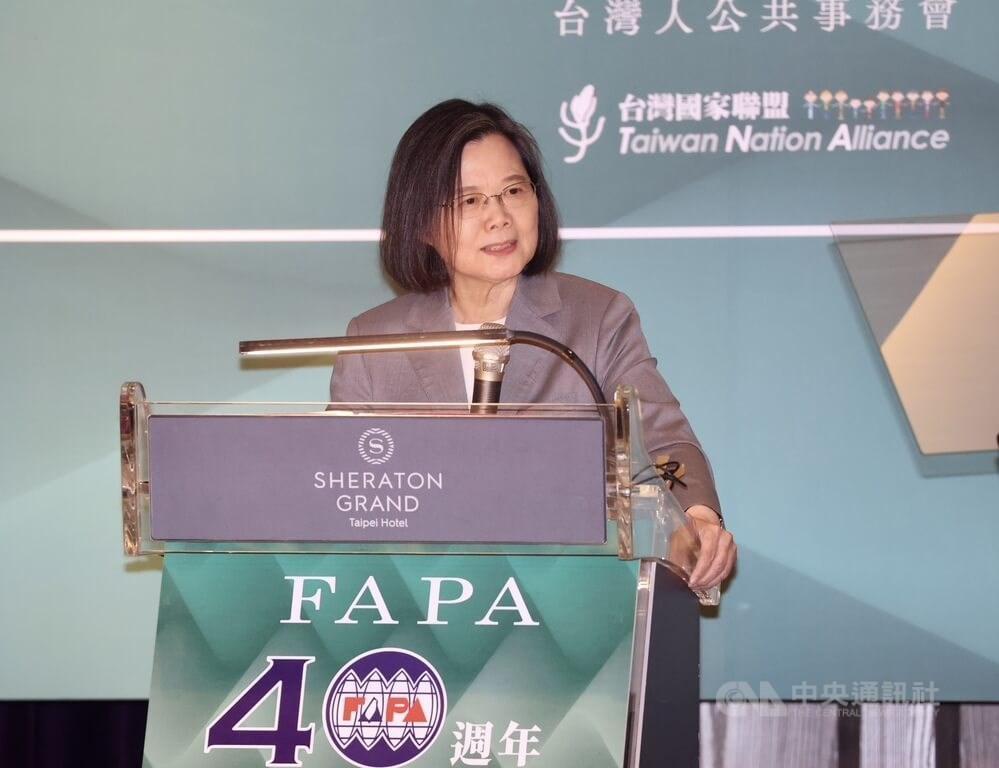 Taipei, May 1 (CNA) The Formosan Association for Public Affairs (FAPA), a Washington-based lobbying group for Taiwan, celebrated its 40th anniversary in Taipei on Monday with a banquet attended by President Tsai Ing-wen (蔡英文) and other guests.
Former U.S. national security adviser John Bolton, who is on a week-long visit in Taiwan, Vice President Lai Ching-te (賴清德), and contract chipmaker United Microelectronics Corp. (UMC) founder Robert Tsao (曹興誠) were among the guests.
In her talk, Tsai thanked FAPA members for their lobbying efforts in the United States Congress, which she said has laid a foundation for bipartisan support for Taiwan in Washington, and she described the organization as "pioneer of Taiwan's public diplomacy."
Tsai said China had recently used military exercises to deliberately escalate its threat to the region, but Taiwan's calm and composed response showed the country's determination to safeguard cross-Taiwan Strait peace to the world.
Tsai assured FAFA members, most of whom are naturalized Americans or overseas Taiwanese, that Taiwan will continue to stand steadfast on the "forefront of democracy and freedom" to defend the democratic human rights that they have won.
Addressing the banquet in a keynote speech, Bolton said FAPA has played an incredibly important role in the long struggle of advocating the belief shared by many Taiwanese Americans in independence for Taiwan as a state, which he said it clearly is.
Chinese President Xi Jinping's (習近平) recent visit to meet with Russian President Vladimir Putin has formed a new axis between Beijing and Moscow, with rogue states like North Korea and Iran and Belarus being part of the axis, Bolton said.
One might say that the growing threat of the China-Russia axis worldwide would put Taiwan off to the side and diminish attention to Taiwan, but it has had the opposite effect, he said.
This axis threatens countries worldwide, with Russia's invasion of Ukraine being a dramatic demonstration of the nature of this threat, and many countries can see that the threat they face from China is deeply connected to the future of Taiwan, he said.
Bolton suggested that Taiwan and the U.S. can do a lot more together to increase cooperation militarily and between intelligence agencies to help deter China from attacking Taiwan.
"The more Taiwan is embedded in collective self-defense structures, again, the less likely it is that China will take aggressive action in the first place," he said.
Lai also stressed the importance of Taiwan strengthening its self-defense capabilities and cooperating with like-minded countries to deter China from acting rashly.
Related News
May 1: U.S. concern about Chinese threat is bipartisan: Bolton
April 29: U.S. help to Taiwan over Chinese threat should be 'fully global': Bolton
April 25: John Bolton to visit Taiwan, speak at pro-Taiwan independence events