ELECTION 2024
/
Ko Wen-je heads to U.S. ahead of expected presidential run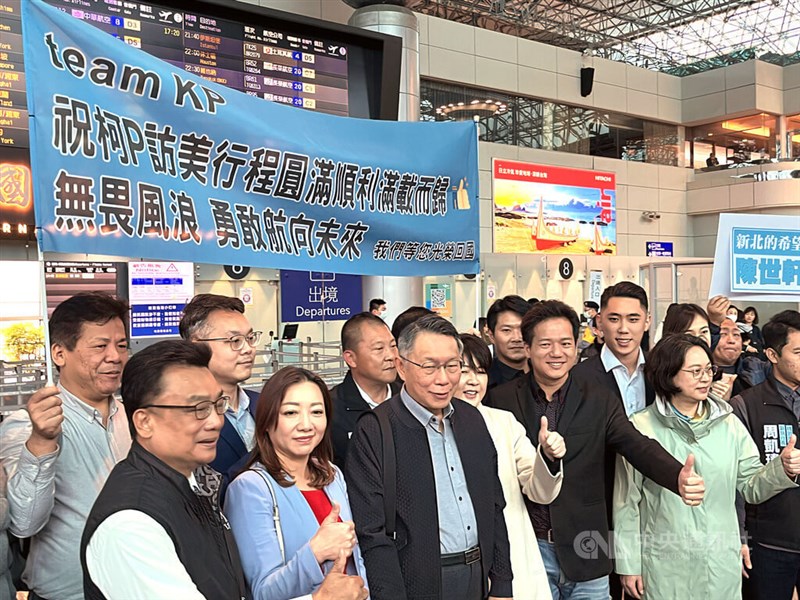 Taipei, April 8 (CNA) Taiwan People's Party (TPP) Chairman and 2024 presidential hopeful Ko Wen-je (柯文哲) embarked on a three-week "learning and conversation" trip to the United States Saturday.
Speaking with reporters before departing from Taiwan Taoyuan International Airport, Ko, the former mayor of Taipei, said he would like to use the trip to introduce his party to the world and explore more international space for Taiwan.
Joining Ko on his trip is former Taipei Deputy Mayor Huang Shan-shan (黃珊珊), who ran as an independent in Taipei's mayoral election last November, coming in third with about 25 percent of the vote. Huang announced two days ago that she has joined the TPP.
According to local media reports, Ko will stay in New York between April 8-12, where he will watch a baseball game at the Citi Field, meet with overseas Taiwanese and attend a forum at Columbia University.
From April 13-15, Ko will visit several medical centers in Boston and have a conversation with students at Boston University.
He is then expected to be in Washington D.C. from April 16-20 to visit international firms and the U.S.-Taiwan Business Council, give speeches at several schools and the Center for Strategic and International Studies (CSIS), as well as take an interview from the Voice of America.
Ko's last stop will be Houston, where he will stay until April 27 to meet with more businesses and overseas Taiwanese, and visit the Houston Methodist Hospital and Rice University.
The TPP said in March that Ko was expected to visit the Department of State and meet with some members of the U.S. Congress.
The TPP had previously said that Ko would be introduced during his time in the U.S. as the party's 2024 presidential candidate.
Taiwan's presidential hopefuls often take overseas trips, mostly to the U.S., to establish foreign policy credentials early in their bids for office.
View All