No plan for U.S. officials to meet Tsai during transit: White House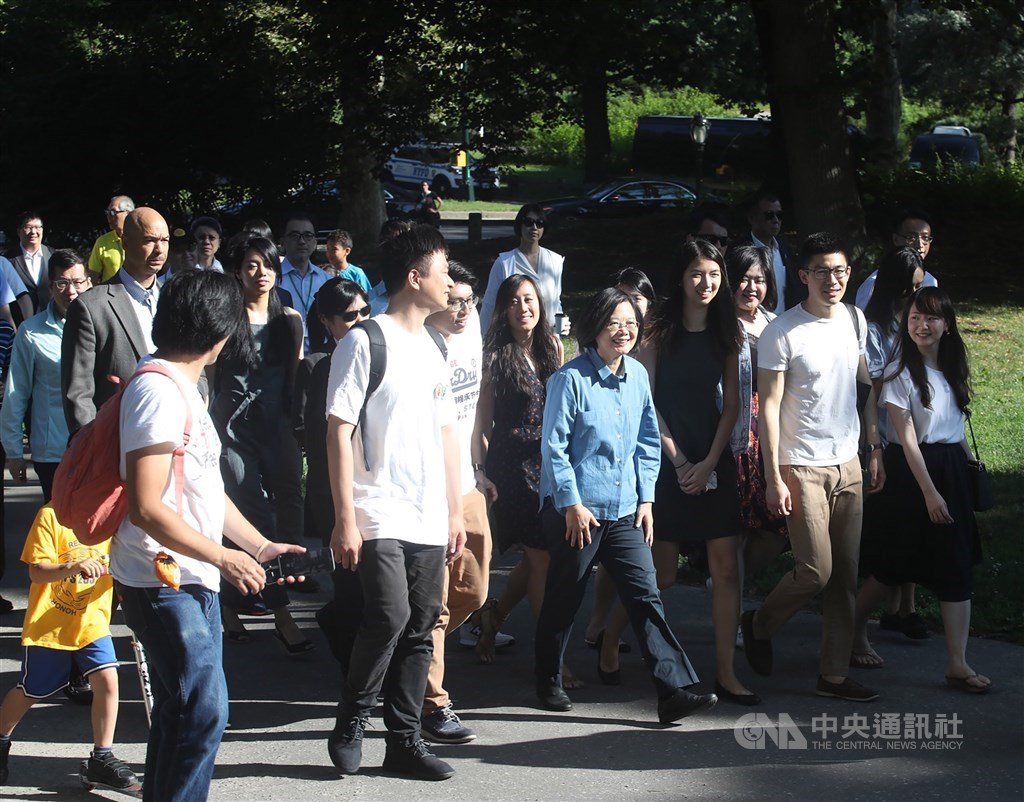 Washington, March 28 (CNA) There is no plan for any U.S. officials to meet with President Tsai Ing-wen (蔡英文) during her transit stops in the United States, on the way to two of Taiwan's diplomatic allies, White House National Security Council spokesperson John Kirby said Tuesday.
Speaking with reporters, Kirby described Tsai's visit as "unofficial" and "private," saying there are no plans for Biden administration officials to meet with her during the stay.
Kirby said it will be the seventh transit made by Tsai during her visits to Taiwan's allies, and such arrangements are not uncommon.
Tsai will head for Guatemala and Belize on Wednesday and stop in the U.S. on the way to Central America and back during her 10-day trip.
On her upcoming trip, Tsai is expected to arrive in New York City on March 29 and then spend time in Los Angeles before April 7 after visiting Guatemala and Belize.
Tsai will receive an award from the Washington-based Hudson Institute during her New York stopover, meet with U.S. House Speaker Kevin McCarthy and deliver a speech at the Ronald Reagan Presidential Library while in California.
Commenting on the announcement on Sunday by Honduras that it is switching diplomatic ties from Taiwan to China, just days before Tsai's departure for Central America, Kirby said Tegucigalpa's action was a "sovereign decision," and will not affect Tsai's transit stops in the U.S.
The cut in ties leaves Taiwan with only 13 countries in the world that officially recognize the Republic of China (Taiwan) as a nation. Taipei has lost nine diplomatic allies to Beijing since Tsai took office in May 2016.
Kirby said China has proven itself an "unreliable" partner, adding that he suspects Honduras had such an understanding when it made the decision to switch recognition to Beijing.
The White House official added the U.S. still values bilateral relations with Honduras and will continue to maintain ties with Tegucigalpa.
Meanwhile, U.S. Statement Department spokesman Vedant Patel said on Tuesday that Secretary of State Antony Blinken expressed appreciation for "principled commitment" to Taiwan from Paraguay, one of the 13 countries that still recognize Taipei, when he met with Paraguayan Foreign Minister Julio Arriola in Washington on Monday.
Citing a summary of the meeting, Patel said Blinken praised Paraguay for its votes on difficult issues at multilateral forums, such as on Russia, China, Nicaragua and Venezuela, as well as Washington-Asuncion shared priorities on the United Nations Human Rights Council.
According to Patel, Blinken said democracies need to stand together to take on those seeking to suppress freedom and abuse human rights.
Paraguay will hold a presidential election in April. International news outlets have reported recently that Efrain Alegre, presidential candidate from the opposition camp, said he will cut diplomatic ties with Taiwan and establish relations with China if the opposition wins the April vote, which has raised concerns that Taipei could lose another ally to China.