Protesters in Paris rally against China's zero-COVID policy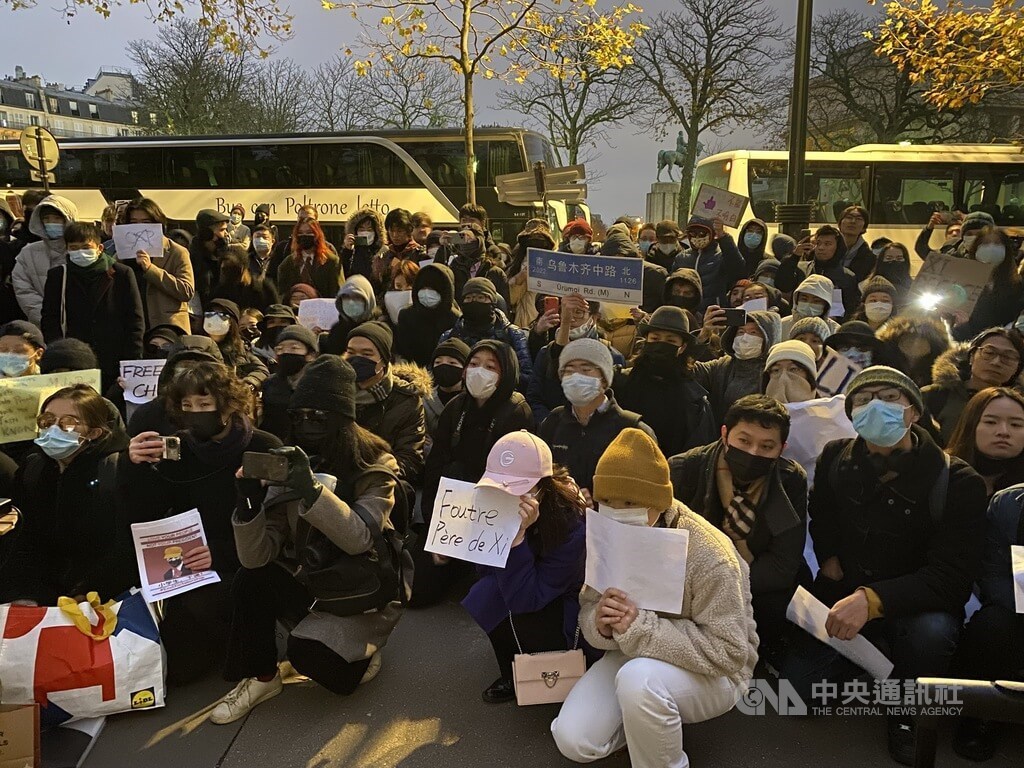 Paris, Dec. 3 (CNA) Protesters at two demonstrations in Paris on Saturday called for the relaxation of COVID-19 restrictions in China as well as the resignation of Chinese leader Xi Jinping (習近平) over China's zero-COVID policy.
In Paris, a march was held on Saturday afternoon, demanding an end to China's "genocide" of the Uyghurs, a Muslim minority group in China's northwestern Xinjiang region, while a rally dubbed "white paper revolution" organized by a Chinese group was staged on the evening.
Both demonstrations had up to 100 participants from Uyghur, Tibet, Hong Kong, Vietnam, Mongolia, Taiwan, and France, including several European political figures.
The two events were among several recent domestic and international protests which were sparked by a Nov. 24 deadly apartment fire in Urumqi in Xinjiang that the Chinese government said killed 10 people trapped in the building but which social media posts and photos claimed had actually resulted in 44 deaths.
The deaths triggered an outpouring of public anger at the country's "zero-COVID" policy, as many blamed lengthy COVID lockdowns in the city for hampering rescue efforts and trapping the victims inside their home.
The rare protests against the zero-COVID policy then flared across China, often featuring demonstrators holding pieces of blank white paper, a symbol of government censorship, while Chinese living abroad also gathered for demonstrations. Over the past week, the Chinese authorities have loosened some zero-COVID measures while taking steps to prevent more protests from taking place.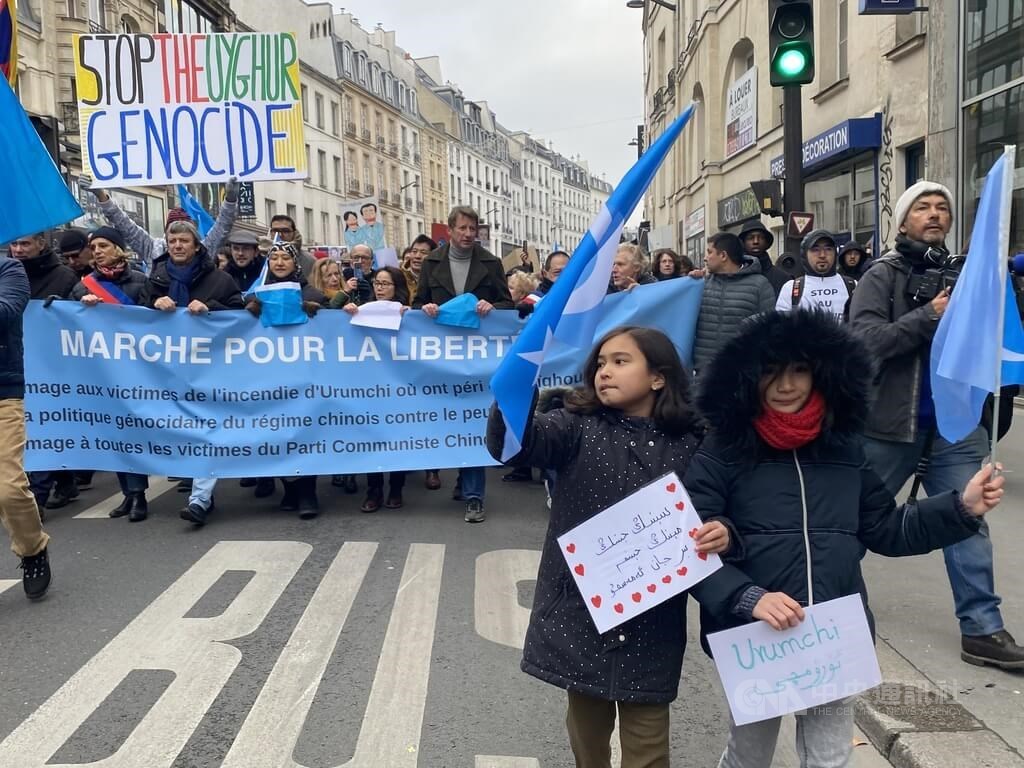 During the protest march on Saturday organized by the European Uighur Institute, Jean-Luc Romero-Michel, deputy mayor of Paris in charge of human rights, integration, and the fight against discrimination, said in an interview with CNA that supporting Uyghurs had never been so important given that China's oppression and "genocide" of the Uyghurs became increasingly serious.
Paris, as the "capital of human rights," and France as a whole, must act, he said.
Moreover, Romero-Michel noted it was more important than ever to no longer allow China to carry out certain policies, pointing to China's long-standing repression in Tibet that has forced many Tibetans to flee their homeland, the 2019-2020 Hong Kong protests against the introduction of a law to allow extradition to China, and China's military threat to Taiwan.
As a long-standing supporter of Taiwan, Romero-Michel has expressed his support for Taiwan in public on several occasions, while voicing condemnation of China's treatment of Taiwan.
He indicated that regarding threats to Taiwan, "we must be cautious and stand on Taiwan's side. The people of Taiwan love peace and have the right to live in security. We cannot accept China's threat to Taiwan, and of course we support Taiwan."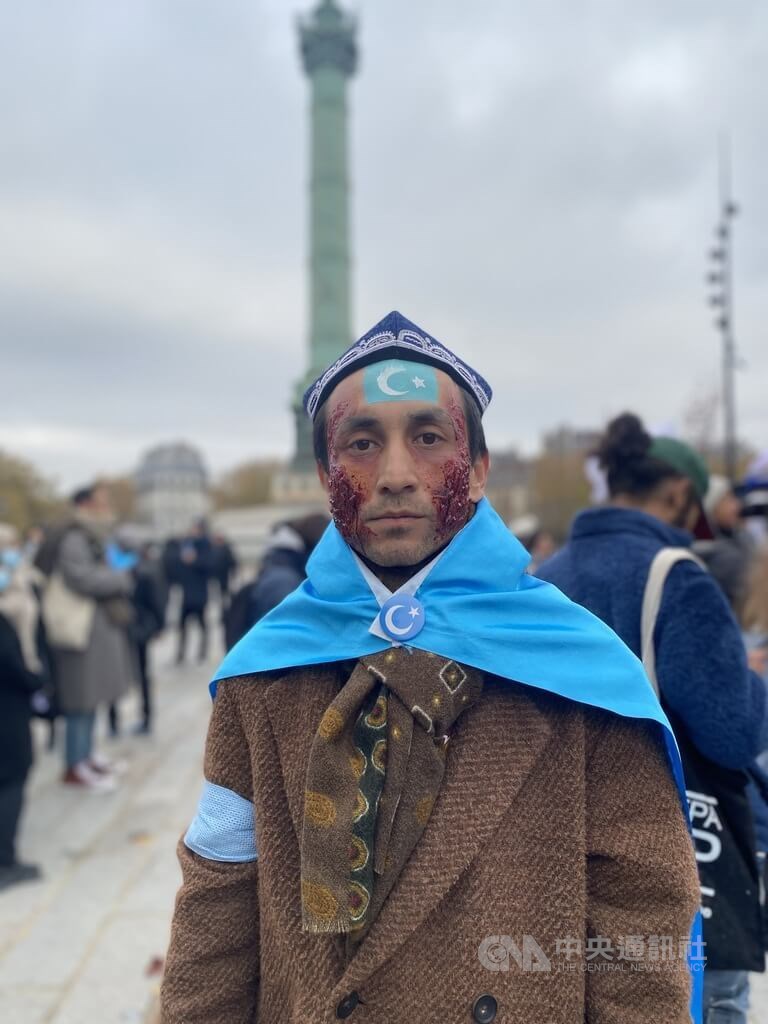 Also at the event, Uyghur poet Merdan Ehet'éli told CNA that apart from expressing grief for the 44 Uyghurs who died in the fire in Urumqi, the purpose of the march was to condemn the French government for not taking practical measures against the "Uyghur genocide" in China, demonstrate the Uyghurs' stance on independence, and to express solidarity with other people in China who are oppressed by the Chinese Communist Party (CCP).
Later on Saturday, a "white paper revolution" rally was held at Paris'Trocadero Square, where participants called for Xi to step down.
Fang Zhonghua (方中華), who claims to have been a "little pink" or "pinkie," a term used to describe young jingoistic Chinese cyber-nationalists, told CNA that after he started working in a Chinese hospital, he began to change his stance toward the Chinese government because he witnessed organ harvesting from people who were still alive, as alleged by Falun Gong practitioners.
China and Taiwan have the same culture, Fang said, "but the same culture does not mean that we must be one country. The future of Taiwan should be determined by the Taiwanese themselves. I believe that most Chinese people will stand on the side of democracy and freedom. If you show courage and dignity, of course we will be on your side."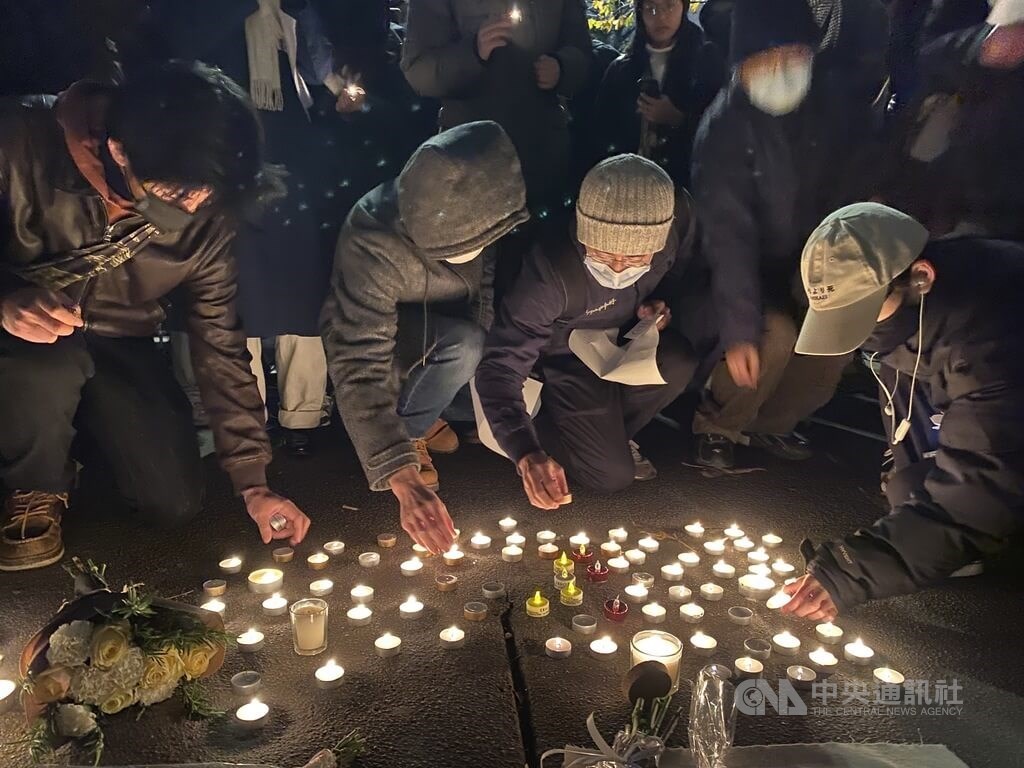 Meanwhile, a participant who identified herself as Emily said that having studied under the Chinese education system, she used to think that Taiwanese people thought they were Chinese, but realized it was not the case when she arrived in France.
"We have no right to decide whether Taiwan is part of China, because we don't live there. Only those who live there have the right to decide. This is a matter of identity, if you identify yourself as Taiwanese, you are Taiwanese," and vice versa, she said.
While China has eased some COVID-19 restrictions and some Chinese cities have scrapped routine mass PCR tests amid mounting protests, some participants at the rally said their demands were not only to end the zero-COVID policy, but for the CCP to relinquish control.