U.S. envoy praises Taiwan's 'free and fair elections'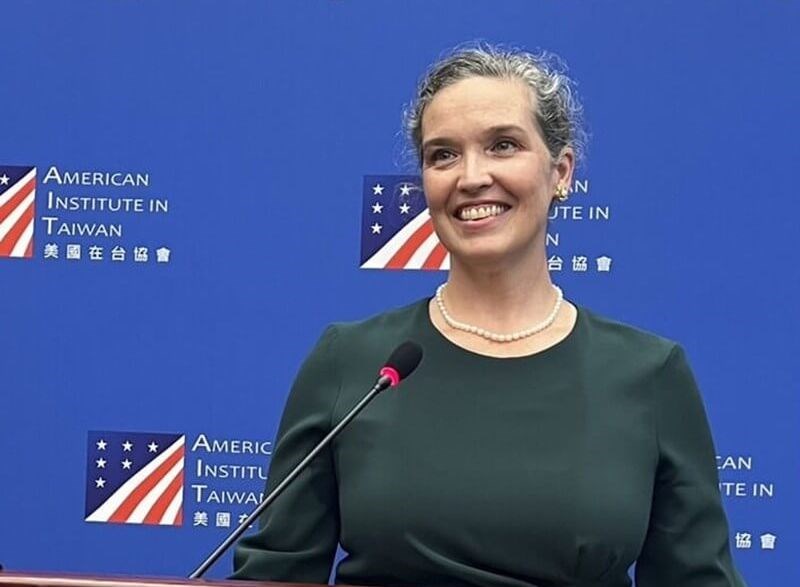 Taipei, Nov. 29 (CNA) The de facto American ambassador to Taiwan on Tuesday praised the "free and fair" local elections held on Saturday, saying the United States government will continue to work closely with future governments in Taiwan regardless of their political affiliation as it has always done.
Sandra Oudkirk, director of the American Institute in Taiwan's (AIT) Taipei office, made the comment during an annual press conference.
In opening remarks at the press event, Oudkirk congratulated Taiwan for holding local government elections nationwide on Saturday where voters cast ballots to choose mayors, county chiefs and local councilors.
"I look forward to continuing to work with those who were reelected and to working with those who are newly elected once they take office at the end of December."
During a follow-up question-and-answer session when asked about the U.S. view of the elections, the envoy said they were "free and fair," and the will of the voters "was fully expressed."
Oudkirk said that since she first arrived Taiwan in the early 1990s, Taiwan has developed into an "advanced economy and a vibrant democracy."
"Everyone in Taiwan ought to be really proud of how quickly and how far Taiwan has come so that you are in a place where outsiders look at your elections, and no one has the slightest doubt about the will of the people being voiced. It's a great thing."
The ruling Democratic Progressive Party (DPP) which takes a tougher stance on China suffered a major electoral defeat in Saturday's elections, winning only five of 21 cities and counties. As a result, President Tsai Ing-wen (蔡英文) resigned as DPP chairperson.
On the other hand, the main opposition Kuomintang (KMT), which is considered to be softer on China, won the elections in 13 cities and counties, including four of the six special municipalities -- the capital city of Taipei, New Taipei, Taoyuan, and Taichung.
Asked if the elections results would send a wrong message that could undermine the willingness of the U.S. and other democratic countries to help defend Taiwan in the event of a Chinese invasion, Oudkirk said the U.S. government has worked with Taiwanese counterparts from different parties over the last several decades and will continue to do so.
She also affirmed that Washington takes its responsibility to help Taipei defend itself under the Taiwan Relations Act "very, very seriously."
The U.S. will continue to work with elected leaders in Taiwan to craft a defense sales program that is "appropriate to the capabilities that Taiwan needs."
"This has been something that the United States has done for decades. And that we will continue to do whatever happens in any future election. Regardless of who wins or loses," she added.
Meanwhile, asked about U.S. President Joe Biden's meeting with Chinese President Xi Jinping (習近平) earlier this month and if it helped to ease the tensions between the two superpowers, Oudkirk said such in-person meetings are good for all parties involved.
"I think it is really important that the meeting happened. I hope that it did help reassure observers everywhere in the world that the United States and the People's Republic of China have these frank, open, constructive discussions."
Tensions between Washington and Beijing over Taiwan were heightened after Nancy Pelosi's visit to Taipei in August, the first by a sitting U.S. House Speaker in 25 years.
In the wake of Pelosi's 19-hour trip, Beijing accused Washington of promoting Taiwan independence and hollowing out its "one-China" policy, later launching a series of large-scale military drills around the island.
U.S. House Minority Leader Kevin McCarthy, the likely next speaker of the House following gains made by the Republican Party in recent midterm elections, previously pledged to visit Taiwan if he gained office.
Asked if the AIT has heard anything about a possible trip, Oudkirk said she has no news on the new speaker's travel plans.
Foreign Minister Joseph Wu (吳釗燮) on Nov. 21 also said no official contact had yet been made with McCarthy's camp regarding a trip to Taiwan.
The Tuesday's press event was Oudkirk's second since she assumed office in July 2021. AIT represents U.S. interests in Taiwan in the absence of official diplomatic ties.