ELECTIONS 2022
/
Taiwan's local elections may come down to battles in three northern cities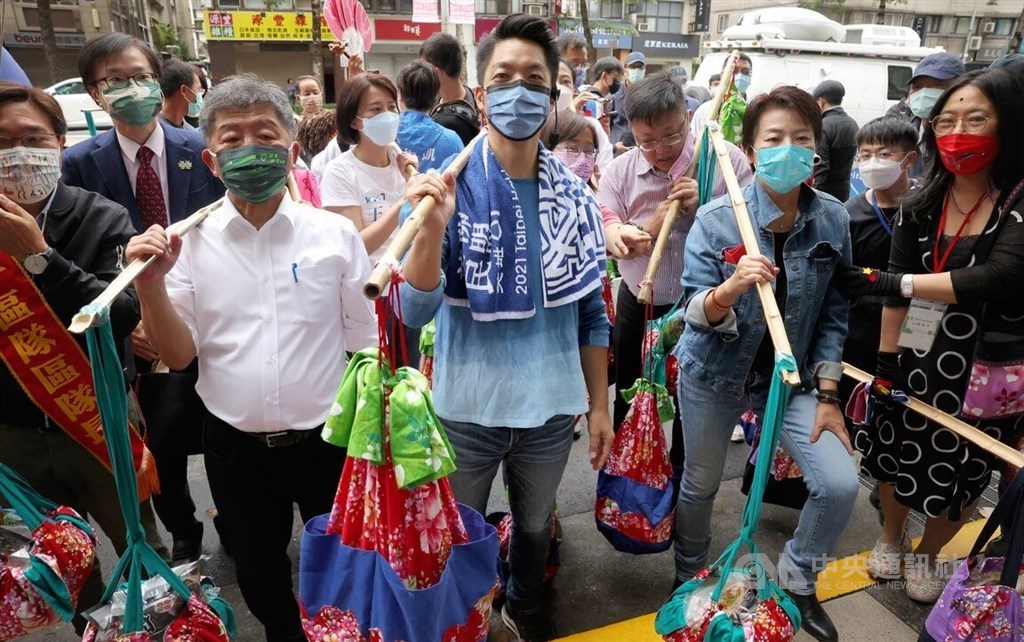 [Editor's Note: This is Part 1 of a three-part series that takes a look at Taiwan's upcoming "nine-in-one elections," when voters in Taiwan will cast ballots for their local city and county leaders. The series examines the most hotly contested races, how the rise of an upstart party could impact the elections, and how the election results could shape expectations for the 2024 presidential race.]
By Joseph Yeh, CNA staff reporter
With less than a month to go before voters in Taiwan choose their local city and county leaders on Nov. 26, the country's two main political parties are looking to hold or gain ground while keeping a new upstart party at bay.
In the "nine-in-one" elections as they are known, voters in Taiwan's 22 cities and counties will cast ballots for their respective city mayors or county magistrates, city or county councilmen, and other local officials.
Parties' goals
The ruling Democratic Progressive Party (DPP) wants to build on the seven seats it currently holds, while the main opposition Kuomintang (KMT) hopes to keep the 14 it holds and win another of Taiwan's six biggest cities that are home to nearly 70 percent of the country's population.
Adding unpredictability to this year's elections is the emergence of a third party, the Taiwan People's Party (TPP) founded by outgoing Taipei Mayor Ko Wen-je (柯文哲) in 2019, that would like to establish itself as a force to be reckoned with in the future.
It has fielded candidates in several of the 22 races, and has turned contests in three northern cities -- Taipei, Taoyuan and Hsinchu -- into hotly contested three-way races that have become the focus of attention in an otherwise lackluster election season.
The DPP, which had struggled in northern Taiwan in the past, feels confident that its candidates will keep four of the seven cities and counties it currently controls in the DPP column by comfortable margins: Kaohsiung and Tainan cities (two of the six big cities) and Chiayi and Pingtung counties, all in southern Taiwan.
In Taoyuan, Hsinchu and Keelung cities where DPP mayors are currently in charge, however, the DPP has described the races as "somewhat challenging."
In all three cities, the DPP incumbents have served the maximum two four-year terms, forcing the nomination of new candidates who will face off against highly competitive rivals from other parties.
Though the KMT is hoping to add two more cities and counties to the 14 it already controls, its focus is on trying to win three of the four large cities in the northern half of Taiwan -- Taipei, New Taipei, Taoyuan, and Taichung.
The KMT expects New Taipei Mayor Hou Yu-ih (侯友宜) and Taichung Mayor Lu Shiow-yen (盧秀燕) to win re-election, with Hou a possible candidate for the KMT in the 2024 presidential election.
It agrees with the general consensus that Taipei and Taoyuan, and to a lesser extent Hsinchu City, will be the battles to watch.
Taipei race
In the capital city, the incumbent Ko, who will step down after having served two-terms, has endorsed his former deputy, Huang Shan-shan (黃珊珊), against two high-profile candidates: the KMT's Chiang Wan-an (蔣萬安) and the DPP's Chen Shih-chung (陳時中).
Chiang is the purported great-grandson of former President Chiang Kai-shek (蔣介石) while Chen recently stepped down as the country's health minister and head of the task force that was in charge of Taiwan's response to COVID-19.
Traditionally, the city has been a KMT stronghold and largely favors candidates who are "pan-blue," or more ideologically aligned with the KMT.
The problem for the KMT is that Huang, running as an independent though supported by the TPP, is actually a member of the pan-blue People First Party (PFP) who served as a city councilor for more than 20 years and then three years as Ko's deputy, bringing her both recognition and a certain degree of popularity.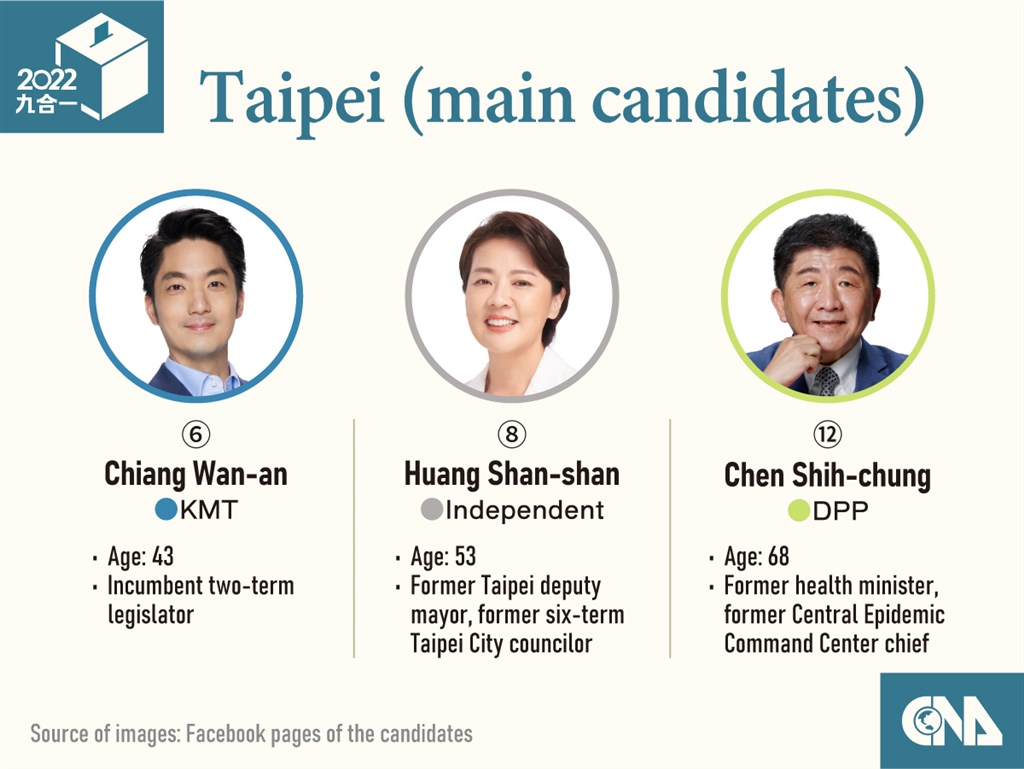 The most recent poll by online media My Formosa, released on Nov. 4, showed Chiang leading with 34.3 percent support, followed by 27.7 percent for Chen and 22.4 percent for Huang.
Similarly, a poll by television station TVBS, released on Oct. 30, also showed Chiang ahead with 37 percent support, compared to 27 percent for Chen and 21 percent for Huang.
A DPP source told CNA that given the fact that both Chiang and Huang are considered to be pan-blue, Chen Shih-chung should have the best chance of standing out as he will keep the pan-green camp votes.
Not surprisingly, a KMT source disagreed. The source said the party believes that whichever of Chiang and Huang seems to have a more significant lead ahead of Election Day will most likely win the race because the capital city is still a pan-blue stronghold.
The source voiced concern, however, that there are no clear distinctions between Chiang and Huang and that TPP supporters are normally people who have changed political affiliation after feeling disappointed by the KMT and may not go back to support Chiang.
"How to woo pan-blue voters to vote for Chiang could be his major challenge," the source said.
Taoyuan election
In Taoyuan, the picture became more complicated after the original DPP nominee, former Hsinchu Mayor Lin Chih-chien (林智堅), withdrew from the race due to a plagiarism scandal, and was replaced by DPP lawmaker Cheng Yun-peng (鄭運鵬).
The party's chances of winning in Taoyuan were further jeopardized when former DPP lawmaker and founding party member Cheng Pao-ching (鄭寶清) said he was unhappy with the DPP's defense of Lin before announcing he would run.
Complicating the race is the addition of the TPP's Lai Hsiang-ling (賴香伶), who is not expected to challenge DPP's Cheng or former premier Simon Chang (張善政) of the KMT but could pull votes away from both of their bases of support.
The race remains hard to predict, with the KMT candidate seemingly benefiting from Lin's plagiarism scandal but then being hit with accusations of improper use of information by the DPP related to a project he did from 2007 to 2009 while working at Acer.
Recent surveys have shown a close race between Chang and Cheng Yun-peng, with Cheng Pao-ching and Lai trailing far behind.
A DPP source said Cheng Pao-ching's joining the race would definitely take away some pan-green votes from Cheng Yun-peng, and he believed the election result "was becoming more and more unpredictable."
KMT Legislator Lu Ming-che (魯明哲) said that even though the DPP helped Chang's campaign with the plagiarism accusation and changing a new candidate, the KMT could not win the race "simply based on the DPP's mistakes."
"Chang is still doing his part by meeting potential voters face to face," Lu said.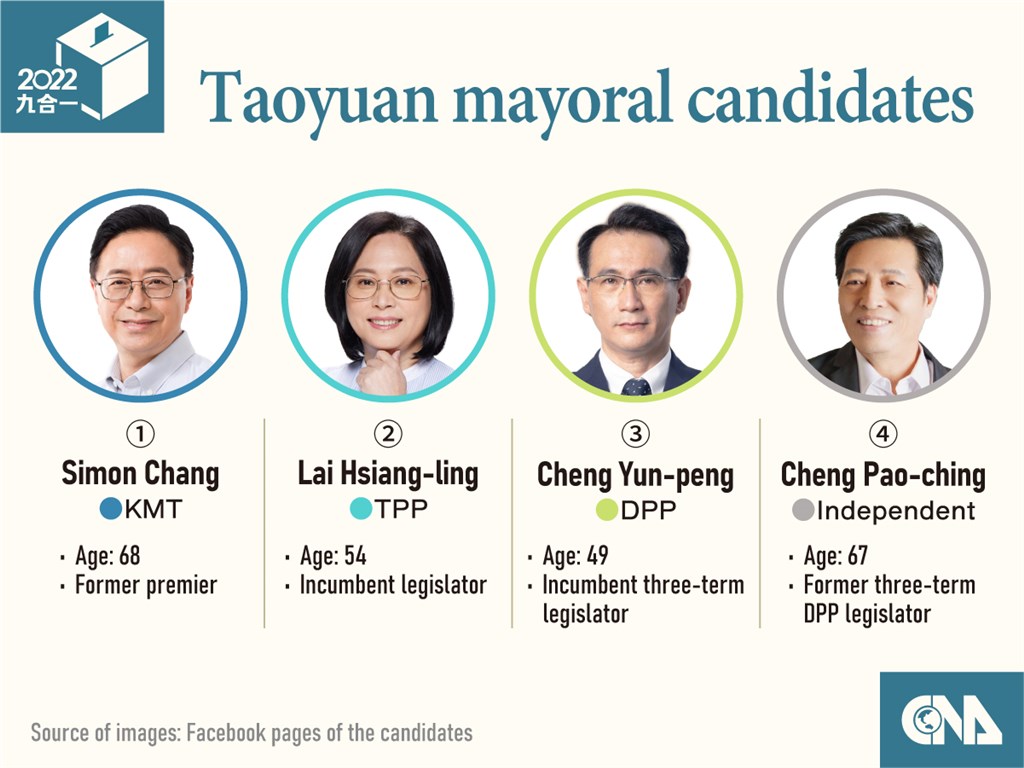 Hsinchu race
In Hsinchu City, former Hsinchu Deputy Mayor Shen Hui-hung (沈慧虹) of the DPP, Hsinchu City Councilor Lin Ken-jeng (林耕仁) of the KMT and TPP Legislator Kao Hung-an (高虹安) will face off in another unpredictable race.
A poll by TVBS released on Oct. 26 had Kao leading with 34 percent support, followed by Shen at 27 percent and Lin at 21 percent, giving Kao the same 7-point edge she had over Shen in an RW News poll on Oct. 12.
However, a poll released Oct. 31 by Taiwan-based Broadcasting Corporation of China and Gallup market research company showed Kao and Shen tied in first place with 25.96 percent support each and Lin in third with 14.04 percent, possibly indicating that DPP supporters are falling in line behind their party candidate as election day nears.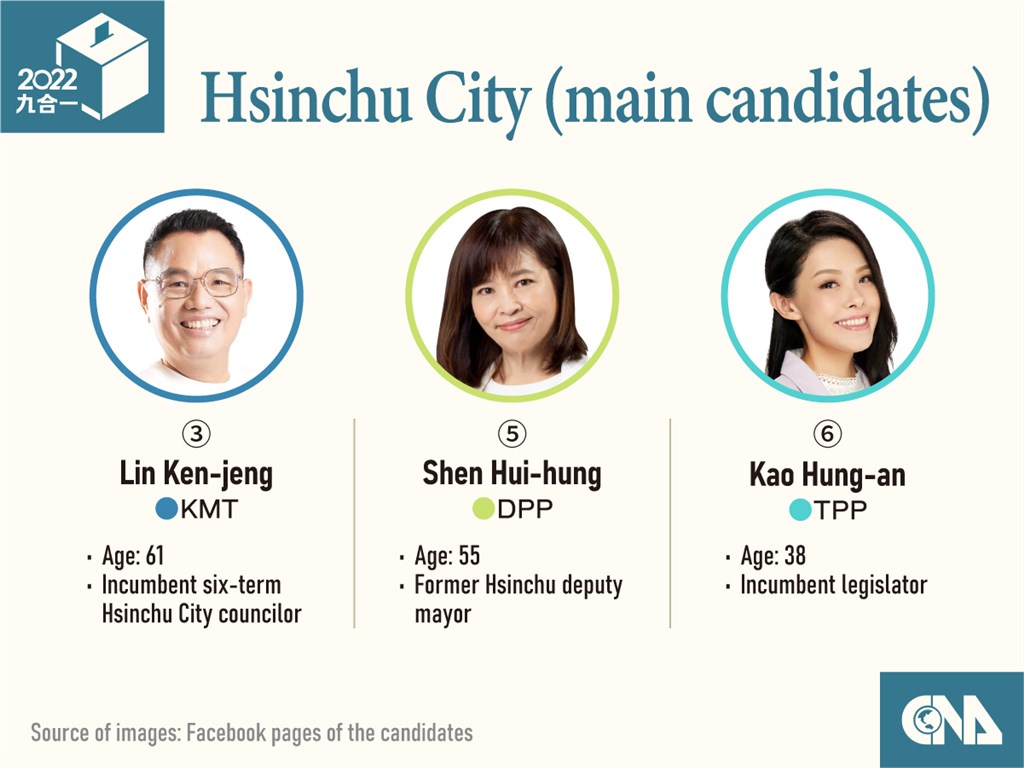 Former Legislator Tsai Pi-ru (蔡壁如) of the TPP, who serves as the TPP's campaign strategy chief, told CNA that her party has a chance to steal a seat or two in these elections, especially in Taipei and Hsinchu.
"The thing we are most worried about is if swing voters don't bother voting on Election Day because of apathy toward politics," Tsai said.
Turnout crucial
Turnout could be the key to victory for many candidates in close races, given the low 41 percent turnout for four referendum questions in December 2021 that had drawn plenty of publicity and the seeming lack of enthusiasm for this year's elections.
In a campaign driven less by issues and more by name recognition, tribal loyalty and personal attacks, candidates will be doing their best to appeal to their bases as the clock winds down to Nov. 26, hoping for large turnouts that could be the difference in the close races in northern Taiwan.
Enditem/ls
Special three-part election series
Part 2: Upstart party hoping to make impact in elections with eye on 2024
Part 3: Local election results could shape expectations of 2024 presidential poll
View All