Never accept a peaceful settlement with China: ex-Ukrainian lawmaker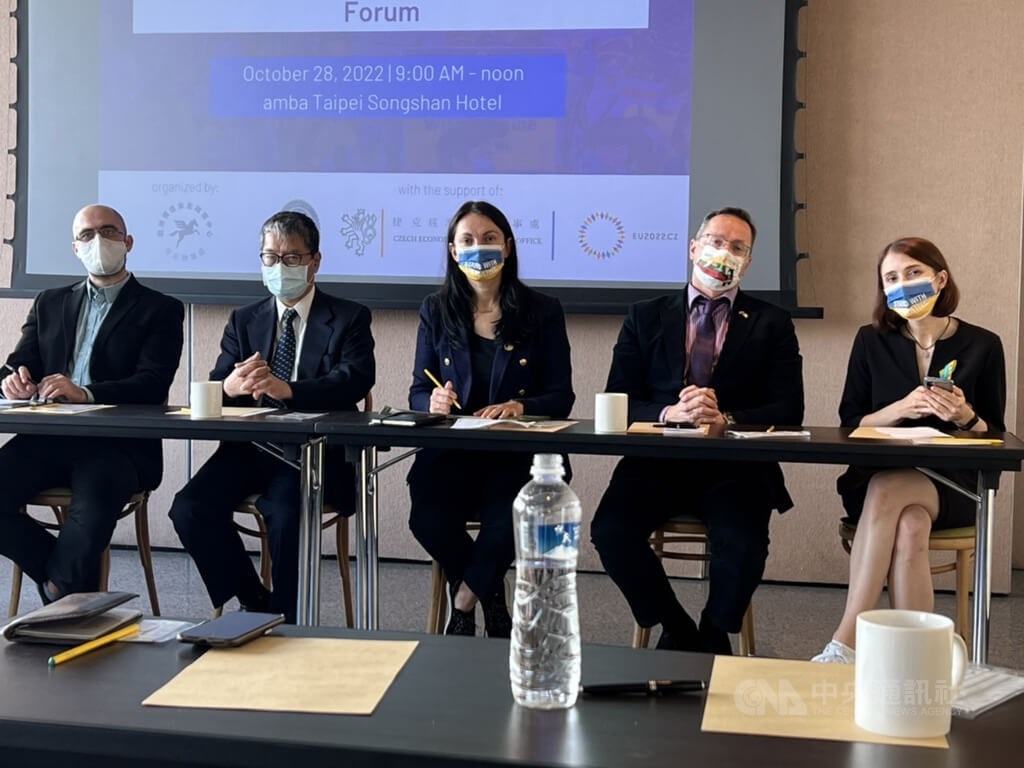 Taipei, Oct. 28 (CNA) Former Ukrainian parliamentarian Hanna Hopko told a security conference in Taipei on Friday that the people of Taiwan should learn from what happened to Ukraine and never accept any peaceful settlements proposed by China.
Hopko, who has met with President Tsai Ing-wen (蔡英文) and other top government officials on her visit to Taiwan, was addressing the European Values Taiwan-Czechia-Ukraine Forum hosted by the Prague-headquartered think tank, European Values Center for Security Policy (EVC).
Hopko said that since Russia invaded and subsequently annexed Crimea, a Ukrainian peninsula on the northern coast of the Black Sea, in 2014, the people of Ukraine have heard a great deal about how Ukraine should make "a peaceful settlement" or find "political, diplomatic solutions" with Russia.
According to Hopko, who is currently chairwoman of the Anti-Corruption Action Center (AntAC) based in Ukraine, the country has even come "under pressure" from its western partners to try to make peace with Russia.
"The result of such an approach is genocide," Hopko said, urging Taiwan to "learn the lesson" of Ukraine and "never trust or believe your neighbor with expansionist ambitions."
Taiwanese people should keep in mind what she called "hybrid methods" utilized by the likes of Russia and China, she said.
The Russians have bribed Ukrainian politicians, infiltrated Ukrainian institutions, and invested heavily in propaganda media in Ukraine for decades with the aim of expanding their influence while dividing Ukrainian society, she added.
At the same time, Hopko said democracies around the world should abandon their long-standing policy of "strategic ambiguity" toward Taiwan and instead adopt "strategic clarity" so as not to repeat the tragedy of Ukraine in Taiwan.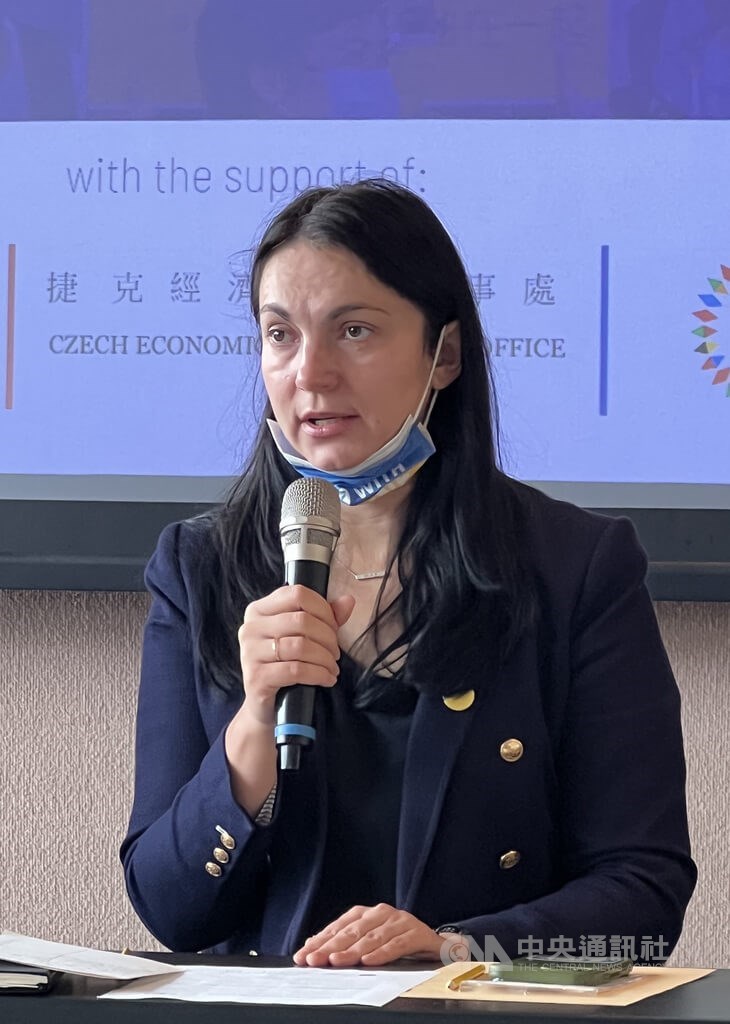 Over the past few decades, the U.S. has intentionally maintained a stance characterized as "strategic ambiguity," under which Washington is deliberately vague about whether the U.S. will come to Taiwan's defense in the event of an attack by China.
Hopko also said that western powers opposing the Russian invasion of Ukraine should make "decisive actions" to stop the ongoing Russian invasion and help Ukraine win its fight instead of showing signs of hesitation in the wake of nuclear threats from Russia.
She argued that if western countries allow Russia to "blackmail the whole world with the use of nuclear power," it will give China the impression that it can do the same to prevent intervention by the international community if it attacks Taiwan.
Žygimantas Pavilionis, deputy chair of the Committee on European Affairs in the Lithuanian parliament, expressed similar views, saying at the conference that Taiwan should convince the U.S. to abandon strategic ambiguity as such a policy might be regarded by China as a display of "weakness."
"You have to be very clear about what is the red line that [your enemies] cannot even think to cross," he said.
In the meantime, he said, Taiwan should continue to arm itself because eventually the people of Taiwan will be the ones defending their country should China launch an invasion.
Pavilionis also urged Taiwan to reduce its trade dependence on China, saying that it is "a suicide mission" if the county continues to "put all the money in China's pockets."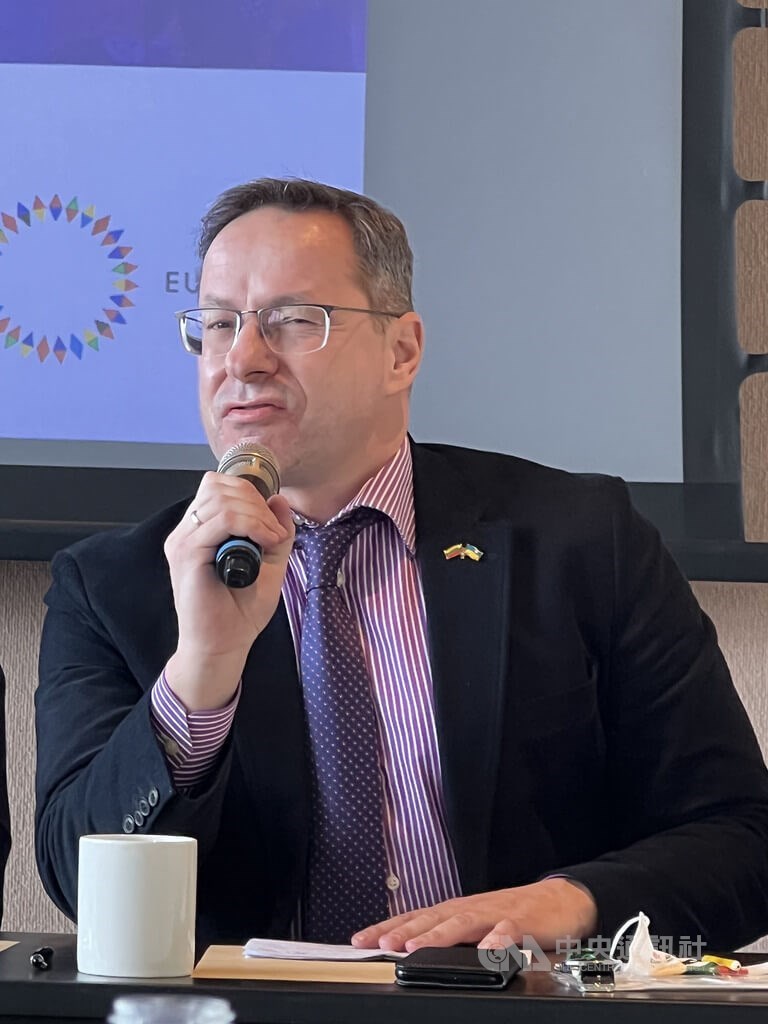 In 2021, 42 percent of Taiwan's exports went to China, from where it received 22 percent of its imports, according to Taiwan's Bureau of Foreign Trade data.
Meanwhile, EVC Director Jakub Janda said Friday's conference was part of efforts by the think tank to foster more exchanges between Taiwan and Central and Eastern European nations on defense and security policies.
The EVC, which established a Taipei office in January, also aims to facilitate political ties between Taiwan and Czechia, Janda said, adding that the Speaker of the Czech Chamber of Deputies Markéta Pekarová Adamová is planning to lead a delegation to Taiwan next spring.
Related News
Oct. 28: Military conflict not option for resolving cross-strait differences: MAC
Oct. 27: Taiwan looking to deepen partnership with Ukraine: President Tsai
Oct. 27: Russia becoming a 'puppet' of China: Israeli scholar Yuval Noah Harari
Oct. 26: Civil engagement vital in "last two minutes of democracy:" Maria Ressa
Oct. 26: Taiwan pledges US$56 million donation, new scholarship to help Ukraine
Oct. 25: Democracies facing 'greatest challenges' since Cold War: President Tsai
Oct. 25: Ukrainian lawmaker in Taiwan, looking to learn about cybersecurity
Sept. 10: Ukrainian MP under pressure from China over pro-Taiwan caucus