ELECTIONS 2022
/
Institute may sue TPP lawmaker on copyright issues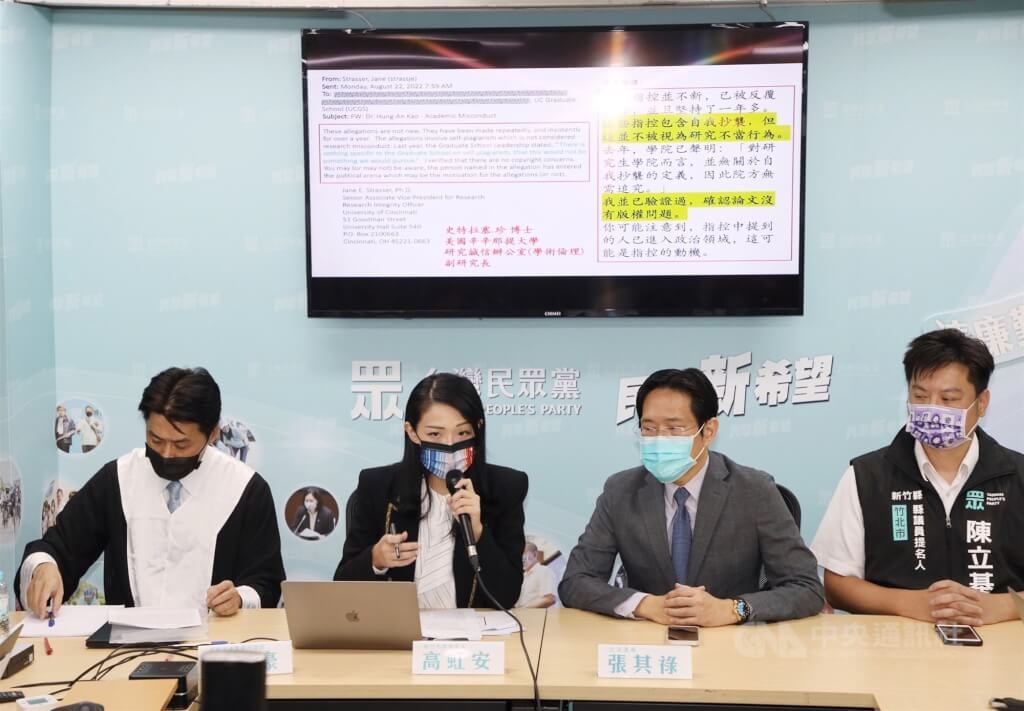 Taipei, Oct. 5 (CNA) Institute for Information Industry (III) President C.H. Cho (卓政宏) said Wednesday the III may sue Taiwan People's Party (TPP) Legislator Kao Hung-an (高虹安) if she does not settle possible copyright violations in her doctoral thesis, which he said copied material from an III research paper that she co-authored.
Speaking at a legislative hearing, Cho said that Kao cited information from the paper she co-authored while working for the III in her doctoral thesis at the University of Cincinnati without crediting the III.
When asked by Democratic Progressive Party (DPP) lawmaker Chen Ting-fei (陳亭妃) how much of the III paper Kao had duplicated in her thesis, Cho said 70 to 80 percent, according to analyses using two types of software.
According to Cho, the III felt Kao needed to respect the III's copyrights, as the large volume of information Kao had taken from the III paper for her thesis had exceeded the scope of what was considered fair use.
Cho said the III would notify the University of Cincinnati of the situation after asking Kao to provide an explanation.
If these two steps did not resolve the issue, the III would then take legal action, he said, without specifying what it expected Kao or the University of Cincinnati to do to rectify the problem.
Kao, the Taiwan People's Party candidate for Hsinchu mayor in Taiwan's year-end elections for local offices, has been the target of plagiarism accusations since the city's former DPP mayor was hit by a plagiarism scandal of his own.
Former Hsinchu Mayor Lin Chih-Chien (林智堅) was forced to abandon his candidacy for Taoyuan mayor after two universities said he had plagiarized other academic works in his master's theses, a move that may have hurt the DPP's chances in both Hsinchu and Taoyuan.
The DPP has since fought back with accusations against DPP opponents in other races, including Kao, and at Wednesday's hearing, DPP lawmakers pressed the III president on taking action against the TPP Hsinchu mayoral candidate.
DPP lawmaker Lai Jui-lung (賴瑞隆) asked Cho when the III intended to sue Kao, and Cho responded that the III had obtained approval from the Ministry of Economic Affairs, which oversees the institute, to take legal action against Kao, but that no timetable had been set.
Lai also asked Economic Affairs Minister Wang Mei-hua (王美花) how she felt about the issue, and she replied that the III should have more properly protected its copyrights.
Kao denied on Sept. 20 that she was guilty of plagiarism, saying that she was the first author of the III research paper.
She said she mentioned three of her colleagues at III and that the paper was part of an III research project in the "acknowledgments" section of her doctoral thesis.
She also presented a letter by Jane Strasser, senior associate vice president for research at the University Of Cincinnati's Research Integrity Office, dated Aug. 22, in which Strasser wrote: "The allegations involve self-plagiarism which is not considered research misconduct."
"There is nothing specific to the Graduate School on self-plagiarism, thus this would not be something we would pursue," Strasser wrote in response to the allegations, adding that "I verified that there are no copyright concerns."
Later on Sept. 20, the III said in a statement that the use of research it funded only needed authorization if it was intended for "practical applications" but not for academic use.
In a Facebook post Wednesday, Kao alleged that the III had been pressured to change its stance on the copyright issue by DPP legislative caucus whip Ker Chien-ming (柯建銘), describing the institute's shift in attitude as a "result of political intervention."
In response to Cho, who said that Kao did not report or explain to the III when she went to the United States to study while working there for the institute, Kao said it was untrue.
Kao said that she had been recommended by the III for a national industrial innovation award in August of 2016, and the reason for recommendation that the III gave at the time was that Kao, while studying for a Ph.D. in mechanical engineering at the University Of Cincinnati, continued to guide Taiwan's industrial transformation and established an intelligent service platform for machine tools.
Kao argued that this meant the III was fully aware of her Ph.D. studies then.
View All