U.S., Taiwan to expand military training scope: Business council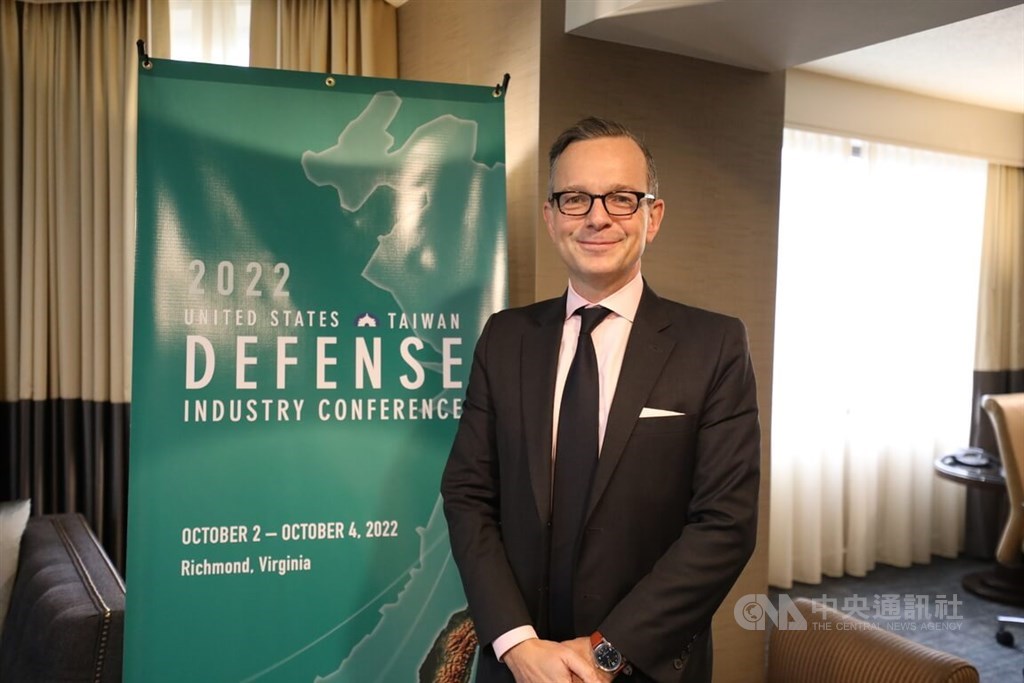 Richmond, VA, Oct. 4 (CNA) United States and Taiwan are expected to expand the scope of military training "in ways we have never seen before," according to a member of the U.S.-Taiwan Business Council on the final day of a U.S.-Taiwan defense industry cooperation meeting.
Rupert Hammond-Chambers, president of the council that organizes the annual U.S.-Taiwan Defense Industry Conference, spoke of the opportunities on training when asked about the progress made at this year's event.
"We're going to see significant and substantive changes to the way in which the United States and Taiwan train, ways we just have not seen before," he said.
At present, Taiwan and the U.S. have an ongoing F-16 fighter pilot training program, according to Hammond-Chambers, but he said the scope of bilateral military training will soon be largely expanded.
"I'm talking about with the U.S. Navy, I'm talking about with the U.S. Army, and I'm also talking interoperability. And that's all going to roll out," he said.
Asked if he meant Washington is on board with expanding and increasing training cooperation with Taiwan, he answered "100 percent."
According to Hammond-Chambers, the U.S. and NATO have been training with Ukraine since 2014.
"That's obviously had a significant impact on how the Ukrainian forces have performed but also the ability, for the two sides, to communicate," he said.
That is why the U.S. and Taiwan will soon expand their existing training programs, as much more "substantive training" in the U.S.-Taiwan relationship is needed, he said.
"And that's going to happen. We're not quite sure how it's going to look. But as time progresses, we're going to see far more communication and training between the two sides. And that's a great development," he said.
Hammond-Chambers did not give a specific timetable on when the expanded military training programs will happen. But he noted that it will happen sometime in 2023 once the necessary funding has been passed by the U.S. Congress.
Hammond-Chambers made the comments at the conclusion of the meeting being held in Richmond, Virginia, from Oct. 2 to 4.
Even as joint training programs may be ramped up, getting the weapons Taiwan needs in its hands has been facing some bottlenecks, admitted Laura Cressey, director of the Office of Regional Security and Arms Transfers (RSAT) under the State Department's Bureau of Political-Military Affairs
Cressy's speech at the closed-door conference was significant because it was the first at the conference by a State Department official since 2011 and the first ever by a Bureau of Political-Military Affairs official since the forum was launched in 2002.
During her talk, Cressey pledged that Washington will speed up its promised deliveries of arms to Taiwan in the face of rising Chinese threats, according to a person who attended the meeting.
The U.S. official said Taiwan is not the only one facing delays in weapons deliveries, as many of American allies are facing the same problem, the source cited Cressey as saying during the address Tuesday morning.
Washington is now doing its best to try to speed up the delivery process, she said, but she also noted that the U.S. is working with other global partners to meet Taiwan's needs by encouraging them to join the U.S. in helping Taiwan acquire key weapon systems.
First held in 2002, the annual U.S-Taiwan defense industry cooperation conference is aimed at providing a platform for the American defense industry to engage with the U.S. and Taiwan governments on security assistance between the two sides.
The official Taiwan delegation was led by Vice Defense Minister Wang Shin-lung (王信龍). Taiwan's main opposition Kuomintang (KMT) also sent a delegation led by its head of international affairs, Alexander Huang (黃介正).