President asks military to strengthen Chinese drone incursion response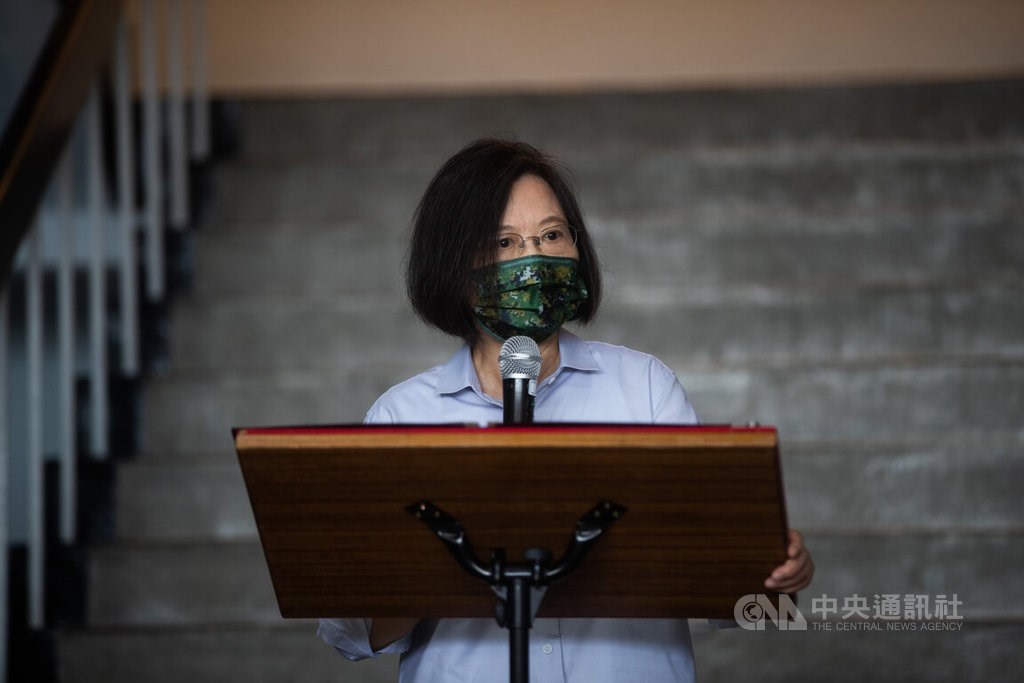 Taipei, Aug. 30 (CNA) President Tsai Ing-wen (蔡英文) on Tuesday said she has instructed the armed forces to take "strong countermeasures" when necessary to protect Taiwan's airspace, in response to frequent Chinese drone incursions, amid widespread criticism the military has done little to counter such incidents.
During an inspection tour of troops stationed on the offshore island of Penghu, Tsai reaffirmed the country's stance that it will not provoke or start a war with China and has refrained from taking more aggressive militarily moves, amid heightened cross-strait tensions.
However, that does not mean Taiwan will not counter People's Liberation Army (PLA) provocations, especially when China is sending drones to Taiwan's outlying frontline islands and conducting cognitive warfare to lower morale among Taiwanese, the president said.
"I have ordered the Ministry of National Defense (MND) to take necessary and strong countermeasures at appropriate times, to defend the security of the nation's territorial airspace," she said.
Tsai's statement was made after Taiwan's armed forces came under heavy criticism after their apparent lack of a serious response to more frequent Chinese drone incursions in the airspace around Taiwan-controlled offshore islands.
Chinese netizens have recently released a series of clips taken by civilian-operated drones showing them flying close to and filming military lookout posts, which have embarrassed Taiwan's military.
The MND has refrained from more aggressive countermeasures such as shooting the drones down to avoid further escalating cross-strait tensions, it said
Military experts and specialists are now urging Taiwanese soldiers to not hold back on using counter-drone weapons when spotting them in the nation's territorial airspace.
Amid criticism, Taiwan's Army on Tuesday made public for the first time what it described as its four-step rules of engagement for drone encounters; "firing warning flares, reporting the incursion, expelling the drone and ultimately shooting it down."
To deal with the rising drone threat over the long term, the MND said it is working on a drone defense system that will be installed by next year in Taiwan's two offshore counties located close to China's coast -- Kinmen and Lienchiang.
In her Tuesday address, Tsai said amid Beijing's increasing military coercion, Taiwan's government continues to strengthen its resolution and capability to defend the nation.
Citing the central government general budget plan for fiscal 2023 proposed last week, the president said proposed spending on national defense next year is increased by nearly 14 percent or more than NT$70 billion (US$23 million).
The money will be used to promote the development of indigenous-built warships and warplanes; improve the equipment and weaponry available to troops; elevate the nation's reserve forces and develop asymmetrical warfare.
Tsai's inspection tour of armed force units stationed in Penghu County, located in the Taiwan Strait, was intended to thank them for their service ahead of the Mid-Autumn Festival holiday next week.
Tensions between Taiwan and China have recently soared to their highest level in decades, with China conducting live-fire and other military exercises around Taiwan following a visit to Taipei by U.S. House of Representatives Speaker Nancy Pelosi earlier this month.
China also responded by suspending imports of some Taiwanese food and agricultural products.