Taiwan's silence on China missile paths draws mixed views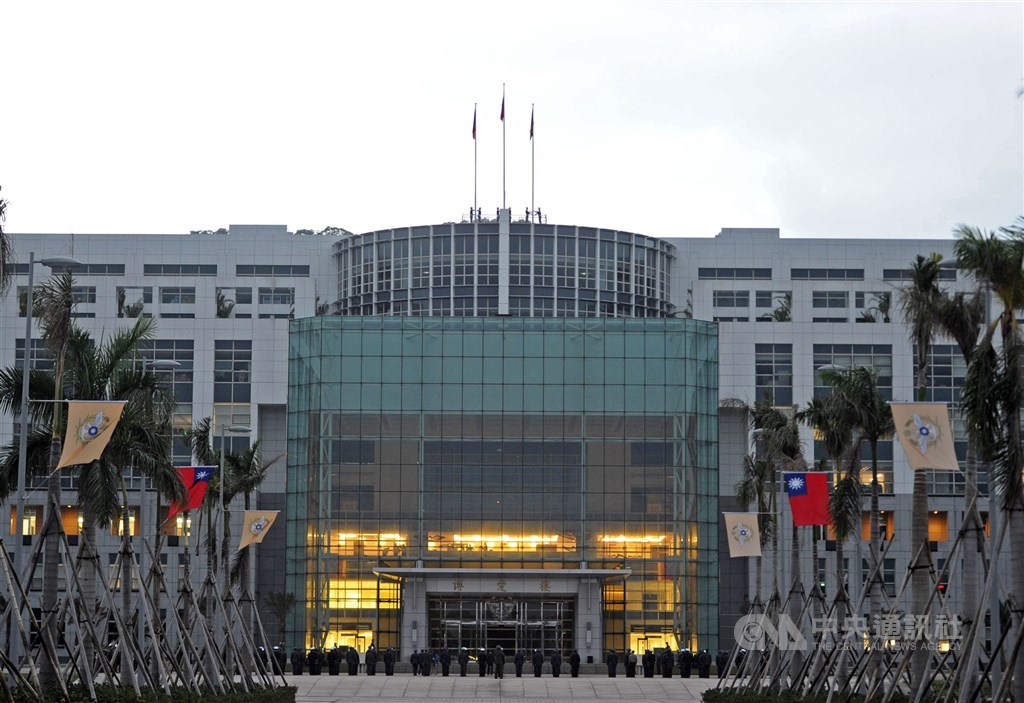 Taipei, Aug. 5 (CNA) A decision by the Ministry of National Defense (MND) not to issue air raid warnings when China fired a number of ballistic missiles near Taiwan on Thursday has elicited mixed reactions among experts and commentators.
In a statement released Thursday, the MND said that the People's Liberation Army had fired 11 Dongfeng ballistic missiles toward Taiwan, but did not give any specifics of the missiles' trajectory.
Japan's Defense Ministry later reported that five of those missiles had landed in Japan's exclusive economic zone, of which four had likely been fired over Taiwan.
The report sparked controversy over the MND's apparent lack of transparency on the paths of the missiles, with some people questioning why the public had not been informed.
Data published by Japan's Defense Ministry showed that the trajectories of the four missiles ranged from 500 to 700 kilometers, Su Tzu-yun (蘇紫雲), an analyst at the Institute for National Defense and Security Research, noted.
Based on aerophysics, a projectile's trajectory is calculated as twice its maximum altitude, which suggests that the four missiles fired over Taiwan peaked at an altitude of over 250 km, Su told CNA.
Video footage released by the PLA indicated that they were likely Dongfeng-15B ballistic missiles, launched from the PLA Rocket Force 61st Base in Anhui Province, within 850 km of their destinations, which means they were likely in space when they passed over Taiwan, Su said.
Citing the U.N.'s Outer Space Treaty, he said altitudes that high are not part of any nation's airspace, so the missiles had not entered Taiwan's airspace and had posed little threat to the nation.
The launch of the missiles was part of China's "psychological warfare" against Taiwan, Su said.
Chou Yu-ping (周宇平), a former Air Force Air Defense and Missile Command official, said the four missiles that allegedly were fired over Taiwan had landed outside the nation's territorial waters.
Had they landed in Taiwan's territorial waters, it would have been an entirely different strategic situation and would have had a greater impact on people's lives, he said.
The MND most likely had determined the missiles' destinations, based on trajectory analysis conducted by the Leshan Radar Station in Hsinchu County, and it probably decided not to inform the public to avoid causing stress, Chou said.
Taiwan Security Analysis Center Director Mei Fu-shing (梅復興) expressed similar views, but said he estimated that the four missiles had peaked at an altitude of 150 km.
That means they would have been at an altitude of over 100 km when they flew over Taiwan, Mei said.
China probably avoided Taiwan's air space so as not to contravene international law and risk having complaints filed against it, he said.
Taipei's decision to not issue air raid warnings or even confirm that the missiles had traveled over Taiwan likely came as a surprise to Beijing and weakened its psychological warfare, Mei said.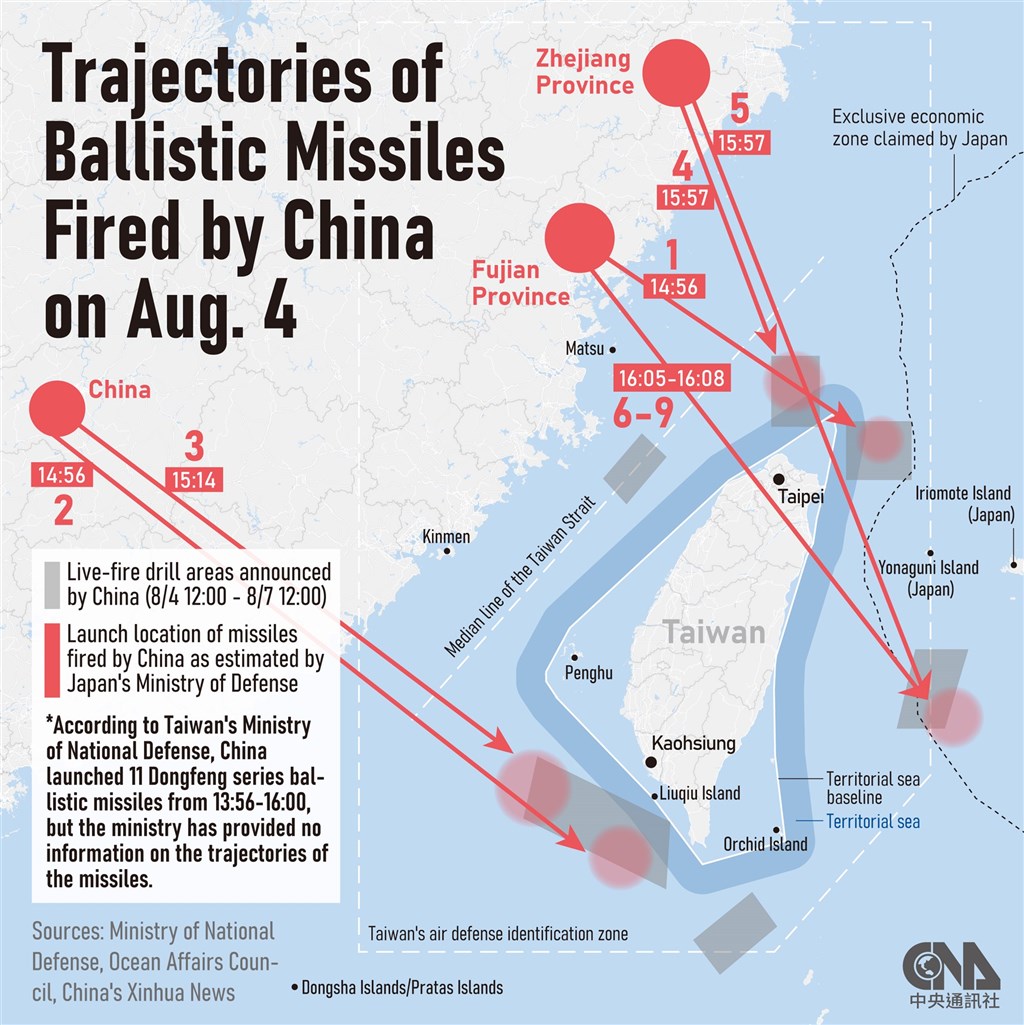 Chang Yen-ting (張延廷), a former Republic of China (Taiwan) Air Force deputy commanding general, did not share that view, however.
He said the MND should have issued cell broadcast alerts to inform the public of missiles passing over Taiwan and to detail the types of missiles, any efforts being made to intercept them, and why.
The MND should craft such messages in advance so they can be promptly issued, Chang said.
Since it is only a matter of time before the public would obtain that kind of information, the MND should be more transparent, which would win the people's praise and show that Taiwan is on top of the situation in any information warfare with China, he said.
The fact that Tokyo was the first to publish the details of the missiles' flight path gives weight to the popular slogan "Taiwan's problems are Japan's problems," Chang said.
Taiwan's military should not only run analyses of missiles fired its way but should also test the accuracy of its data by launching Patriot missiles to intercept them, which would help to prepare the country's armed forces to intercept intruding missiles in the future, he said.
Update
Aug. 7: China sends 66 warplanes, 14 warships around Taiwan Sunday
Aug. 6: 20 Chinese warplanes, 14 warships deployed around Taiwan: MND
Aug. 6: U.S., Japan, Australia urge China to stop military drills
Aug. 6: Taiwan companies told to abide by China's labeling rule: MOEA
Related News
Aug. 5: Defense ministry stays quiet on PLA missiles flying over Taiwan
Aug. 5: 68 Chinese warplane, 13 warship sorties recorded around Taiwan: MND
Aug. 5: China's drills a 'new normal' aimed at changing status quo: Experts
Aug. 4: President Tsai calls China's live-fire drills 'irresponsible act'
Aug. 4: China fires 11 Dongfeng ballistic missiles into waters off Taiwan: MND
Aug. 4: China cannot stop world leaders from visiting Taiwan: Pelosi
Aug. 3: China's military exercises aimed at blockading Taiwan: defense ministry
Aug. 3: China imposes new trade restrictions on Taiwan as Pelosi visits
Aug. 2: Visit to honor 'unwavering' U.S. commitment to Taiwan: Pelosi