Taipei 101 rolls out multiple messages for Pelosi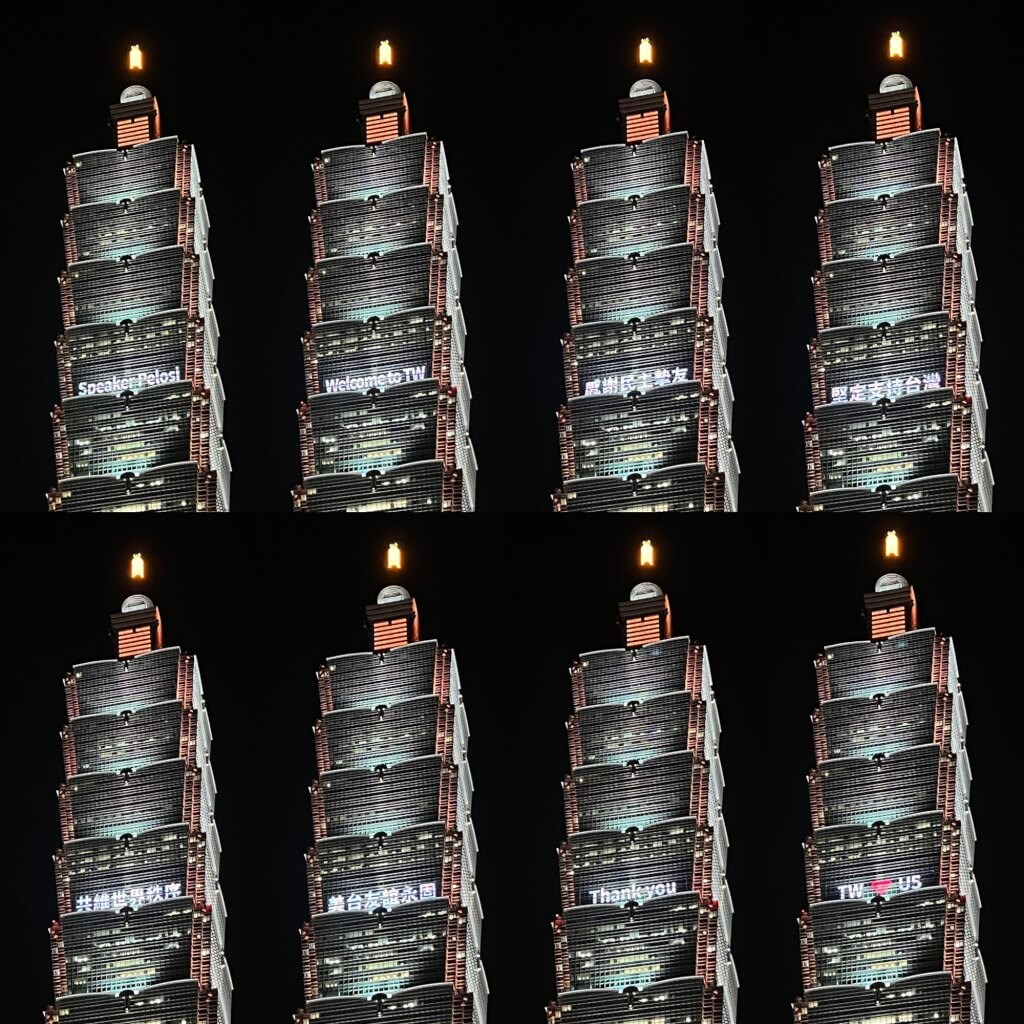 Taipei, Aug. 2 (CNA) Ahead of U.S. House Speaker Nancy Pelosi's expected visit to Taiwan, the iconic Taipei 101 skyscraper Tuesday night displayed bilingual messages welcoming her to Taiwan on its exterior.
The messages written in English included "Speaker Pelosi," "Welcome to TW," and "Taiwan hearts US," while those written in Chinese included: "Thank you, friend of democracy," "Firm support for Taiwan," "Long friendship between the U.S. and Taiwan," and "Maintain world order together."
Pelosi, who is visiting U.S. allies in the Indo-Pacific region, is leading a delegation of five U.S. House representatives. She is expected to meet with President Tsai Ing-wen (蔡英文) and visit Taiwan's legislature Wednesday, according to media reports.
Update
Aug. 8: China changes previously announced timetable, PLA drills continue
Aug. 6: 20 Chinese warplanes, 14 warships deployed around Taiwan: MND
Aug. 6: U.S., Japan, Australia urge China to stop military drills
Aug. 6: Taiwan companies told to abide by China's labeling rule: MOEA
Aug. 5: 68 Chinese warplane, 13 warship sorties recorded around Taiwan: MND
Aug. 5: Controversial IC tycoon to donate NT$3 billion for Taiwan's security
Aug. 4: President Tsai calls China's live-fire drills 'irresponsible act'
Aug. 4: China fires 11 Dongfeng ballistic missiles into waters off Taiwan: MND
Aug. 4: China cannot stop world leaders from visiting Taiwan: Pelosi
Aug. 4: G7, EU urge China to refrain from 'aggressive military activity'
Aug. 3: China's military exercises aimed at blockading Taiwan: defense ministry
Aug. 3: Pelosi departs Taiwan after whirlwind visit
Aug. 3: Pelosi, TSMC Chair Liu discuss semiconductor chips: Legislator
Aug. 3: Activists meet with Pelosi at Taiwan's National Human Rights Museum
Aug. 2: Visit to honor 'unwavering' U.S. commitment to Taiwan: Pelosi