LGBTQ RIGHTS
/
Same-sex marriage support still up substantially since 2018: survey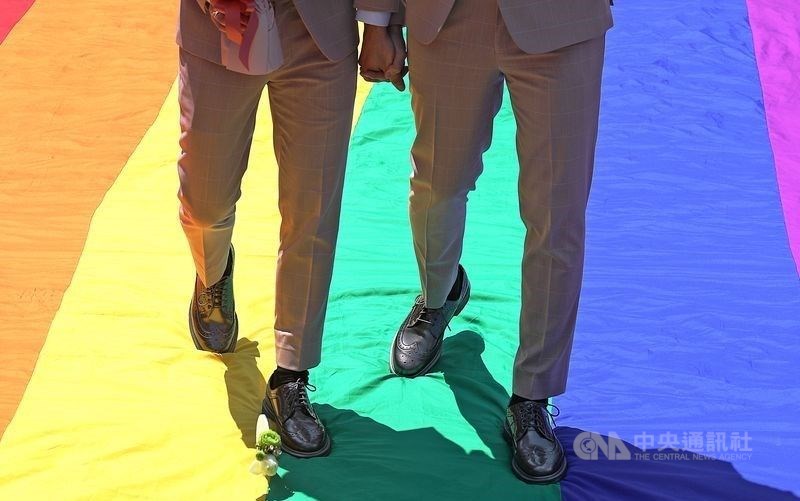 Taipei, May 22 (CNA) As Taiwan approaches the third anniversary of its legalization of same-sex marriage on May 24, support for the right of gay couples to wed has risen to 60.9 percent, still up substantially from four years earlier, according to the results of a new survey released Sunday.
In a press release, the Gender Equality Committee of the Executive Yuan announced the results of a May 4-6 survey it conducted on the Taiwan public's attitudes toward issues relating to the LGBT community, as well as on gender and family topics.
The survey found that 60.9 percent of respondents supported the right of same-sex couples to marry, up 0.5 percentage points from last year's survey and up 23.5 percentage points from the 37.4 percent who supported that right in 2018.
Meanwhile, 71 percent of respondents said same-sex married couples should have the right to adopt children, while 71.8 percent agreed that same-sex couples can raise children just as well as opposite-sex couples, the results showed.
The survey results also revealed growing understanding and acceptance of transgender people in Taiwanese society.
According to the survey, 66.9 percent of respondents were familiar with the concept that "transgender men and women often don't dress according to the norms of the gender they were assigned at birth," marking an increase of 5 percentage points over last year.
Similarly, 76.5 percent of respondents said transgender people should dress in whatever way they feel comfortable at school or work, while 89.4 percent said they had no problem with having a transgender coworker, the results showed.
In terms of views on gender roles, 72.9 percent of respondents disagreed with the idea that "a man's job is to earn money and a woman's job is to take care of the family," while 78.7 percent disagreed that a wife should spend more time doing housework than her husband.
Meanwhile, 92 percent of respondents disagreed that women were "not suited" to study STEM subjects -- science, technology, engineering and mathematics -- and 91.2 percent agreed that women and men are equally suited for management roles in the workplace, the survey found.
The Gender Equality Committee's survey was conducted by telephone from May 4-6 with 1,076 valid responses from people aged 20 and older. It had a confidence level of 95 percent and a margin of error of plus or minus 2.99 percentage points.
View All