Taiwan, Vatican officials plant trees in support of Ukraine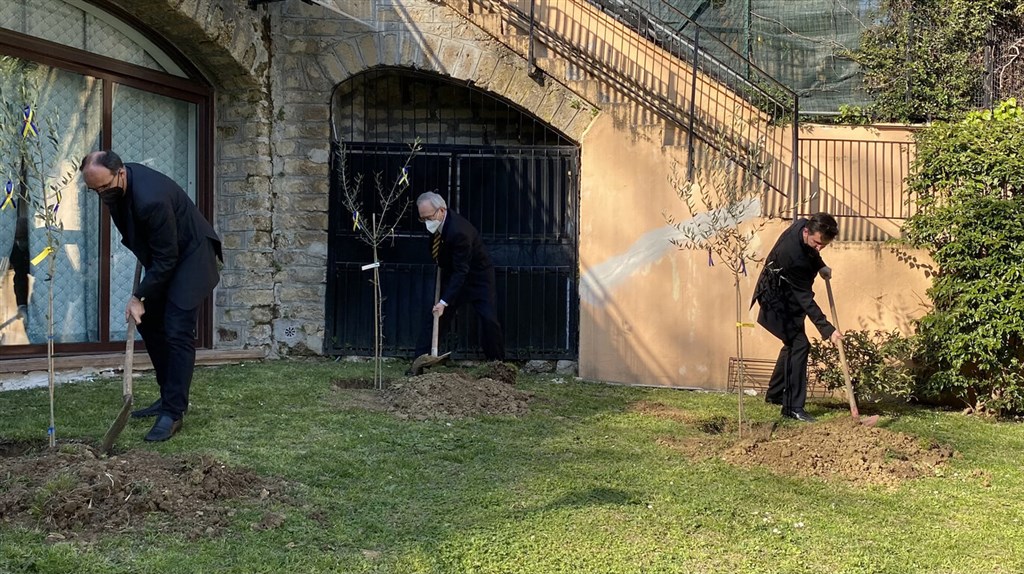 Taipei, March 27 (CNA) Taiwan and Vatican officials last week planted three olive tree saplings to symbolize the two countries' solidarity with war-torn Ukraine and their commitment to world peace, according to the Taiwan embassy in the Holy See.
The trees were planted by Taiwan's Ambassador to the Holy See Matthew Lee (李世明), Archbishop and Prelate Fabio Dal Cin, and Father Bernardino Giordano, the embassy said Saturday in a Facebook post.
The ceremony was held on the grounds of Lee's official residence in Rome, months ahead of the 80th anniversary of Taiwan-Vatican diplomatic ties, and it also had two other layers of significance, according to the post.
The planting of the olive trees symbolized Taiwan and the Vatican's support for Ukraine and their commitment to world peace, including peaceful Taiwan-China relations, the embassy said.
In a symbolic gesture of support for Ukraine, the three saplings were draped in blue-and-yellow ribbons, the national colors of the Eastern European country, which is currently fighting off an attack by Russia, according to the post.
The ribbons were fastened with Taiwan-Vatican flag pins to highlight 80 years of thriving bilateral diplomatic relations, the post said.
At the ceremony, Dal Cin said the olive saplings were from the Basilica della Santa Casa -- a Marian shrine in Loreto, Italy, where Father Bernardino serves, and a major pilgrimage destination.