Former top American diplomat Mike Pompeo arrives in Taiwan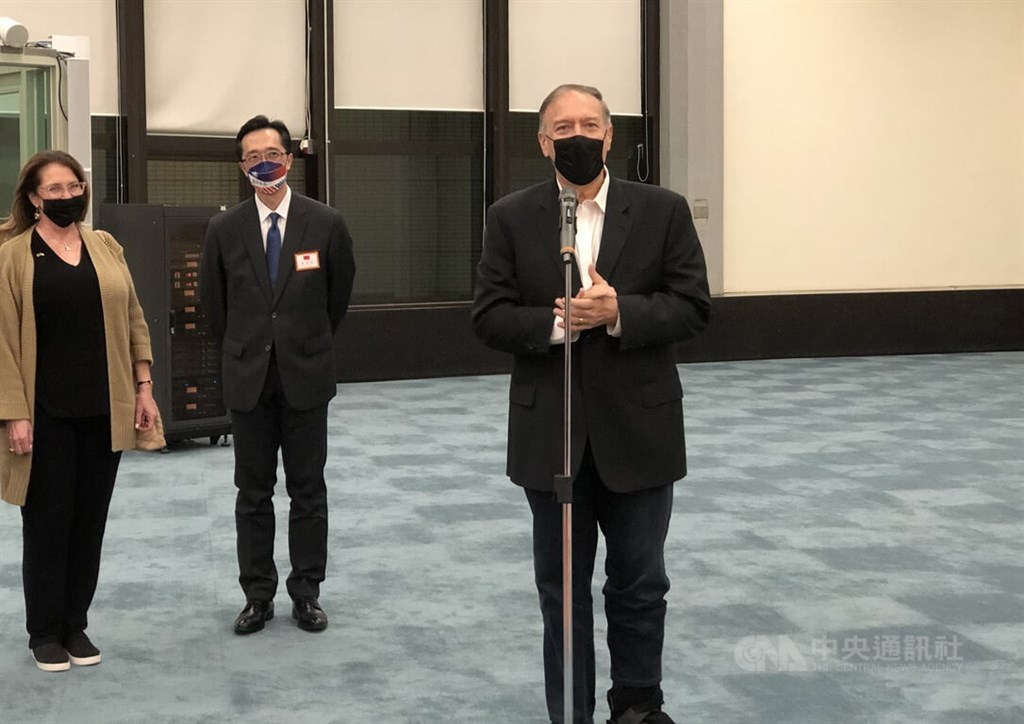 Taipei, March 2 (CNA) Former United States Secretary of State Mike Pompeo arrived in Taipei Wednesday evening on a four-day visit that will include meetings with top-level Taiwanese officials.
Pompeo, who served as his country's top diplomat during the administration of former President Donald Trump, arrived at Taoyuan International Airport at 7:38 p.m., accompanied by his wife Susan Pompeo, his former advisor on China policy Miles Yu (余茂春), and nine other people.
The group was greeted at the airport by Taiwan's Deputy Foreign Minister Harry Tseng (曾厚仁), on the same day that a delegation of five former U.S. defense and security officials, sent by President Joe Biden, wrapped up a two-day visit to Taiwan.
On arrival at the airport, Pompeo said it was "wonderful" to be in Taiwan.
"I've been looking forward to coming to visit with the people of Taiwan for a very long time," he told reporters. "I'm so much looking forward to my trip, to meeting with business people, people from government, people all across your great nation."
Pompeo, who is currently a distinguished fellow at the Washington-based think tank Hudson Institute, had expressed interest in visiting Taiwan, after the change of administration in the U.S. in January 2021.
During his four-day stay in Taiwan, Pompeo will meet with President Tsai Ing-wen (蔡英文), Vice President Lai Ching-te (賴清德), and other top government officials, Taiwan's Ministry of Foreign Affairs said.
When Pompeo meets with Tsai on Thursday, he will be awarded the Order of Brilliant Star in recognition of his contribution to promoting Taiwan-U.S. ties, according to the Presidential Office.
As secretary of state from April 2018 to January 2021, Pompeo vigorously pushed for deepening the bilateral ties and strengthening the U.S.' commitment to Taiwan's security, Presidential Office spokesman Xavier Chang (張惇涵) said in a statement issued Tuesday.
Pompeo also established new platforms and agreements to facilitate stronger bilateral exchanges, Chang said, describing the former American official as an important friend who has shown staunch support for Taiwan.
In a tweet Tuesday, Pompeo said he and his wife were "looking forward to being with you -- the freedom-loving Taiwanese people soon," and he attached a photo of a billboard in Taichung that read "Welcome Mr. Pompeo to Taiwan."
On Wednesday, Hsiao Hsing-kai (蕭行凱), a village chief in Taichung and member of the ruling Democratic Progressive Party (DPP), said he had sponsored the billboard to express gratitude to Pompeo for his support of Taiwan.
Pompeo was one of 28 Trump administration officials who were slapped with sanctions by China, after the inauguration of President Biden in January 2021, on grounds that they had "seriously violated China's sovereignty" and were "mainly responsible for such U.S. moves on China-related issues."
Update
March 4: U.S. should diplomatically recognize Taiwan: Pompeo
March 4: Chinese invasion depends on Taiwan, the West's preparedness: Pompeo
March 4: TSMC thanks Pompeo for support for Arizona investment
March 3: President Tsai awards medal to Pompeo for enhancing Taiwan-U.S. ties