Tsai orders establishment of task force on Ukraine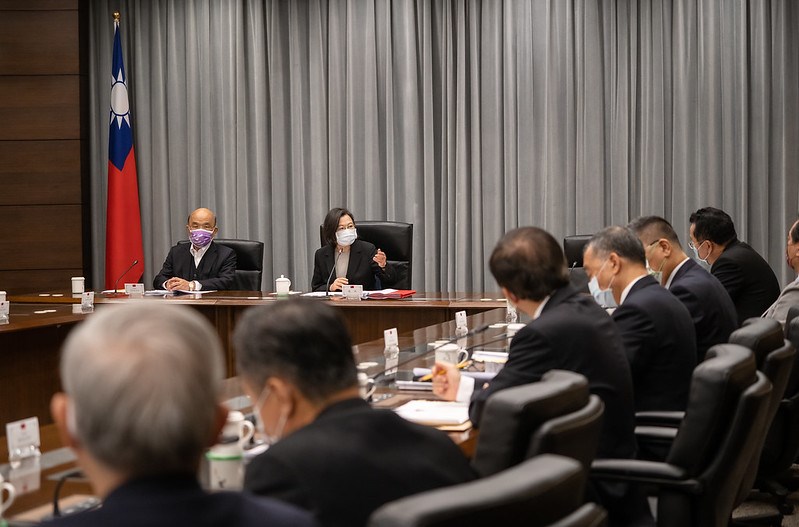 Taipei, Jan. 28 (CNA) President Tsai Ing-wen (蔡英文) instructed the National Security Council (NSC) she chairs to establish a working group on Ukraine during a high-level national security meeting on Friday.
In a statement released by the Presidential Office after the meeting, Tsai was quoted as saying that the Ukraine situation required close attention, and that the purpose of the working group would be to monitor its developments and possible impact on Taiwan's security.
According to foreign media, Russia has deployed around 100,000 troops along its border with Ukraine, sparking fears of a possible invasion.
Tsai said that because Taiwan faces a constant military threat and military intimidation from China, it "empathizes with the current situation in Ukraine."
She supports the efforts all parties involved have made to maintain regional peace, Tsai said, and urged them to engage in dialogue and negotiations through peaceful means so that the dispute can be resolved rationally.
As the Lunar New Year holiday is about to begin, Tsai asked the armed forces and national security units to be on alert so that national security and peace and stability across the Taiwan Strait can be secured.
"Using military force is definitely not an option to resolve disputes. This is a universal truth," Tsai said.
At Friday's high-level security meeting, the president also ordered relevant authorities to take steps to maintain Taiwan's economic stability while closely monitoring changes in the COVID-19 situation.
The national security meeting was attended by Premier Su Tseng-chang (蘇貞昌), Vice Premier Shen Jong-chin (沈榮津), Presidential Secretary-General David Lee (李大維), NSC Secretary-General Wellington Koo (顧立雄), and top officials from related Cabinet units.