Taiwan, Slovakia sign agreement, 9 MOUs to deepen cooperation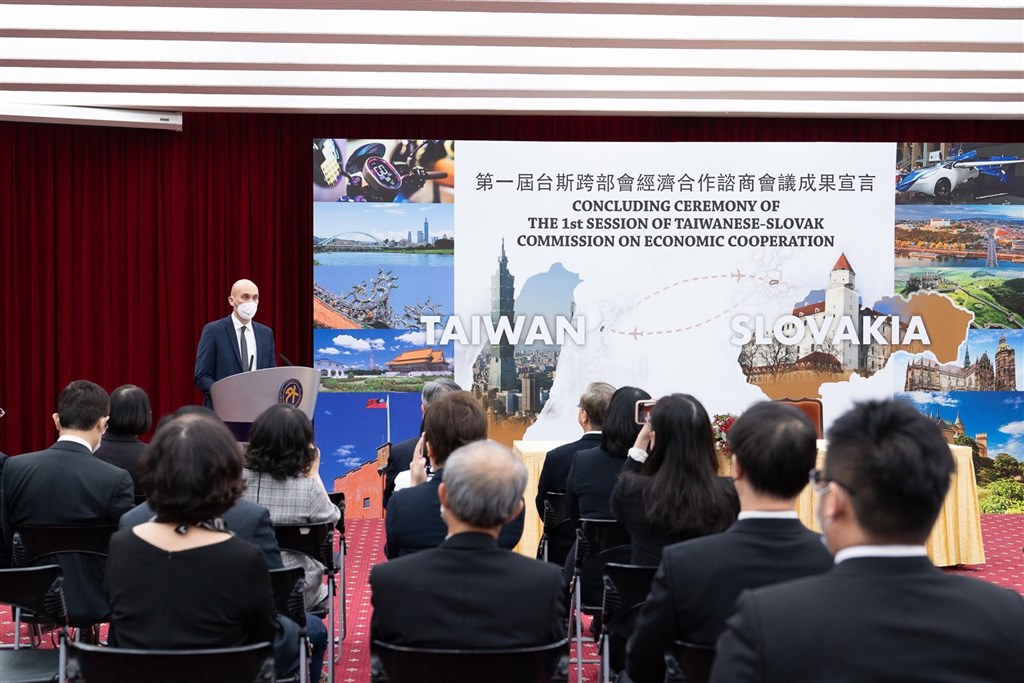 Taipei, Dec. 9 (CNA) Taiwan and Slovakia signed an agreement on Thursday to deepen two-way exchanges in various areas, a day before a visiting delegation led by the central European country's deputy economic minister is set to conclude its high-level visit to Taiwan.
Aside from the signing of the pact, titled "Protocol of the 1st Session of The Taiwanese-Slovak Commission on Economic Cooperation," to mark the conclusion of the session from Monday to Thursday, the visiting Slovak delegation also signed nine memorandums of understanding (MOUs) with partners in Taiwan during their visit that began on Dec. 5.
The nine MOUs cover areas ranging from education, research and development, trade, science park, space, tourism, smart city, and scientific research, according to a press release issued by the Ministry of Foreign Affairs (MOFA).
Both countries have also agreed that the 2nd Session of the Taiwanese-Slovak Commission on Economic Cooperation will be held in Bratislava, capital of Slovakia, next year, it said.
The delegation, led by State Secretary Karol Galek of Slovakia's Ministry of Economy, and Lucia Kišš, director-general of the Economic and Development Cooperation Section, Slovakia's Ministry of Foreign and European Affairs, arrived in Taiwan on a charter flight on Dec. 5 for a six-day visit.
Consisting of 18 senior officials and 25 business representatives, the delegation is the highest-level and largest visit by the European Union member state since the two countries opened reciprocal representative offices in 2003.
Aside from attending the multi-day commission session, the delegation members hosted the Slovakia Investment Opportunities Forum to introduce Slovakia's investment climate and opportunities to potential Taiwanese investors.
They also visited the Ministry of Education, MOFA, the Tourism Bureau, Hsinchu Science Park, National Space Center, and the Industrial Technology Research Institute.
Speaking during a press event on Thursday afternoon, Kišš said this visit will not be a one-time thing but will foster future cooperation in various fields, especially those covered in the nine MOUs signed by both sides.
Galek praised Taiwan as the leader in semiconductor manufacturing and announced that both sides had decided to form a working group to engage in future talks on further cooperation in the semiconductor sector.
Meanwhile, asked if the delegation had faced Chinese pressure before its visit to Taiwan, Kišš and Galek did not directly answer the question, saying only that the trip was meant to enhance bilateral economic exchanges and was not political.
"This was an economic one (delegation), not a political one," Kišš said, adding that Slovakia has had solid cooperation with Taiwan since 2003 and that this visit was a continuation of that foundation to build a closer economic partnership.
"No one is allowed to stop our cooperation or investment, which are based on economic factors and especially if we are like-minded partners," Galek added.
Their visit came after an invitation from National Development Council (NDC) chief Kung Ming-hsin (龔明鑫), who led a 66-member delegation to Slovakia in October.
While Kung was in Slovakia, the two sides signed seven memorandums of understanding (MOUs) aimed at increasing bilateral collaboration on trade and technology, according to the NDC.
Taiwan's ties with the central European country have warmed in recent months and Slovakia signed a legal assistance agreement with Taiwan in August, while also donating 160,000 COVID-19 vaccine doses to the country in September.