Cabinet approves special budget for defensive weapons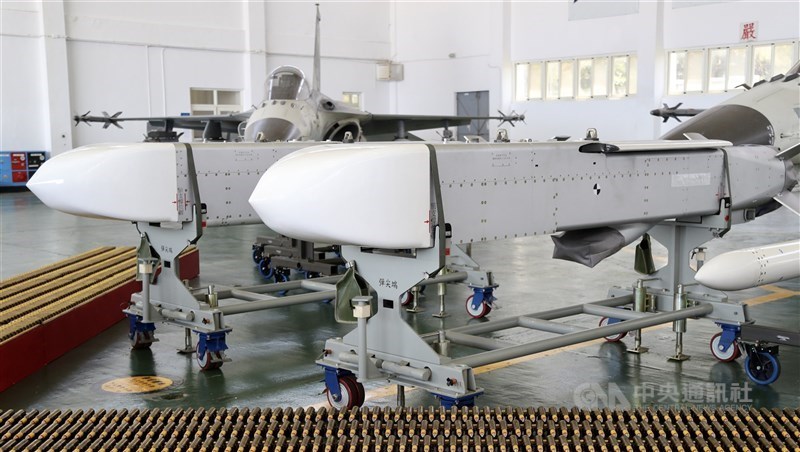 Taipei, Nov. 25 (CNA) Taiwan's Cabinet on Thursday approved a proposed special budget of NT$237.3 billion (US$8.53 billion) for procuring arms to strengthen the country's sea and air combat capabilities, with the lion's share of funding earmarked for shore-based anti-ship missiles.
In response to the military threat facing Taiwan and to meet the country's defense needs, the Legislative Yuan on Tuesday approved a bill authorizing the government to draft a special budget of up to NT$240 billion for arms procurement over the next five years.
The newly passed law allows the government to use a special budget -- which is not subject to the spending constraints of the normal budgeting process -- to acquire mostly indigenous defense materiel for upgrading Taiwan's anti-air and anti-surface capabilities.
The new law has been promulgated by President Tsai Ing-wen (蔡英文) to be in force until Dec. 31, 2026.
After the legislation became effective, the central government put forth a special arms procurement budget proposal, which was approved Thursday during a Cabinet meeting.
Of the proposed NT$237.3 billion in spending, the largest portion will go toward procuring shore-based anti-ship missiles, with an allocation of NT$79.7 billion, the Directorate-General of Budget, Accounting and Statistics (DGBAS) said in a statement issued Thursday.
The Navy's high-performance warship projects will receive NT$69.2 billion, while NT$3.2 billion has been earmarked for weapons systems for the country's Coast Guard, according to the DGBAS.
In addition, NT$8.9 billion will go toward buying a field-based air defense system, with a further NT$34.7 billion for a ground-based air defense system.
A combat drone system will consume NT$12 billion, while NT$12.6 billion will go toward the procurement of Wan Chien (Ten Thousand Swords) air-to-ground cruise missiles, alongside NT$17 billion for the Hsiung Sheng surface-to-surface missile project, the DGBAS said.
The proposed budget of NT$237.3 billion will be fully financed by government borrowing, according to the DGBAS.
Following the Cabinet's approval of the special budget plan, the bill will be submitted to the Legislature for review and is expected to be passed during the current plenary session.