INTERVIEW
/
With Hungary firmly in China's orbit, Budapest's mayor welcomes Taiwan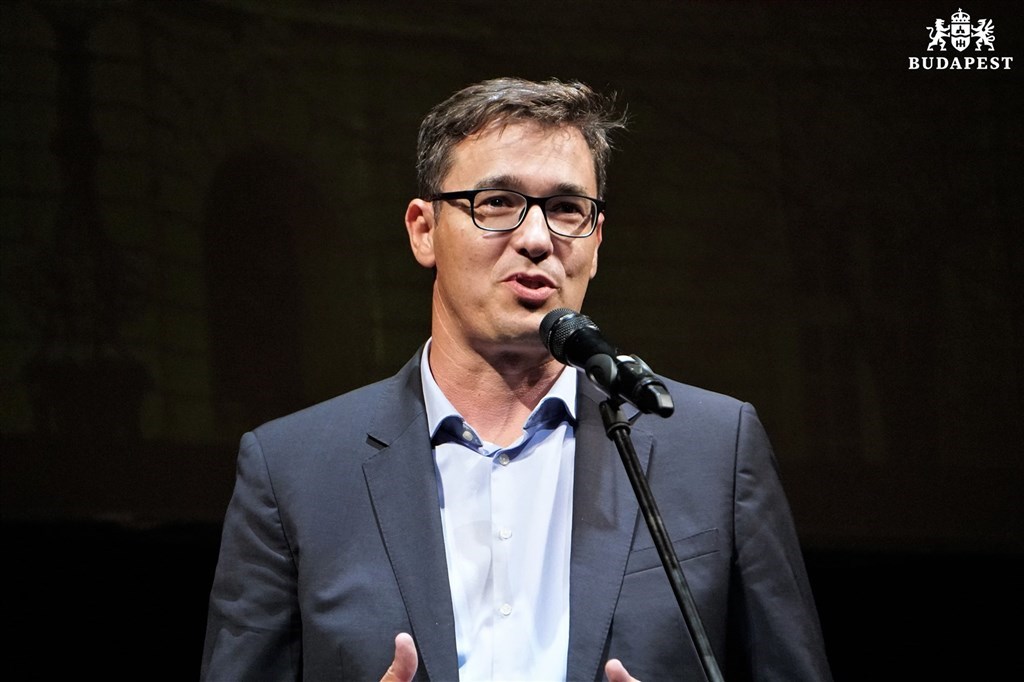 Taipei, Oct. 29 (CNA) Despite Hungary's emergence as one of China's staunchest EU allies under Prime Minister Viktor Orbán, Mayor of Budapest and Orbán critic Gergely Karácsony is making waves as a public thorn in Beijing's side when it comes to human rights.
In June, thousands flooded the streets of Hungary's capital to protest a satellite campus of Shanghai's Fudan University, which, according to the BBC, would cost more than the Orbán government's entire higher-education budget for 2019.
Faced with imposing financial coercion, Karácsony, a member of the opposition Dialogue for Hungary, employed a left-field tactic to scupper the plans: rechristening the surrounding streets with names politically unpalatable to Beijing.
It should come as no surprise then that the man responsible for "Dalai Lama Street," "Free Hong Kong Road," and "Uyghur Martyrs' Road" is also a supporter of closer ties with Taiwan.
In a recent email interview with CNA, Karácsony, 46, talked up the potential for increased exchanges between Hungary and Taiwan, saying that many Hungarians were critical of China's actions.
"I am sure that a lot of that has to do with China's oppressive actions in Xinjiang, Hong Kong, and its aggressive moves in the South China Sea and beyond," he said.
Karácsony, who was elected mayor in 2019 on a five-party slate but who recently withdrew from a primary race for prime minister, said new studies suggested that half of Hungarians were critical of China, with another 25 percent undecided or hesitant.
Even though Hungary has "rightly" cultivated a closer working relationship with China since the fall of the Berlin Wall, Karácsony is critical of the manner in which the Orbán government has "massively scaled up its engagement" with Beijing.
"In this new China-policy, there is no criticism whatsoever of China's current human rights' record, its unilateral actions and violations of international norms."
Karácsony said the cultivation of deeper ties with China under Orbán's "Eastern Opening" policy was "not really popular -- not even among pro-government voters."
His position puts him in tune with civic counterparts in several other Central and Eastern European cities, who have reached out to Taiwan.
Such exchanges have drawn the ire of China, which holds irredentist claims over Taiwan and who has aggressively sought to quash any action it views as endorsing the island's sovereignty.
In December, 2019, Karácsony, along with Prague Mayor Zdeněk Hřib, Bratislava's Matúš Vallo and Warsaw's Rafał Trzaskowski, signed The Pact of Free Cities, an open city alliance that aims to protect and advance liberal democracy, pluralism, openness and cultural diversity in the region.
Karácsony also believes that "education, technology and digitalization, and environmental protection are certainly areas where we would welcome more cooperation" with Taiwan.
"We also want to strengthen people-to-people ties, and welcome more Taiwanese visitors."
Should Orbán's ruling Fidesz party lose the Hungarian election next year, Karácsony said any new government should support Taiwan's participation in international organizations and agencies such as the World Health Organization (WHO) and the International Civil Aviation Organization (ICAO).
"I think Taiwan's participation in international platforms should be welcome in all those crucial areas when this participation would have a tangible positive impact for the international community.
"The COVID-19 pandemic is a good case in point."
Earlier this year, Hungary's opposition parties announced that they would unite to unseat Orbán, who has been in office since 2010, but Karácsony dropped out of the primary race to be the opposition's candidate in October.
Orbán has been seeking closer ties with Russia and China, with Hungary becoming the first European country to participate in China's Belt and Road Initiative in 2019.
In May, Orbán's government blocked the EU from delivering a statement condemning the Chinese government's crackdown on protests in Hong Kong.
However, despite this, as well as Beijing's best efforts to suppress support for Taiwan overseas, Karácsony remains unfazed.
He said that Budapest and Taipei were in the final stages of signing a cooperation agreement on smart cities, which followed on from it joining the Pact of Free Cities alongside Taoyuan in September. "We were very happy to welcome them on board!"
View All