'Taiwan unites us all': foreign affairs chair of Lithuanian parliament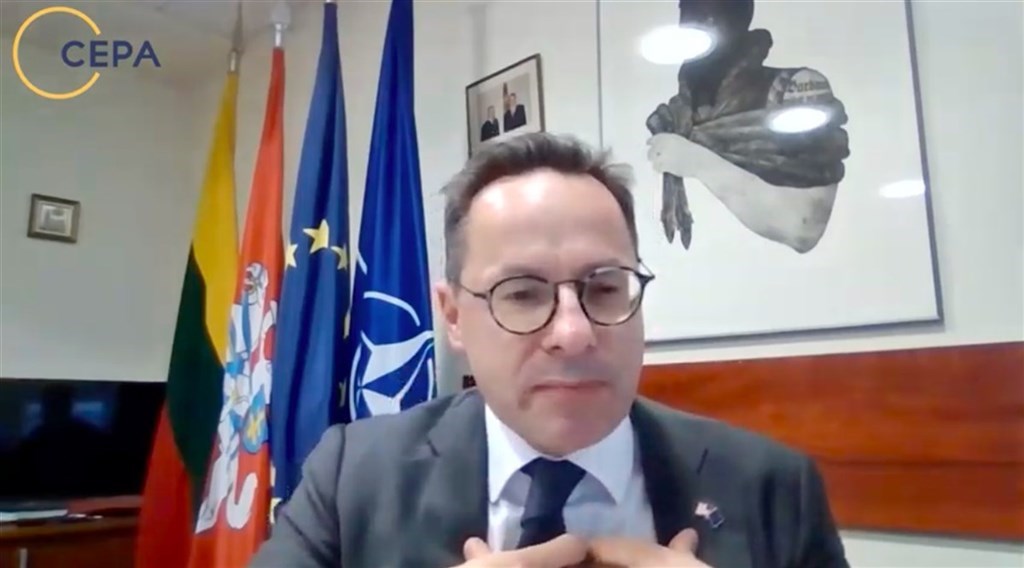 Washington, Oct. 27 (CNA) The issue of Taiwan unites countries that support freedom and could serve as an inspiration to democracies across the world, the Chair of the Committee on Foreign Affairs of the Lithuanian Parliament Žygimantas Pavilionis said Wednesday.
Pavilionis made the comments at a virtual talk held by the Center for European Policy Analysis, a think tank headquartered in Washington, D.C.
Panelists at the event, titled "The U.S., Asia, and Europe: Toward a Common Democratic Agenda," discussed how democracies in the three regions could work together to strengthen their commitment to democracy and defend democratic norms and values internationally.
Pavilionis said at the event that although it was difficult to find an issue that united Europeans, Americans, and "all other freedom-loving nations all around the world."
"Taiwan unites us all."
"And we need this unity so desperately, because after 15 years of democracy decline, we need some inspirations and examples of success stories," Pavilionis said, naming Taiwan as an example that could inspire democracies across the globe.
These inspirations can serve to remind countries that humanity and democracy matter, he said.
When asked about China's threats of economic retaliation against Lithuania due to the Baltic country's warming ties with Taiwan, Pavilionis said that China does not understand the economy of Lithuania nor the psyche of its people.
"Actually, I think they are doing exactly what we want, because it was my long-term dream to reorient us from trading with autocratic countries like Russia and China, and go full speed into expanding relations with countries like Taiwan, Japan, Australia, South Korea," Pavilionis said.
Dependency on autocratic countries limits one's freedoms of speech and decisions, but bolstering relations with democratic countries empowers freedom of choice, Pavilionis said.
Taiwan's Representative to the U.S. Hsiao Bi-khim (蕭美琴), who also spoke at the event, said in her remarks that of the multifaceted ways that China has put pressure on Taiwan, economic coercion is the most complex and the hardest to deal with.
Hsiao listed three approaches to counter this threat, the first being democratic governments creating infrastructure that allows them to be more supportive of each other's economies, such as through trade deals or organizing more resilient supply chains.
A second approach is to examine emerging technologies and see how they can be used to advance human progress and basic liberties, while also preventing the wrongful application of these technologies by authoritarian regimes through export controls and other joint initiatives.
The third involves civil societies and consumers. By having more transparency on the origin of products, consumers can choose to support countries that are under distress due to political coercion, and allow them to steer away from products that support totalitarian regimes, Hsiao said.
She said in her concluding remarks that it was important for democracies to come together when any one country faces coercion, as this kind of solidarity is deeply necessary.
Also on Wednesday, Lithuanian President Gitanas Nausėda said the country's position on Taiwan remained unchanged despite "irritation from China," Lithuanian National Radio and Television (LRT) reported.
"I believe our decisions should be well understood, not met with such irritation by a country [China] that has made certain démarches," LRT cited Nausėda as saying. "But our position remains unchanged, because it is the position of a sovereign, independent country."
Nausėda reiterated that the country could develop foreign relationships as it pleased, according to the LRT report.