U.S. Secretary of State urges China to stop coercion aimed at Taiwan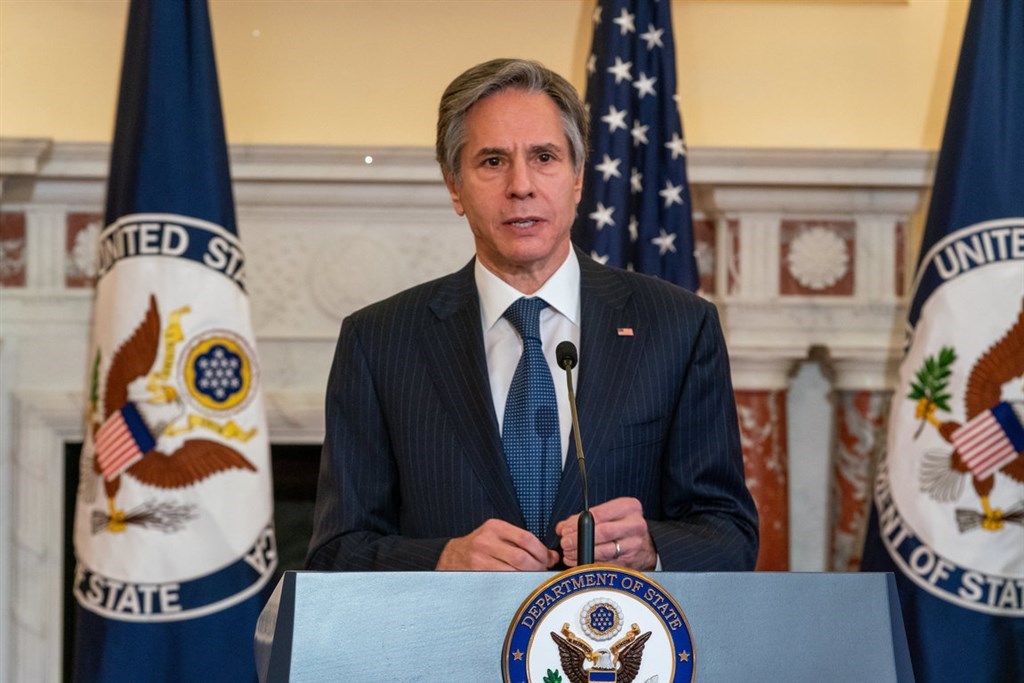 Washington, Oct. 6 (CNA) U.S. Secretary of State Antony Blinken has urged Beijing to cease pressure and coercion toward Taiwan, following record numbers of Chinese People's Liberation Army (PLA) military sorties near the island.
At a press conference held with OECD chief Mathias Cormann in Paris Wednesday, Blinken said his country was "very concerned by the People's Republic of China's provocative military activity near Taiwan...We strongly urge Beijing to cease its military, diplomatic, and economic pressure and coercion directed at Taiwan."
The U.S.' top diplomat said China's military maneuvers were destabilizing, adding that they could lead to miscalculations and undermine regional peace and stability.
Blinken's comments come after a total of 150 PLA warplanes entered the southwestern part of Taiwan's air defense identification zone (ADIZ) from Oct.1-5, according to Ministry of National Defense (MND) data.
By comparison, the PLA deployed 380 aircraft for military exercises near Taiwan over the whole of last year.
Taiwan's ADIZ -- a self-defined area in which a country can assert the ability to identify, locate and control approaching foreign aircraft -- is not considered territorial airspace under international law.
In recent days, other U.S. officials have echoed Blinken's message to Beijing regarding incursions into Taiwan's ADIZ.
This has included President Joe Biden, who told reporters at the White House Tuesday: "I've spoken with [Chinese leader] Xi [Jinping] about Taiwan. We agree ... we will abide by the Taiwan agreement."
The remarks marked Biden's first time commenting on PLA military activities near Taiwan since taking office.
Asked during a press briefing Thursday to provide more details about the conversation between Biden and Xi, White House Press Secretary Jen Psaki said Biden had reiterated to the Chinese leader that the U.S. would uphold its commitments to Taiwan under the Taiwan Relations Act.
According to a readout provided by the White House, White House National Security Advisor Jake Sullivan communicated concerns over Beijing's actions during a meeting in Zurich, Switzerland Thursday to Yang Jiechi, the director of China's Office of the Foreign Affairs Commission.
Yang, who is also a member the Chinese Communist Party's Politburo, responded by conveying Beijing's stance on issues relating to Taiwan, Hong Kong and Xinjiang, asking the U.S. government to "stop interfering with China's internal affairs," according to a press statement issued by China's Ministry of Foreign Affairs.
Meanwhile, in a letter to President Tsai Ing-wen (蔡英文), U.S. Senators Robert Menendez and James M. Inhofe, co-chairs of the Senate Taiwan Caucus, expressed support for Taiwan in the face of the challenges posed by the Chinese government
The letter, sent ahead of Taiwan's National Day on Oct. 10, said Tsai could "count on our continued support in ensuring Taiwan remains one of our most important partners in the Indo-Pacific region."
The letter went on to underline the importance of defending the island's democratic values and free-market principles.