Eric Chu, Chang Ya-chung exchange fire over China at KMT debate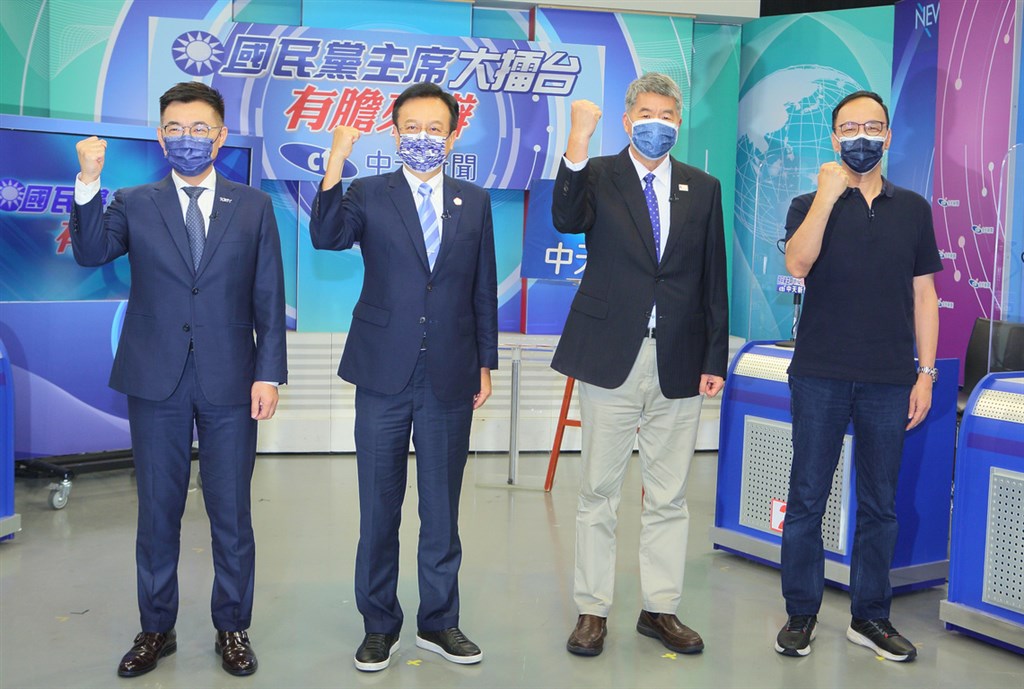 Taipei, Sept. 18 (CNA) Eric Chu (朱立倫) and Chang Ya-chung (張亞中), two of the candidates vying to lead the opposition Kuomintang (KMT), clashed over relations with China during a debate in Taipei on Saturday, a week before the chairmanship election is to be held.
Chu, who has served as New Taipei mayor and KMT chairman, criticized Chang for trying to push for Taiwan's unification with China.
Chang can embrace his political views, but he has to take into consideration the mainstream of Taiwanese society if he wants to lead the KMT, Chu said.
Polls conducted in March and September by the Mainland Affairs Council show support in Taiwan for unification with China in the single digits at below 8 percent, making it a difficult sell at the ballot box for any political party or politician.
The principle for cross-strait relations should be to seek common ground while setting aside differences, Chu said, adding that he would facilitate cultural and social exchanges between Taiwanese and Chinese.
Chu denounced Chang's proposal for a peace "memorandum" between the KMT and the Chinese government and said he would instead try to balance Taiwan's ties with the United States with its ties with China if elected party chief.
He also vowed to re-establish the KMT's representative office in the U.S. as part of its efforts to build a closer relationship with Washington. The KMT closed its U.S. office in 2008, shortly after former President Ma Ying-jeou (馬英九) took office.
Chang, president of the NGO Sun Yat-sen School, retorted that the former mayor knew little about diplomacy. He said opening a KMT office in the U.S. would not be an option if he were elected as the party's leader because of the high expense and limited benefits.
He would, instead, liaise with the U.S. government through the American Institute in Taiwan, he said.
Chang defended his plan to negotiate a peace memorandum between the KMT and Chinese authorities within two years, contending that it will be a product of mutual consent and can reduce hostilities between Taipei and Beijing.
Meanwhile, incumbent KMT chairman Johnny Chiang (江啟臣) stressed that if he were to win re-election on Sept. 25, he would continue to defend the country according to the constitution while seeking closer people-to-people ties between Taiwan and China.
He also said he would prioritize finding the best candidate from the KMT to win the presidential election in 2024.
The debate, which was streamed via an online platform, also included the fourth candidate in the race, Cho Po-yuan (卓伯源), the former Changhua County magistrate. It was the last scheduled debate before polling day.
The favorites in the race are generally thought to be Chu and Chiang.