CORONAVIRUS
/
Taiwan thanks Japan for 'timely' COVID-19 vaccine donation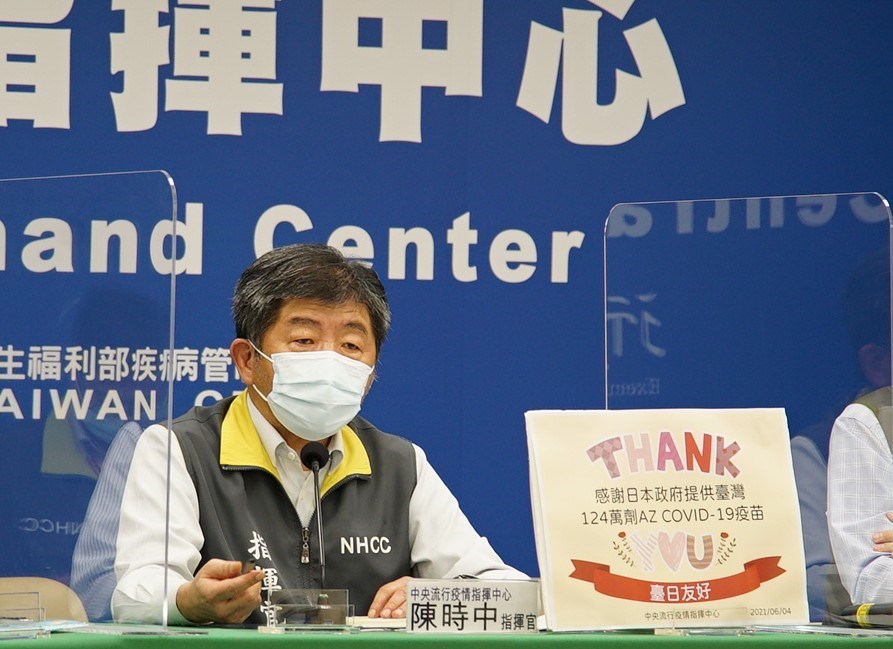 Taipei, June 4 (CNA) A shipment of 1.24 million doses of the AstraZeneca COVID-19 vaccine, donated by Japan, arrived Friday in Taiwan, which has been struggling to procure vaccines amid a spike in domestic cases.
Health Minister Chen Shih-chung (陳時中) thanked the Japanese government for supplying the vaccines directly to Taiwan instead of going through the global vaccine sharing initiative COVAX, which he said would have taken much longer because of the procedure.
Before distribution begins, the vaccines will be inspected by Taiwan's Food and Drug Administration, a process that is likely to take about two weeks, Chen said at a press briefing at the Central Epidemic Command Center (CECC), which he heads.
The shipment of AstraZeneca vaccines, which expire on October 14, will be reserved for frontline medical workers, the staff at long-term care facilities, and people 75 years old and over, Chen said.
Meanwhile, Japan Foreign Minister Toshimitsu Motegi said at a press conference Friday that the vaccine donation reflected his country's "friendship with Taiwan," according Japanese public broadcaster NHK.
Another Japanese media house, Asahi Shimbun, on Thursday cited government sources in Japan as saying that the donation was the first batch of vaccines in an unspecified number that the Japanese government was preparing to send to Taiwan.
In a post on social media the same day, Taiwan President Tsai Ing-wen (蔡英文) thanked Japan for its "timely assistance."
Since mid-May, COVID-19 has been spreading rapidly in Taiwan, especially in the densely populated northern cities, with the total number of cases surpassing 10,000 as of Friday.
Domestic infections had increased to over 9,000, while the number of confirmed deaths from the disease had climbed to 187, including 175 recorded since May 15, according to CECC data as of Friday.
The donation from Japan was shipped from Tokyo on a Japan Airlines flight that landed at Taiwan Taoyuan International Airport at around 2 p.m. Friday, bringing the largest single batch of vaccines Taiwan has received since March.
According to an official at Taiwan's National Security Council (NSC), it took 10 days for Taiwanese and Japanese authorities to finalize the arrangements for the delivery of the vaccine donation.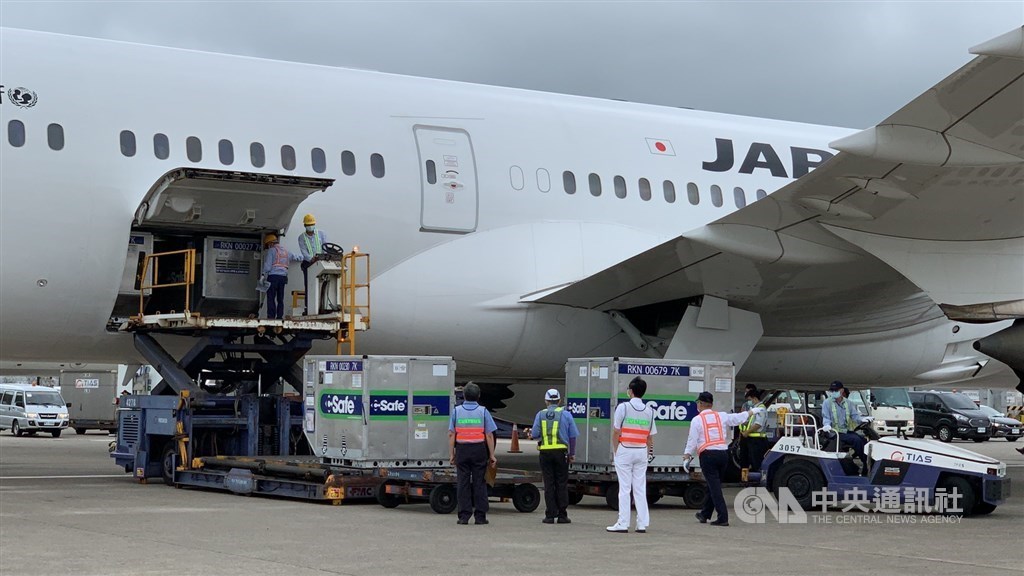 The discussions began on May 24, when Taiwan's representative to Japan Frank Hsieh (謝長廷) hosted a dinner at his residence for Kentaro Sonoura, a top aide to former Japanese Prime Minister Shinzo Abe, and American Ambassador Joseph Young, the NSC official told CNA.
The Tsai administration then mobilized a number of senior officials to negotiate with their Japanese counterparts, who expressed willingness to donate COVID-19 vaccines to Taiwan in a gesture of gratitude for its substantial donations to Japan after a catastrophic earthquake in 2011, the NSC official said.
At the same time, discussions were being held with AstraZeneca PLC of the United Kingdom to modify its contracts so that Japan could give some of its vaccine stock to Taiwan, according to the official.
Prior to Friday, Taiwan had procured roughly 876,000 doses of AstraZeneca and Moderna vaccines in four batches from the manufacturers and via COVAX.
As of Friday, some 621,322 vaccine doses had been administered throughout the country, according to the CECC.
View All