Taiwan's interior ministry prods KMT to change party emblem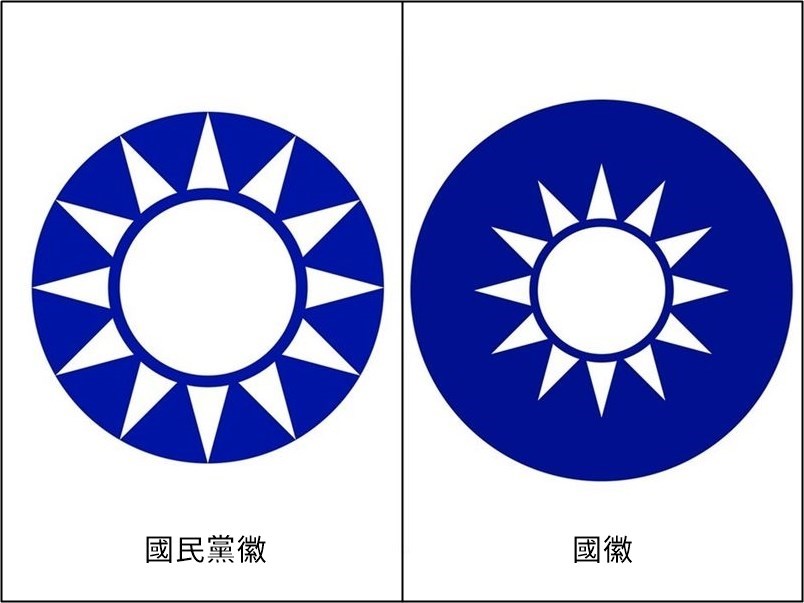 Taipei, April 8 (CNA) Taiwan's Ministry of the Interior on Thursday suggested the main opposition Kuomintang (KMT) should change its party emblem to avoid a high degree of similarity with the country's national emblem.
In a keynote report submitted to the Legislature's Internal Administration Committee, the ministry urged the KMT to alter its emblem as times have changed, so as to help the public distinguish between the two, given that it is easier to change a party emblem than the national emblem of the Republic of China (Taiwan).
The national emblem must not be easily altered as it is a meaningful symbol with historical connotations to unite Taiwan's people, it argued.
The two emblems look very similar.
According to the report, it is time the KMT embark on this task as Taiwan has transitioned into an internationally recognized full-fledged democracy after decades of authoritarian rule by the KMT, the report said.
Citing the Democracy Index compiled by the Economist Intelligence Unit (EIU) in 2020, the report said Taiwan ranked as Asia's most and the world's 11th most democratic country among 167 countries and areas surveyed.
In response, KMT Chairman Johnny Chiang (江啟臣) said on Facebook that the suggestion was a mal-intended maneuver by the ruling Democratic Progressive Party (DPP) to shift the public's focus from the deadly train accident that happened only seven days ago last Friday in Hualien County, claiming the lives of 50 people and injuring more than 200 others.
It was the worst disaster of its kind in Taiwan in 70 years.
Taking up the issue now reflected the DPP's ill scheme to shift society's attention from the tragedy and to dodge its responsibility, which is a shame to the deceased people and their families, Chiang said.
He also questioned the DPP's loyalty to the nation, its flag and the national emblem.
"If the DPP fully identifies with the ROC, the KMT will be happy to see it incorporate elements of the national flag and national emblem into its party emblem," he said.
The ministry produced the report in line with a resolution proposed by the New Power Party which cleared the Legislature's Internal Administration Committee in January.
It required the interior ministry to assess the feasibility of changing the national emblem and to submit a report on the topic within two months to the committee.