Envoy's inauguration invitation shows wish to elevate Taiwan-U.S. ties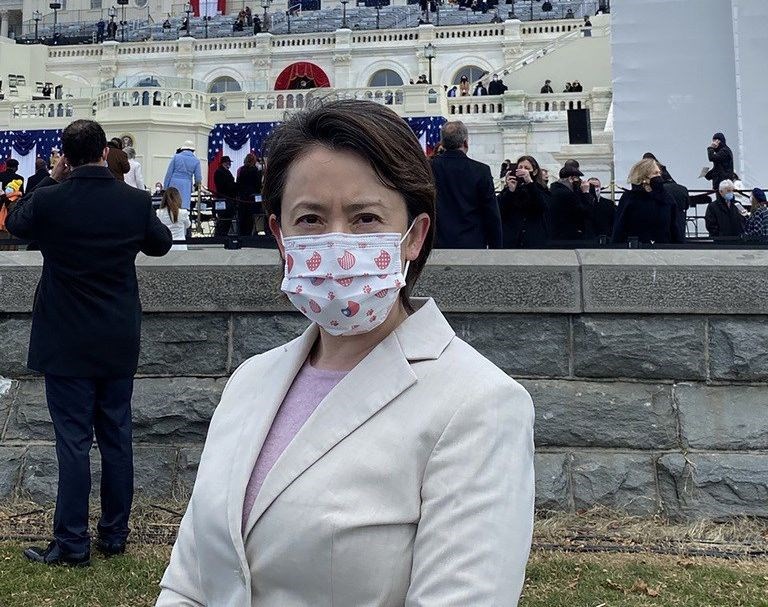 Taipei, Jan. 21 (CNA) An official invitation extended by the Joe Biden team to Taiwan's representative to the United States to attend Biden's inauguration Wednesday shows that the new U.S. administration will continue to elevate Taiwan-U.S. relations despite the changeover, Taiwanese scholars said Thursday.
Hsiao Bi-khim (蕭美琴) attended the U.S. presidential inauguration ceremony the previous day, making her the first person from Taiwan in that position to receive an official invitation to such an occasion since the two countries severed ties in 1979, according to Taiwan's Ministry of Foreign Affairs (MOFA).
Hsiao was invited by the U.S. Joint Congressional Committee on Inaugural Ceremonies (JCCIC) to attend the 59th U.S. presidential inauguration ceremony, representing the Republic of China (Taiwan) government, MOFA spokeswoman Joanne Ou (歐江安) said.
Although this is not the first time a Taiwanese representative to the U.S. has attended a U.S. presidential inauguration, previous attendees gained entry informally, through the courtesy of U.S. legislators, according to sources familiar with the matter.
Asked to comment on the significance of the official invitation, Lai I-chung (賴怡忠) of the government-funded Prospect Foundation think tank, told CNA that this gesture shows that the concern of some scholars that Taiwan-U.S. relations could deteriorate under Biden after seeing huge improvements during the Donald Trump administration, "is not likely to happen."
The invitation came after former Secretary of State Mike Pompeo announced the lifting of restrictions on contact between U.S. and Taiwanese officials earlier this month.
Some had been questioning whether the new Biden administration will honor that decision, and the invitation to Hsiao could mean that the new government is not opposed to the decision and will continue to enhance closer bilateral official exchanges, Lai said.
Echoing Lai's view, Taiwan Thinktank researcher Tung Li-wen (董立文) told CNA that this historic invitation serves as an evidence that Taiwan-U.S. relations will continue to be elevated under Biden.
The official invitation extended to Hsiao can be seen as a major breakthrough for Taipei-Washington ties, Tung said.
Su Tzu-yun (蘇紫雲), a senior analyst at the Institute for National Defense and Security Research (INDSR), another government-funded think tank, meanwhile, told CNA that the invitation issued by the JCCIC is a "positive step" in bilateral relations, as it means the JCCIC would have had to have previously gained approval from the executive branch to invite her.