President lays out goals to boost Taiwan's healthcare development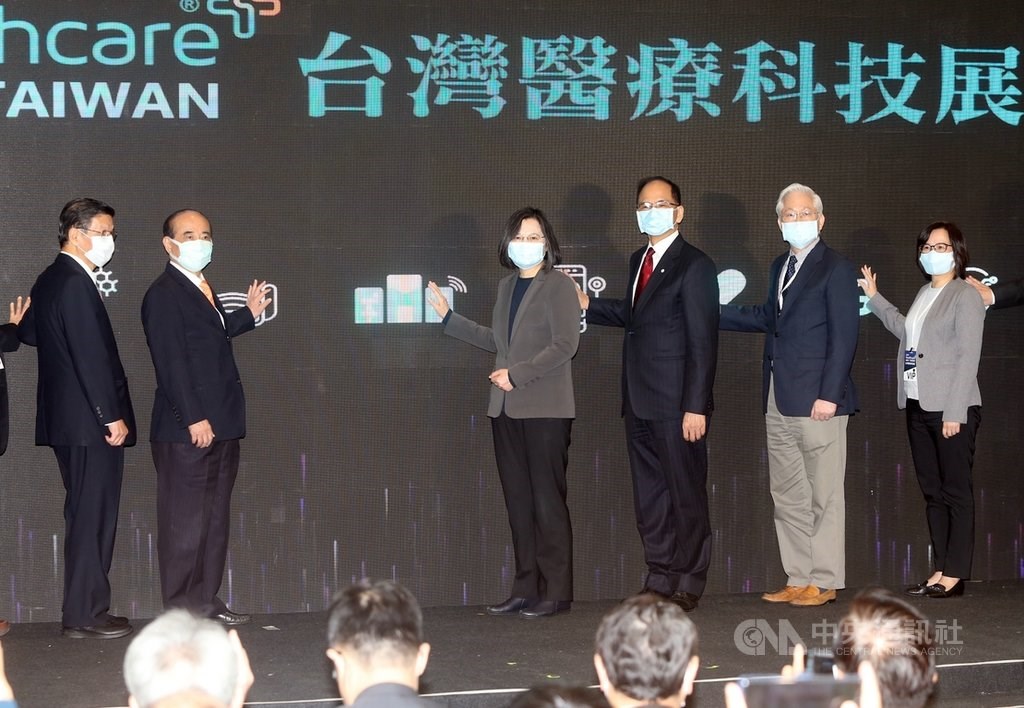 Taipei, Dec. 3 (CNA) President Tsai Ing-wen (蔡英文) said Thursday that the government will accelerate the digital transformation of Taiwan's healthcare and secure enough supplies of key raw materials to build up the country's healthcare capability.
Tsai outlined the two goals for the post-COVID-19 era while delivering a keynote speech during the opening of the 2020 Taiwan HealthCare Expo in Nangang, Taipei.
She said that Taiwan is leading the world in terms of digital transformation in healthcare and will integrate various types of technology such as the Artificial Intelligence of Things (AIoT), real-time communications and cloud computing to build Taiwan into a global digital healthcare innovation hub.
The country will also ensure that it has sufficient key raw materials and critical components necessary for the production of medical testing devices, medical products, pharmaceutical ingredients and vaccines in order to cope with the COVID-19 pandemic, Tsai said, adding that to achieve self-sufficiency, the government will accelerate its sustainability assessment of critical raw materials.
Noting that the COVID-19 pandemic has posed both challenges and opportunities for the world this year, Tsai said that 2020 is also a year crucial for Taiwan to restructure its supply chains and further develop its healthcare, biotechnology and information and communications technology sectors.
The president said that despite the effects of COVID-19 on the economic system, she was pleased to see cross-government agency collaboration and support from the private sector demonstrating Taiwan's strength in healthcare and biotechnology.
She also expressed hope that Taiwan will continue to build its advantages in the industry amid and after the COVID-19 pandemic to protect the health of Taiwan's people and make contributions to both the country and the international community.
She said that the slogan "Taiwan Can Help" will be fulfilled through concrete action such as supplying domestically made masks and health technology.
The Taiwan HealthCare Expo has brought together 550 companies and organizations and 150 startups operating 1,580 booths that showcase a wide variety of technology and apps used in healthcare, including AI, cloud technology, IoT, sensor chips, 8K LCD displays, VR and AR.
The exhibition will run until Sunday.