President Tsai names TSMC founder as Taiwan's envoy to APEC summit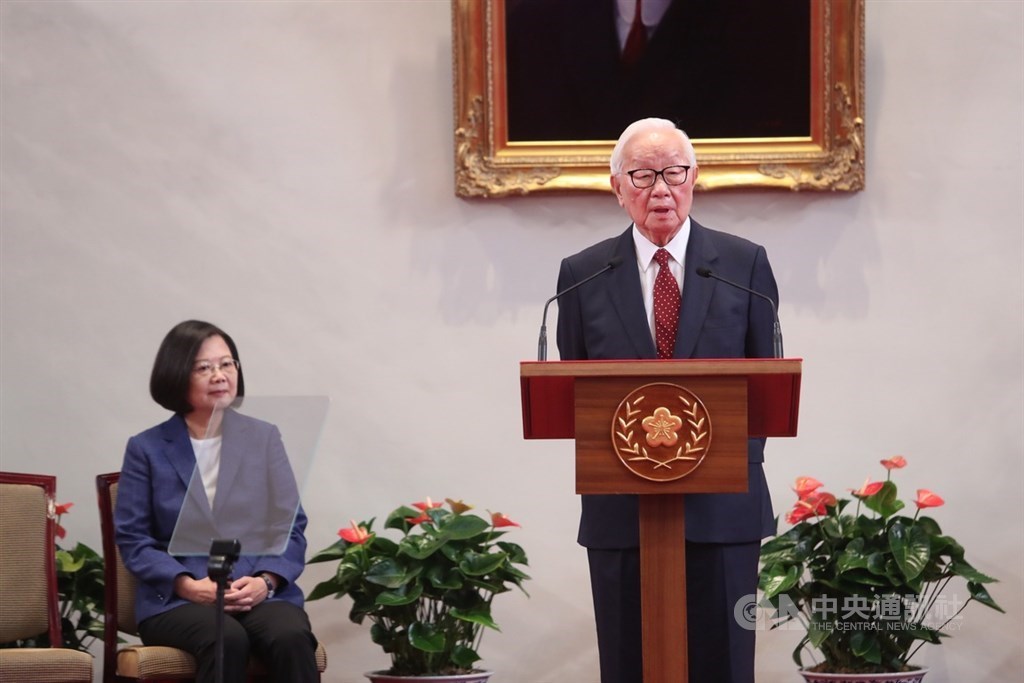 (click here for the updated story)
Taipei, Nov. 10 (CNA) President Tsai Ing-wen (蔡英文) on Tuesday named retired entrepreneur Morris Chang (張忠謀) as Taiwan's representative to the leaders' meeting of the Asia Pacific Economic Cooperation (APEC) forum scheduled to open on Nov. 20 in Malaysia.
It is the third time Tsai has named Chang, the founder of contract chipmaker Taiwan Semiconductor Manufacturing Co. (TSMC), to represent her at the APEC summit.
Taiwan's presidents are not able to attend APEC summits because of the opposition of China, which claims Taiwan is part of its territory and balks at any situation that suggests Taiwan is a sovereign state.
Tsai said Chang will have two main tasks at this year's summit, which is being held in a virtual format because of the COVID-19 pandemic.
One will be to reiterate that Taiwan is willing to make further contributions to the world on preventing the spread of COVID-19 and the other will be to strengthen Taiwan's ties to other countries and consolidate its position in global supply chains.
The annual summit is seen as an important international dialogue mechanism and platform for economic issues, as well as an important international organization for Taiwan, which is a full member.
But because the benefits of participating in APEC forums often come in informal, face-to-face meetings on the sidelines of the forum's conferences, it remains unclear how much Chang will be able to accomplish in a virtual setting.
According to the host country, the summit will focus on possible measures among its member countries to contain the virus and on an economic vision post-2020.
The summit's theme will be "Optimising Human Potential Towards a Resilient Future of Shared Prosperity: Pivot. Prioritise. Progress."
Taiwan joined the regional economic forum in 1991, two years after it was established.
The first time Chang attended the APEC forum on behalf of Taiwan's president was in 2006 during the Chen Shui-bian (陳水扁) administration.
He was named as Tsai's envoy last year, but host country Chile canceled the meeting because of social unrest.
Having earned a good reputation in the global semiconductor industry, Chang officially retired after more than three decades as TSMC's chairman and CEO on June 5, 2018.