Most Taiwanese rule out possibility of cross-strait war: poll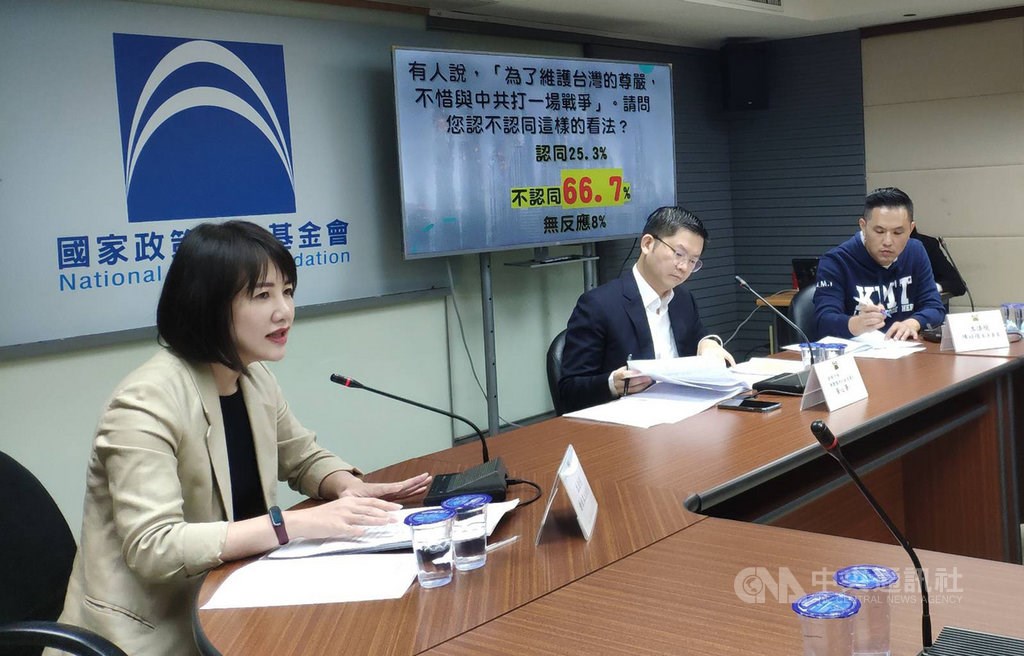 Taipei, Oct. 20 (CNA) Nearly 60 percent of Taiwanese people have shrugged off the likelihood of war across the Taiwan Strait, and the vast majority of the public said they do not agree with going to war with China to defend Taiwan's dignity, a recent public opinion poll has found.
According to the results of the survey made public by the opposition Kuomintang (KMT)-affiliated National Policy Foundation, 59.5 percent of the respondents do not believe that war will break out between Taiwan and China, despite escalating cross-strait tension.
In the 20-29 age group, around 66.3 percent of those surveyed echoed the sentiment, followed by 54 percent in the 60-69 age bracket, the poll indicated.
In response to China's increasing efforts to intimidate Taiwan, 70.5 percent of the respondents said they are not worried about Beijing's saber-rattling, while 67 percent made clear that they do not agree with the idea of "going to war with China to defend Taiwan's dignity," the survey found.
Among those who said they don't agree going to war against China, 75 percent of those polled in the 20-29 age bracket echoed the idea -- the highest ratio among all age groups, the survey showed.
If war were to break out between the two sides, 45.6 percent of the respondents believed that the United States will send troops to help Taiwan defend against invasion, in contrast to 33.5 percent who did not agree, it discovered.
Regarding a possible scenario that there will no be power/water supplies or Internet services if war were to erupt, 51.8 percent said they could endure such a situation, while 40.1 percent answered in the negative, according to the survey.
In a separate development concerning Taiwan's opening to imports of pork containing animal feed additive ractopamine from the U.S., 66 percent of the interviewees opposed the policy, the survey showed.
As to the question of whether Taiwan would gain more substantial benefits from the U.S. due to the opening, 49 percent of those surveyed disagreed with the idea, ahead of 38 percent who expressed a positive view, it found. At the same time, as high as 53 percent in the 20-29 age bracket were against the opening --the highest level of all age groups.
In a further analysis, 69 percent of respondents claiming to be supporters of the ruling Democratic Progressive Party said that Taiwan will achieve greater tangible benefits from the U.S., compared with 49 percent who identified as New Power Party supporters and 16 percent who aligned with the KMT, the survey found.
The poll was conducted Oct. 13-15 and included 1,079 valid questionnaires. It had a confidence level of 95 percent and a margin of error of plus or minus 2.98 percentage points, according to the National Policy Foundation.