Taiwan slams China's denial of median line as breaking status quo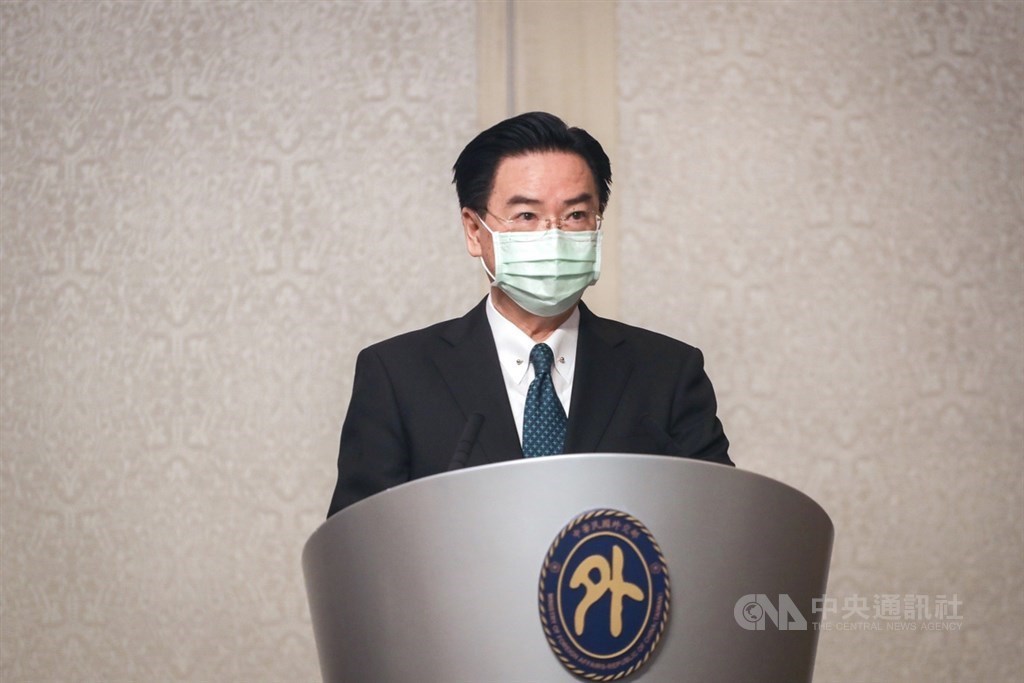 Taipei, Sept. 22 (CNA) Foreign Minister Joseph Wu (吳釗燮) blasted Beijing on Tuesday for breaking the status quo after it claimed that the median line of the Taiwan Strait does not exist.
"For many years, the median line of the Taiwan Strait has served as a symbol of the status quo to avoid cross-strait military conflict and maintain peace and stability," he said ahead of an EU investment forum in Taipei, repeating a statement issued by the Ministry of Foreign Affairs (MOFA) a day earlier.
"However, the recent claim of the Chinese Foreign Ministry in effect destroys the status quo of the Taiwan Strait," just like China has destroyed the "one country, two systems" model in Hong Kong by passing a national security law, Wu said.
He said it is a fact that the Republic of China (ROC), the formal name of Taiwan, is a sovereign country that enjoys exclusive jurisdiction over its territory.
Wu's remarks Tuesday and MOFA's statement on Monday were responding to a statement by China Foreign Ministry spokesman Wang Wenbin (汪文斌) Monday that there is no such thing as a "median line" in the Taiwan Strait because Taiwan is an inalienable part of China.
Taiwan's Foreign Ministry condemned Wang's statement and demanded that Beijing end its expansionism and abide by international norms.
MOFA urged the international community to condemn the Chinese Air Force's frequent crossing of the median line and Beijing's statements that justify its expansionist policy.
It demanded that the Chinese government stop using the "one China Principle" as an excuse for its military expansion.
According to Taiwan's Ministry of National Defense (MND), multiple Chinese warplanes either crossed the median line of the Taiwan Strait or entered Taiwan's southwest air defense identification zone (ADIZ) starting Sept. 16, and did so again on Sept. 18, 19 and 21.
When warned by radio by Taiwan's Air Force, pilots of the Chinese planes responded by saying "there is no median line" beginning Sept. 18, according to local media reports.
The concept of the median line is thought to have been established by the U.S. in 1954 to prevent further conflicts between the Communists in China and Nationalists in Taiwan after the Chinese Civil War that ended in 1949.
The coordinates of the median line were first publicly revealed in Taiwan at a legislative session on May 26, 2004 by then Defense Minister Lee Jye (李傑).
China has never openly recognized the median line, but its military assets rarely violated it until in recent months when the U.S. and Taiwan showed closer military and political engagements.