Taiwan envoy to U.S. advocates for expanded business, security exchanges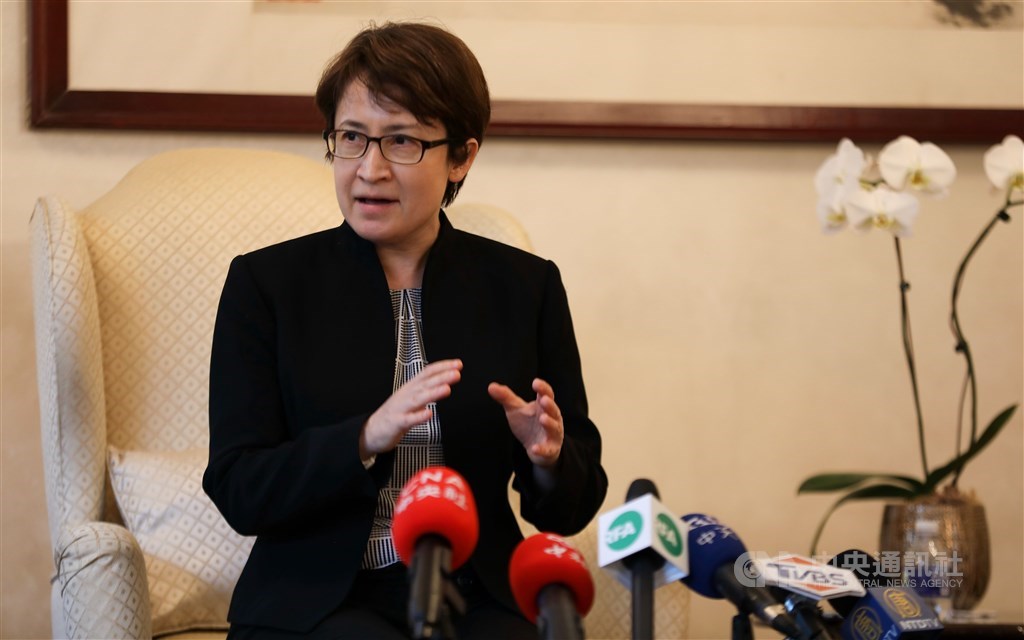 Washington, Aug. 22 (CNA) Hsiao Bi-khim (蕭美琴), Taiwan's new representative to the United States, said Saturday she hopes that Taiwan will enhance exchanges with the United States in the areas of national defense and security, business and international participation.
Hsiao, who took office on July 24, said she will also like to help boost cooperation in regional security in the Indo-Pacific and push for the establishment of a bilateral trade agreement with the U.S.
She made the remarks at a video seminar titled "Pay tribute to Taiwan's Mr. Democracy -- Thank President Lee Teng-hui (李登輝)," which was hosted by overseas Taiwanese groups in the U.S. and Canada.
Lee, who served as Taiwan's president from 1988-2000, died on July 30 at the age of 97, was known as "Mr. Democracy" because of his role in shifting Taiwan away from authoritarian rule.
In the video seminar, Hsiao lauded Lee's crucial role in the process of Taiwan's democratization, saying he helped bring about the country's direct presidential vote and its first rotation of executive power after its transition to democracy.
Hsiao spoke about Taiwan's successful COVID-19 measures, which she said were implemented in a joint effort by its public and private sectors and have laid a major foundation for Taiwan to advance its diplomatic work.
In her new post, Hsiao said, she will work with overseas Taiwanese to promote diplomacy and improve relations with the U.S., seeking to enhance bilateral exchanges in the areas of national security, business and trade, and international participation, in line with the wishes of President Tsai Ing-wen (蔡英文).
Tsai's has implemented defense reforms such as improving the combat capabilities of reserve forces and promoting military modernization program, which are aimed at safeguarding national security, Hsiao said.
The people of Taiwan have a responsibility to support the government's national defense and security efforts, Hsiao said.
Tsai has made it clear that bowing on the issue of sovereignty would not bring peace to the people of Taiwan, Hsiao noted.
The new representative said her office in the U.S. will also work to deepen cooperation with Washington so as to improve security in the Indo-Pacific region.
In other areas, Hsiao said, she is looking forward to the establishment of a bilateral trade agreement, enhanced economic relations with the U.S., and expanded cooperation in science, technology, health and agriculture.
Meanwhile, she said, although she has been in her new position for less than a month, she can sense that the U.S. supports Taiwan's efforts at greater international participation.