Former President Lee Teng-hui remembered in private funeral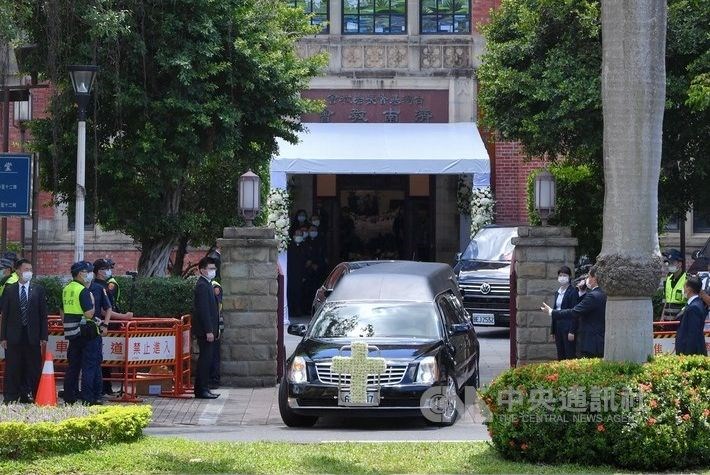 Taipei, Aug. 14 (CNA) A private funeral was held early Friday in Taipei for former President Lee Teng-hui (李登輝), a central figure in Taiwan's transition to democracy who died July 30 at the age of 97.
The funeral arrangements were handled by the Presidential Office, but the memorial was private, in accordance with the wishes of Lee's family.
When the funeral procession set off from Taipei Veterans General Hospital at 6:40 a.m., the medical staff lined the road to pay their last respects to the former president.
The hospital's vice superintendent Hwang Shinn-jang (黃信彰), said Lee's death was a personal loss for many staff members who had cared for the former president over the past 10 years.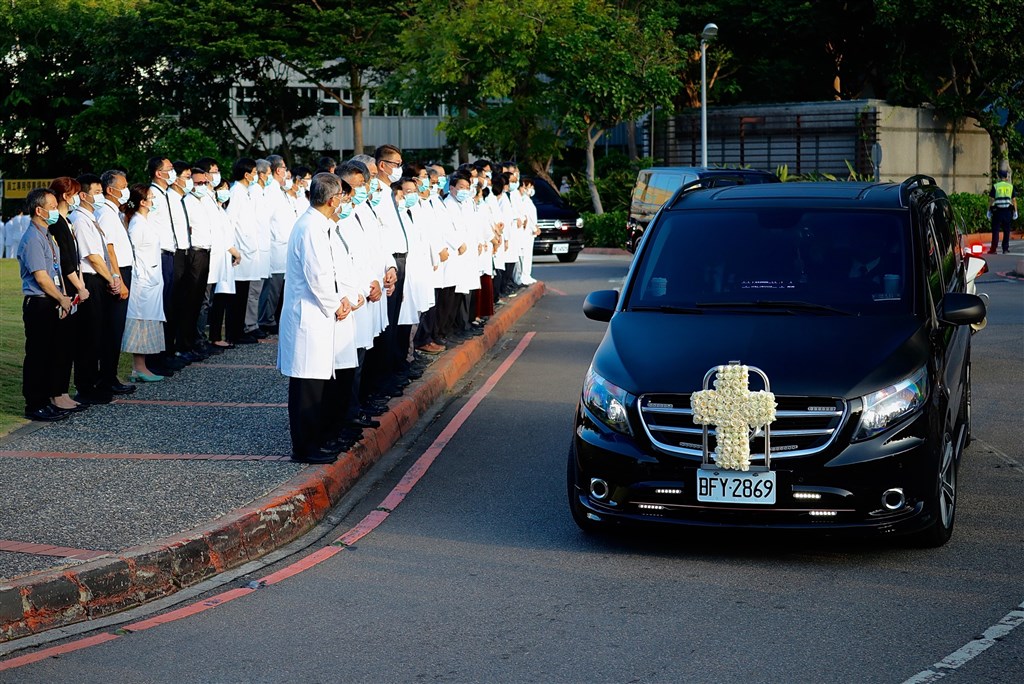 The procession arrived at 7 a.m. at Taipei Chi-Nan Presbyterian Church, where Lee's family and close friends gathered for a memorial service at 10 a.m.
According to local media, some 60 family members attended the service, including Lee's daughter Annie Lee (李安妮), his granddaughter Lee Kun-yi (李坤儀) and her husband James Chao (趙贊凱).
Lee's widow, Tseng Wen-hui (曾文惠), did not attend the services, reportedly because the family was concerned about her emotional state.
Some government officials and church clergy also attended the funeral, bringing the total number of people to around 100.
The church had a special significance for Lee, as it was where his son's funeral was held in 1982 and his granddaughter's wedding in 2015.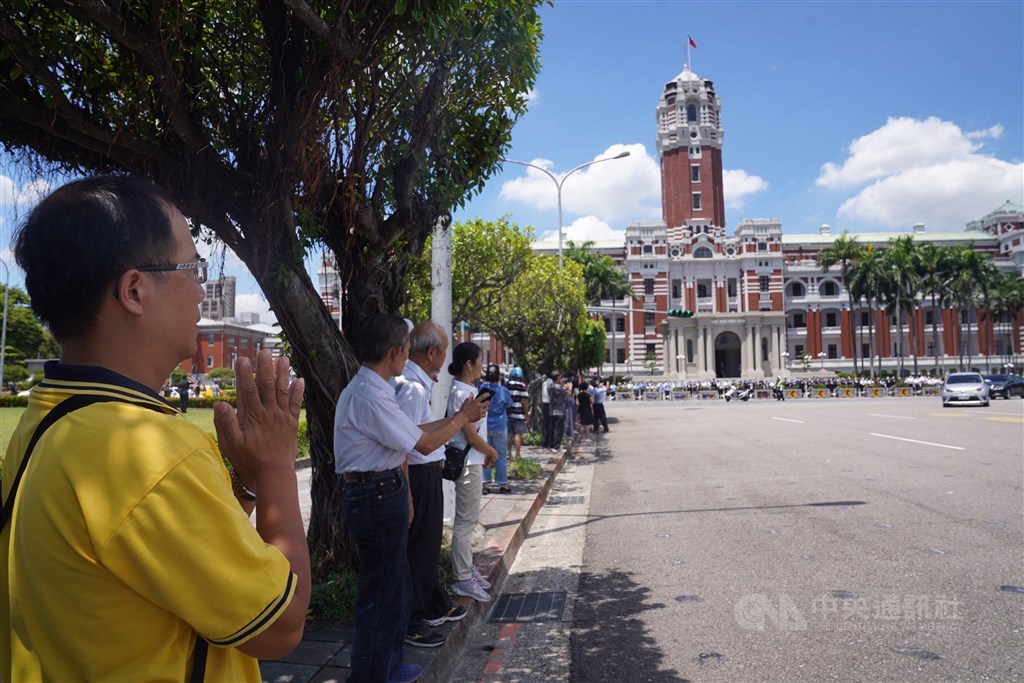 Taipei Chi-Nan Presbyterian Church
At the start of the service, the church bells rang 21 times, in an adaptation of the customary 21-gun salute at state funerals in western countries.
During the service, two of Lee's favorite hymns -- "Amazing Grace" and "Rock of Ages, Cleft for Me" -- were sung and a sermon was delivered based on John 14:1-6 and Psalms 23:1-6 in the Bible.
Toward the end of the service, Presidential Office Secretary-General David Lee (李大維) arrived to offer his condolences on behalf of President Tsai Ing-wen (蔡英文) and Vice President Lai Ching-te (賴淸德), who were away on official duties.
Later in the day, Tsai wrote a short tribute to Lee on her Facebook page.
"Thank you, former President Lee," she wrote. "We will continue to protect Taiwan's democracy."
At 11 a.m., the funeral procession left the church and made its way toward the Presidential Office, circling the building once in honor of Lee's 12 years as president.
David Lee, National Security Council (NSC) Director-General Wellington Koo (顧立雄) and other staff from the Presidential Office and NSC lined the road, holding their hands over their hearts, as the hearse passed by.
From there, the procession went to Taipei City Mortuary Services Office Second Funeral Parlor for cremation of the body.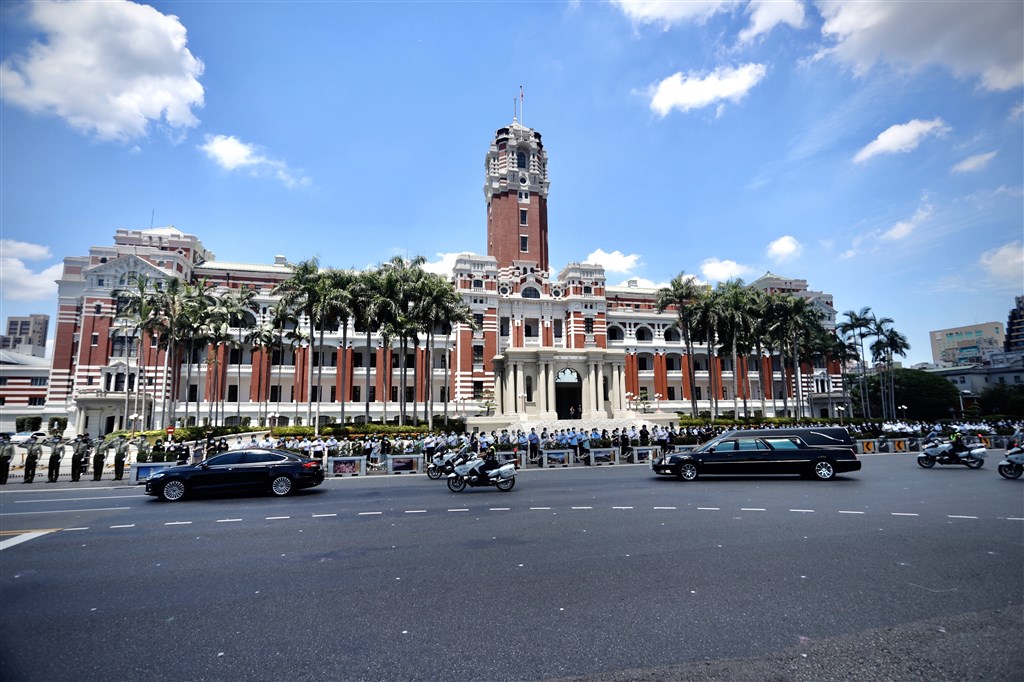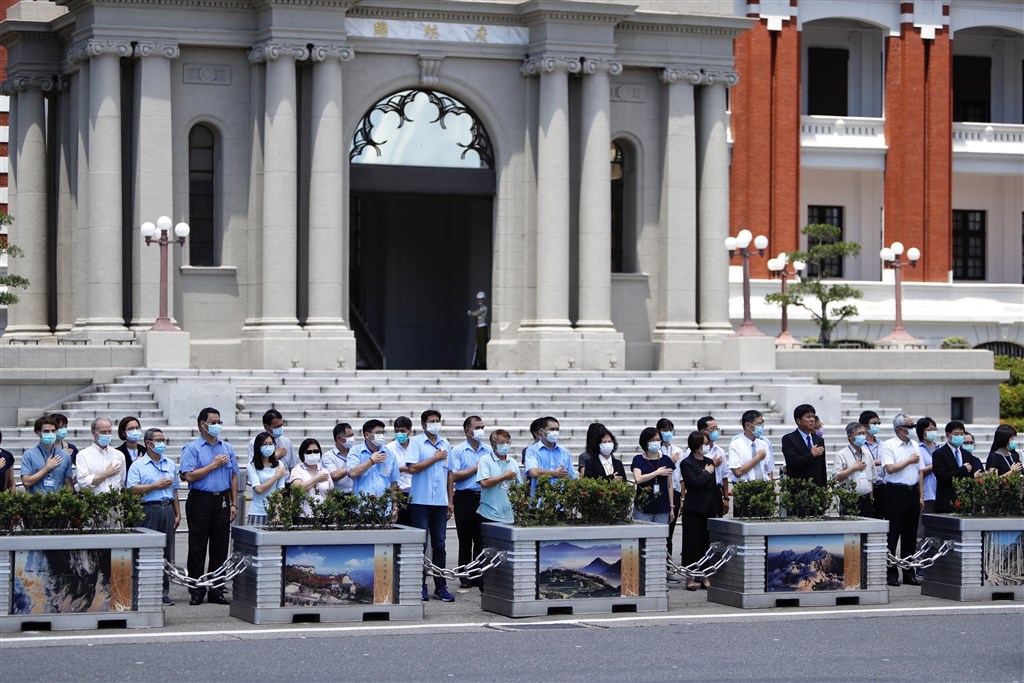 According to sources familiar with the matter, Lee's family will keep his ashes, pending another memorial ceremony in late September and a burial service on Oct. 7.
Shortly after Lee's death, a military source confirmed that his ashes would be interred at Wuzhi Mountain Military Cemetery in an area reserved for people who had made significant contributions to Taiwan's development.
Lee served as Taiwan's president from 1988-2000.