U.S. health secretary to arrive in Taiwan Sunday; no quarantine planned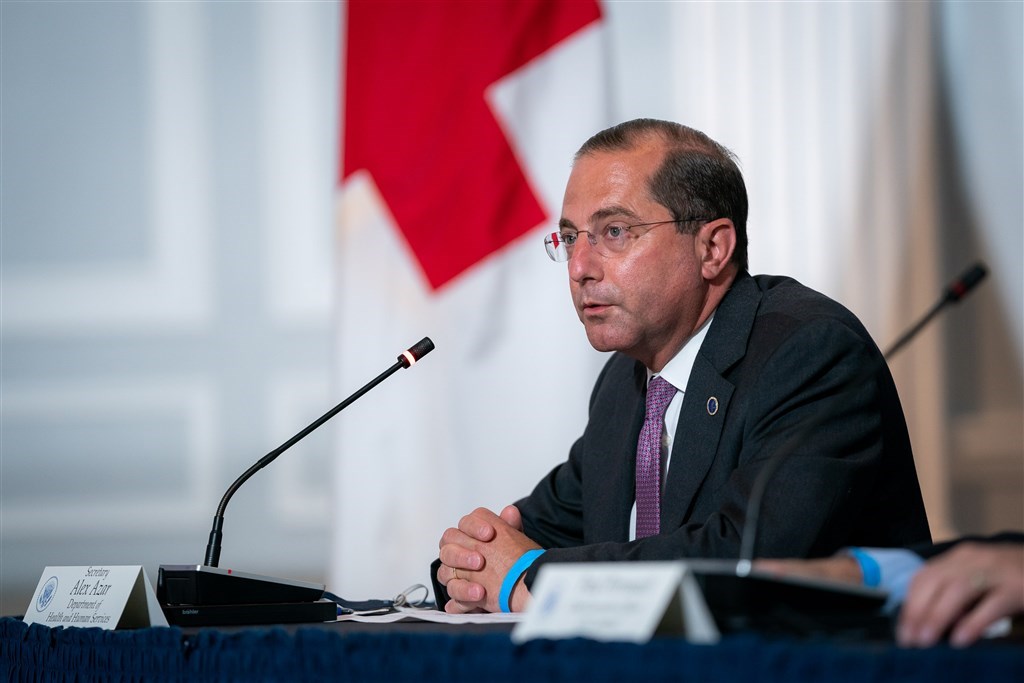 Taipei, Aug. 6 (CNA) United States Secretary of Health and Human Services (HHS) Alex Azar is scheduled to arrive in Taiwan Sunday on an official visit, and he and his delegation will not be required to go into quarantine once they test negative for the COVID-19 coronavirus, Taiwan government officials said Thursday.
At a press conference, Cabinet spokesman Ting Yi-ming (丁怡銘) said the date of arrival for the U.S. delegation is Aug. 9, but he did not say how long the visit will last.
Representing American President Donald Trump, Azar will meet with Taiwan President Tsai Ing-wen (蔡英文), Ting said at the press conference after a weekly Cabinet meeting.
Azar is also scheduled to visit the Ministry of Foreign Affairs (MOFA) and Ministry of Health and Welfare and pay a call on the "National Face Mask Team," which comprises private sector manufacturers that help the government produce masks, according to Ting.
The U.S. health secretary, who is an attorney and former pharmaceutical industry executive, will also meet with specialists and practitioners in the health and medical fields to discuss COVID-19 control and prevention measures, Ting said.
At Thursday's Cabinet meeting, Premier Su Tseng-chang (蘇貞昌) said Taiwan should work to deepen its cooperation with the U.S. in the areas of medical development, supply chain safety, and global health, according to Ting.
Meanwhile, Taiwan's Central Epidemic Command Center (CECC) said that with regard to COVID-19 protocols, Azar and his delegation will be tested for the virus within three days of their departure from the U.S. and again on arrival at the airport in Taiwan.
Once they test negative, no quarantine will be required, and they will travel around Taiwan as a group, in keeping with their itinerary, (CECC) spokesman Chuang Jen-hsiang (莊人祥) told reporters in response to questions on the issue.
All members of the delegation, however, will be required to wear masks when meeting with others, in accordance with Taiwan's COVID-19 prevention guidelines, Chuang said.
The visit by Azar and his delegation was announced Wednesday by the American Institute in Taiwan (AIT), the de facto U.S. embassy in Taipei, which said the trip will be in the "coming days" and will focus on bilateral cooperation in the field of public health.
"This trip represents an opportunity to strengthen our economic and public health cooperation with Taiwan, especially as the U.S. and other countries work to strengthen and diversify our sources for crucial medical products," the AIT said, quoting a statement by Azar.
Azar's official visit to Taiwan will be the first by a U.S. Cabinet member in six years, and he will be the most senior American government official to make the trip since 1979 when the U.S. severed official ties with Taiwan.
China has responded to the announcement of the upcoming visit with a call for the U.S. to "stop all official exchanges with Taiwan" to avoid undermining China-U.S. relations, the Chinese state-run Global Times reported Wednesday, citing China's foreign ministry spokesman Wang Wenbin (汪文斌).
Taiwan's Ministry of Foreign Affairs said Thursday, however, that China does not have the right to determine Taiwan's foreign policy.
"The Republic of China (Taiwan) is a sovereign country," MOFA spokeswoman Joanne Ou (歐江安) said at a press briefing. "It is natural for Taiwan to want to deepen its relations with the U.S. and other like-minded countries, and China's government has no right to object."
She said China should seek to fix its domestic problems before criticizing other countries.
The government of China is a "global trouble maker" that concealed the COVID-19 outbreak there in the early stages and is seeking military expansion in the Asia Pacific region, Ou said.