U.S. health sec. 'looking forward' to meeting Tsai on visit to Taiwan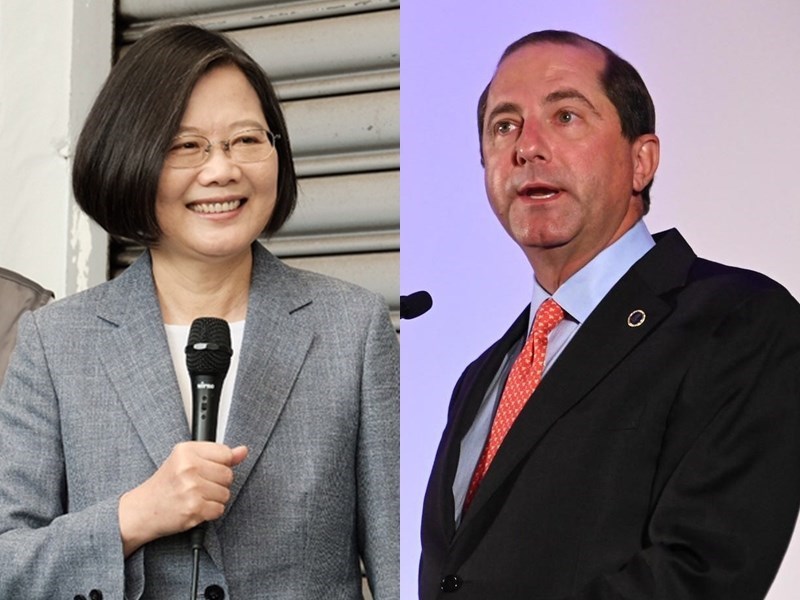 Washington, Aug. 5 (CNA) United States Secretary of Health and Human Services (HHS) Alex Azar on Wednesday said he was "looking forward" to meeting President Tsai Ing-wen (蔡英文) and Health Minister Chen Shih-chung (陳時中) on an upcoming visit to Taiwan.
In a Fox News interview, Azar explained the planned visit by noting that the U.S. has a longstanding partnership with Taiwan, particularly in the field of public health.
"Taiwan has been a model of cooperation, transparency and collaboration in the international community, and their response to COVID has been incredible," he said.
In that regard, Azar said he was "looking forward" to coming to Taiwan to meet with "Minister Chen, the president of Taiwan and others" to continue public health collaboration efforts.
HHS announced on Tuesday that Azar would travel to Taiwan "in the coming days" in order to strengthen bilateral ties and enhance U.S.-Taiwan cooperation to combat the COVID-19 pandemic.
In doing so, he will become the first U.S. Cabinet-level official to visit the country since 2014.
The announcement has drawn criticism from China, where foreign ministry spokesman Wang Wenbin (汪文斌) called on the U.S. to "stop all official exchanges with Taiwan" to avoid undermining China-U.S. relations, according to the Global Times, a state-run news outlet.
When asked about China's response during a press conference on Wednesday, U.S. Secretary of State Mike Pompeo noted that U.S. Cabinet members have traveled to Taiwan in the past, and said Azar's visit was "consistent with the policies of previous times."
"He's going there with a deep and important purpose -- we're still in a global pandemic," Pompeo went on, adding that Taiwan has had "some significant success" in its response to COVID-19.
"We wanted [Taiwan] to be part of the conversations at the World Health Assembly. China has prevented that from happening," he said.
Pompeo said Azar's visit would focus on public health issues, including efforts to contain COVID-19 and "the opportunity for therapeutics and a vaccine."
"We welcome the expertise that Taiwan brings to that," he added.
Meanwhile, U.S. Senator Marco Rubio praised the planned visit by Azar, in light of a 2018 law he co-authored to allow high-level U.S. officials to visit Taiwan and vice versa.
"This is great news and in line with my Taiwan Travel Act that @POTUS signed in 2018. Taiwan is an important democratic partner & has been an example to the world on how to handle COVID-19. Look forward to more high level USG officials traveling to Taiwan," Rubio, a Republican representing the state of Florida, wrote on Twitter.
HHS has not yet made public the exact dates or itinerary of Azar's trip. In its statement, however, it said he would meet with Taiwan government officials, as well as with COVID-19 responders and experts, and deliver a speech to public health graduate students.