AIT launches 'WHA countdown' in support of Taiwan's participation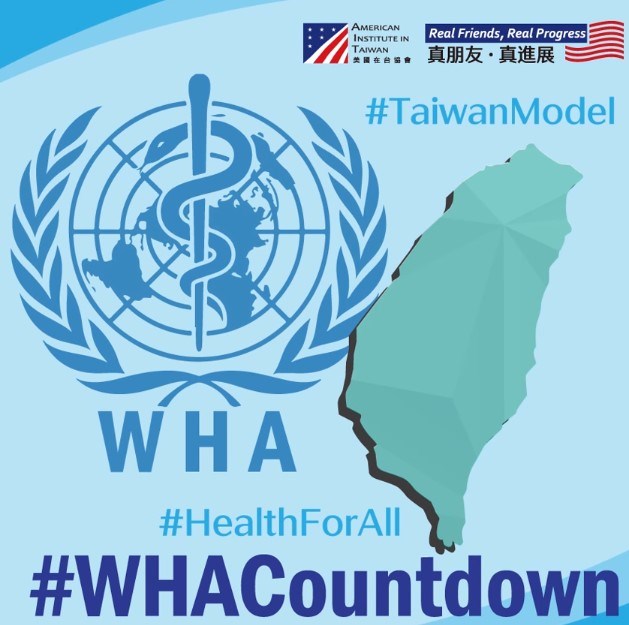 Taipei, May 1 (CNA) The American Institute in Taiwan (AIT) has initiated a promotional series titled "WHA Countdown" on Facebook to express its support for Taiwan's participation in the upcoming World Health Assembly (WHA).
"The U.S. firmly believes Taiwan has a role to play in global health and should be invited to observe the World Health Assembly (WHA) later this month," the AIT, the U.S. de facto embassy in Taiwan, said on its Facebook page on Friday.
The office said the inclusion of Taiwan in the WHA would contribute to the World Health Organization's (WHO's) goal of "Health for All" and help Taiwan share the success in its battle against the COVID-19 coronavirus with the world.
"That's why we are launching the #WHACountdown to support Taiwan's participation on the global stage," the Facebook post read.
The AIT said it will share posts supporting Taiwan's participation in the WHA and greater participation on the global stage every day from Friday until the WHA, which is scheduled to take place May 17-21, although this year's assembly may need to be carried out online due to travel restrictions caused by COVID-19.
The WHA is the decision-making body of the World Health Organization (WHO), of which the Republic of China was a founding member. However, it was expelled in 1972 after its seat at the United Nations was taken over by the People's Republic of China in late 1971.
Since then, Taiwan has been unable to participate in the WHA, apart from observer status between 2009 and 2016, when its relations with Beijing, which sees Taiwan as part of its territory, were relatively warm.
Recently, support for Taiwan's participation in the WHA has gained momentum due to the country's relatively good performance in its management of the COVID-19 coronavirus outbreak and its voluntary assistance in the global fight against the virus through donating personal protective equipment.
Taiwan's Ministry of Foreign Affairs (MOFA) has admitted recently that Taiwan's chances of participation this year are still slim, despite the international support.