Italy allows CAL to fly Taiwanese passengers back to Taiwan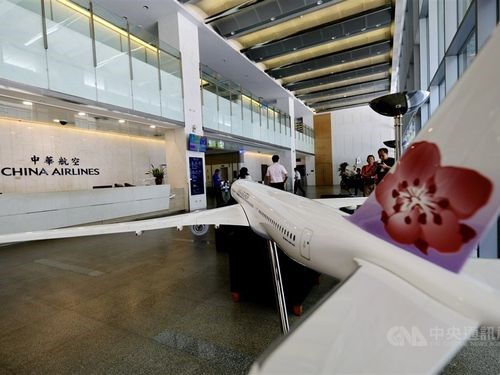 Taipei, Feb. 1 (CNA) Italy has agreed to a request by China Airlines (CAL) to fly Taiwanese passengers home after the European country announced the suspension of all flights from China, including Taiwan, amid fears over the spread of the Wuhan coronavirus.
CAL, one of Taiwan's leading international carriers, said Italian aviation authorities have allowed CAL to operate an empty flight on Sunday to fly Taiwanese passengers back in following day.
Italy's government announced Friday that it was suspending all flights from China, Hong Kong, Macau and Taiwan from Feb. 2 until April 28 after it confirmed two cases of the 2019 novel coronavirus (2019-nCoV).
Taiwan's China Airlines (CAL) normally operates three round-trip flights per week between Taoyuan and Rome, while Taiwan's EVA Airways was set to start direct flights between Taoyuan and Milan on Feb. 18.
CAL had previously canceled its flights on Feb. 2 and Feb. 3, but said it was still trying to persuade Italian authorities to reverse their decision to block flights from Taiwan after they allowed it to make the flight Sunday to pick up Taiwanese passengers who cannot get home.
Taiwan's representative office in Rome on Friday expressed "regret" and "solemn concerns" to Italian authorities after Italy's government included Taiwan in the ban.
In a statement posted on Facebook late Friday night, the office said Taiwan should not be placed on Italy's flight ban list, though Taipei understood the resolve of the Italian government to protect the health of its nationals.
It said Taiwan is a democratic, sovereign and independent country with a health care system that is among the best in the world and is separate from that of China.
"The Taiwan government has sufficient experiences and abilities to cope with the public health and epidemic crisis," the office said, referring to the spread of the 2019 novel coronavirus (2019-nCoV).
The virus was first detected in Wuhan, China, last December and has now been declared a global emergency by the World Health Organization (WHO).
Just as in other countries such as the United States, Japan, Germany, France and Australia, confirmed cases of the "Wuhan virus" have been reported in Taiwan over the past few days, but the patients were all detected in time and isolated immediately for treatment, the statement said.
"We therefore hope that Taiwan can be removed from the ban and direct flights between Taiwan and Italy be resumed," the statement said.
It was unclear why Italy made the move, though local media have speculated it may have considered Taiwan as a part of China under its "one-China" policy.
The Ministry of Foreign Affairs is seeking clarification of the move from Italy through bilateral channels and some friendly countries, hoping the decision can be corrected, MOFA spokeswoman Joanne Ou (歐江安) said in a statement late Friday.
As of Friday, China had recorded 11,791 confirmed cases of the new coronavirus, sharply rising by 2,102 from a day earlier with at least 259 deaths, while more than 12,000 confirmed cases were reported worldwide, including 10 in Taiwan.