Hundreds of thousands march in pro-, anti-Han rallies in Kaohsiung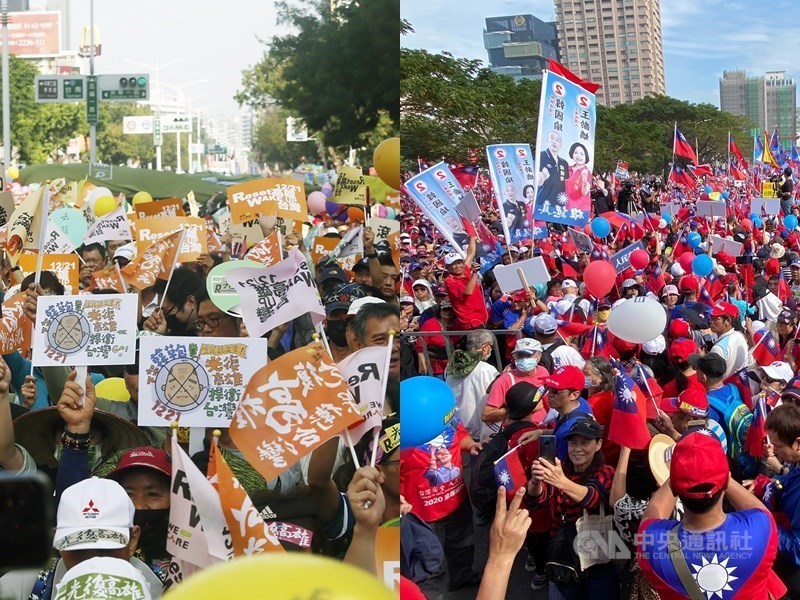 Taipei, Dec. 21 (CNA) Hundreds of thousands from the camps supporting and opposing Kuomintang (KMT) presidential candidate Han Kuo-yu (韓國瑜) marched Saturday in the streets of Kaohsiung, southern Taiwan, where Han is the mayor.
The pro-Han camp marched in northern Kaohsiung to garner support for Han to unseat the incumbent Tsai Ing-wen (蔡英文) in the Jan. 11, election, while the anti-Han rally took place in the southern part of the city, urging Han's recall as mayor and expressing their dissatisfaction with his representing the KMT against Tsai after only months as Kaohsiung mayor.
Since the two camps chose the same time to take to the streets and were only 3.8 kilometers apart at one point, the Kaohsiung City Police Department deployed more than 3,000 police to maintain order.
No major clashes were reported and only minor scuffles occurred, including one in which some marchers from the anti-Han camp were splashed with water by unknown people. Police have launched a probe into the case.
Starting at around 1:11 p.m., Han's supporters began their 3.1-km walk from Shennong Road and arrived at the finishing point on Wentz Road at around 2:30 p.m.
Holding Republic of China flags, they shouted "remove Tsai Ing- wen" and "Han Kuo-yu to win the election," while singing Han's campaign songs along the way.
According to the Han camp, about 350,000 supporters had joined the rally as of 2:30 p.m.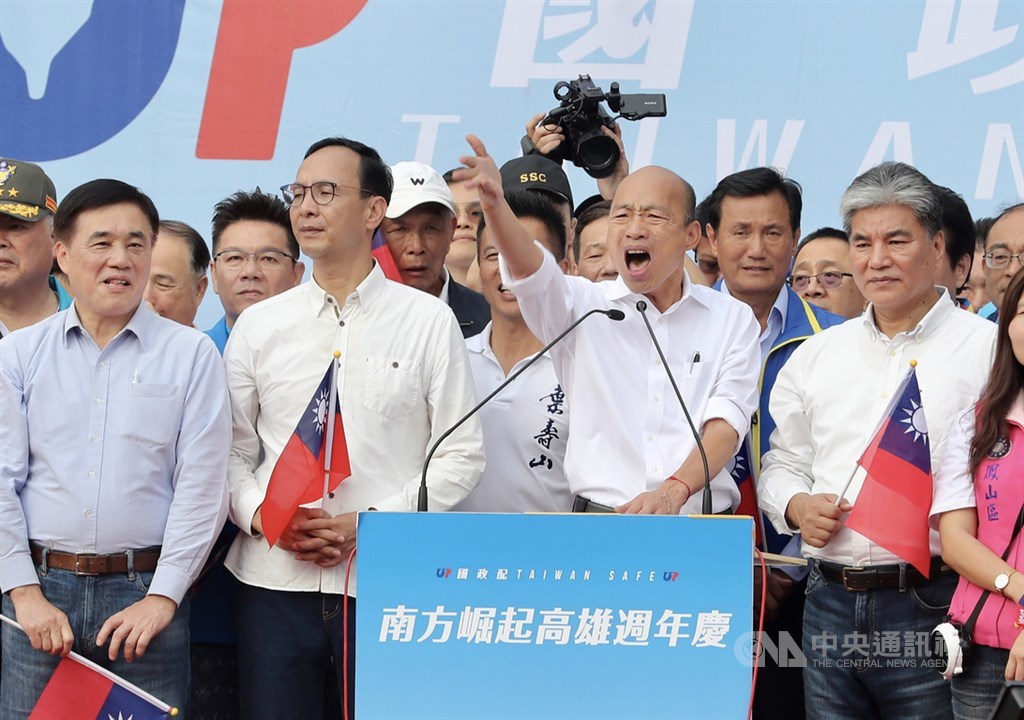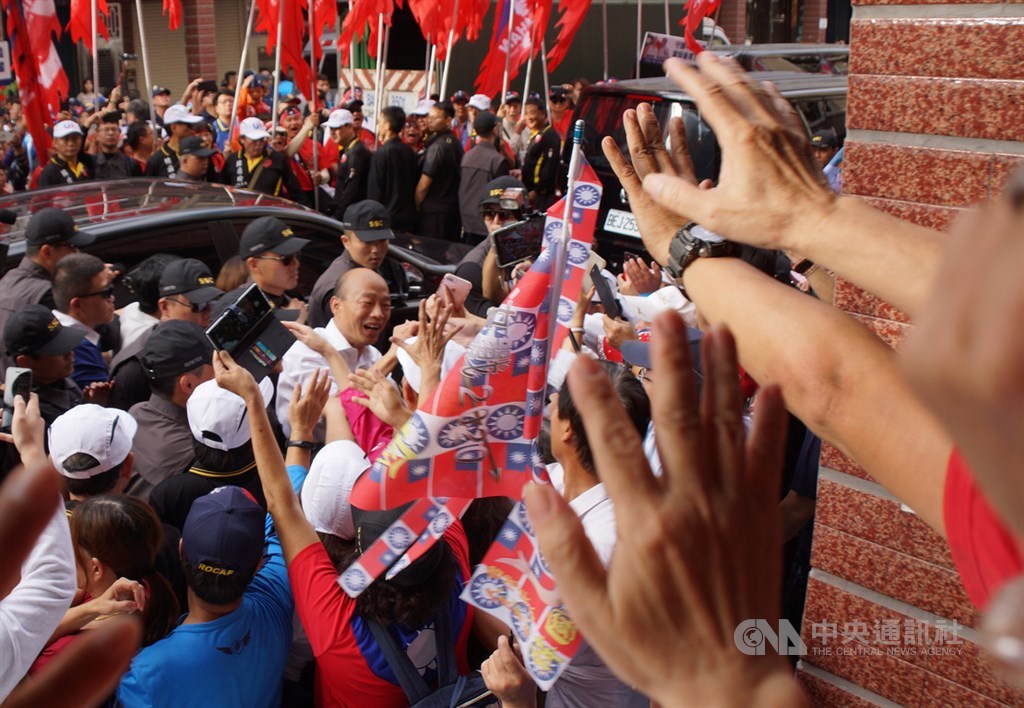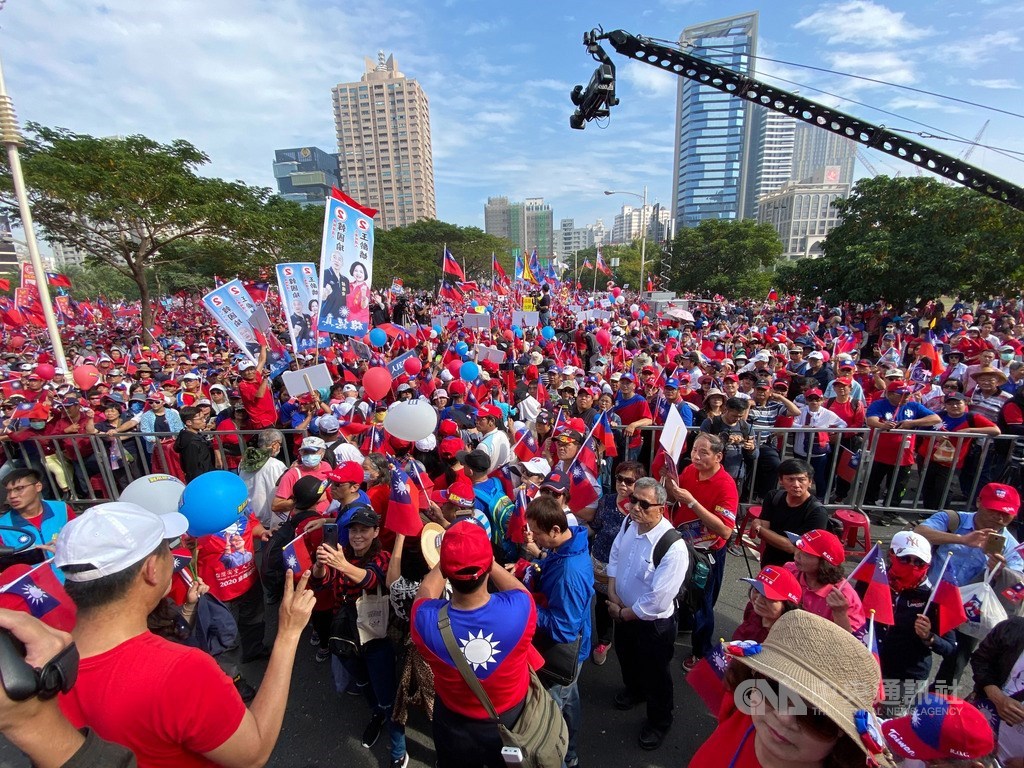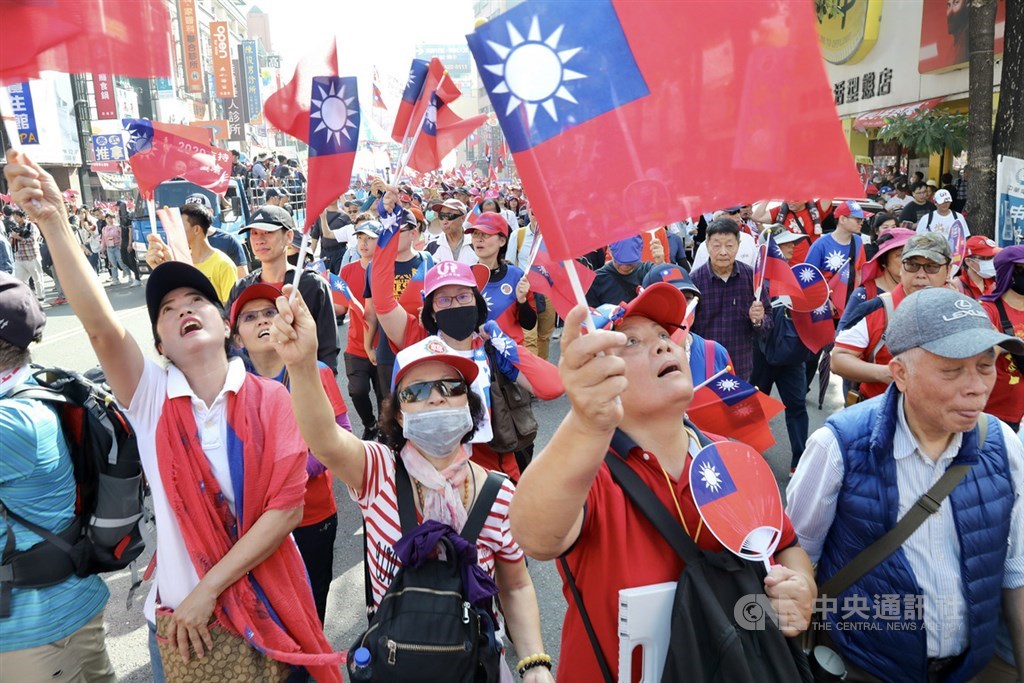 Han had previously planned to lead the march but changed his plan due to fears over possible clashes between the two camps. The rally was led instead by KMT vice presidential candidate Chang San-cheng (張善政) and Han's campaign manager Eric Chu (朱立倫).
When the rally reached the finishing point, Han addressed his supporters, saying that Taiwan needs a government free from corruption and one that will be able to help its people get rich.
He said the government should be well aware of what people are suffering, adding that an ideal government should make efforts to balance the development of northern and southern Taiwan, urging supporters to vote for him in the presidential election.
Han led his supporters in shouting "Long Live the Republic of China."
Meanwhile, the anti-Han rally organized by several civil groups, including Wecare Kaohsiung, which urged Han's recall, started their march from Wufu 1st Road at around 1:30 p.m. and walked about 4 km, arriving at Chihsien 1st Road at 4:40 p.m.
Holding a huge banner that read "Restore Kaohsiung, Safeguard Taiwan," about 500,000 people, according to the anti-Han camp, shouted "Han Kuo-yu, step down."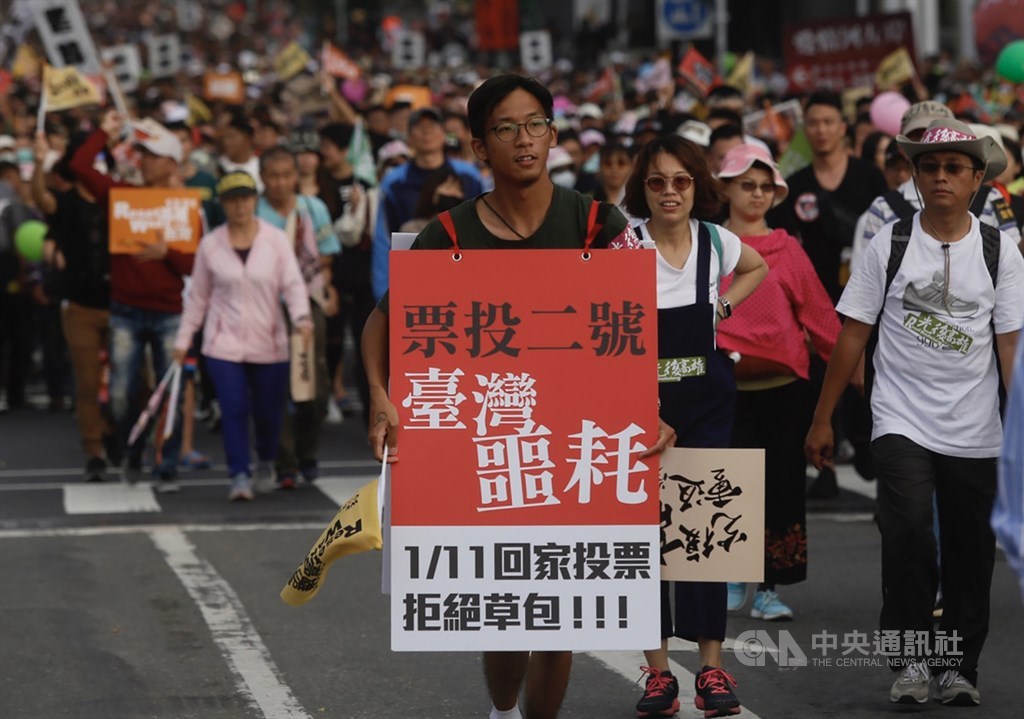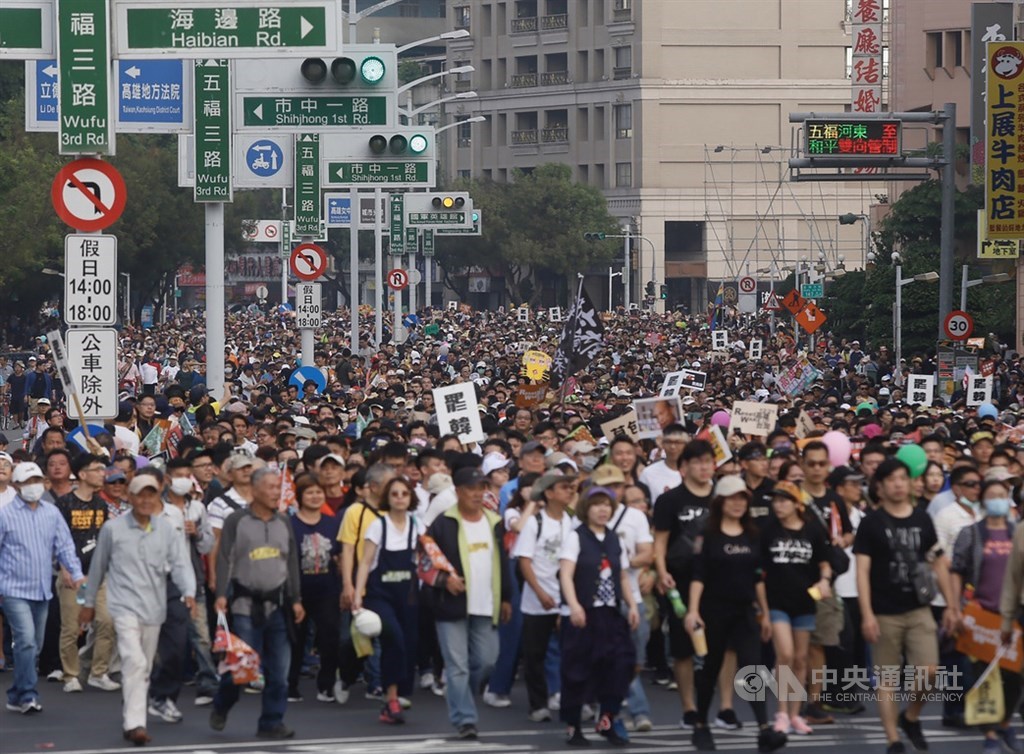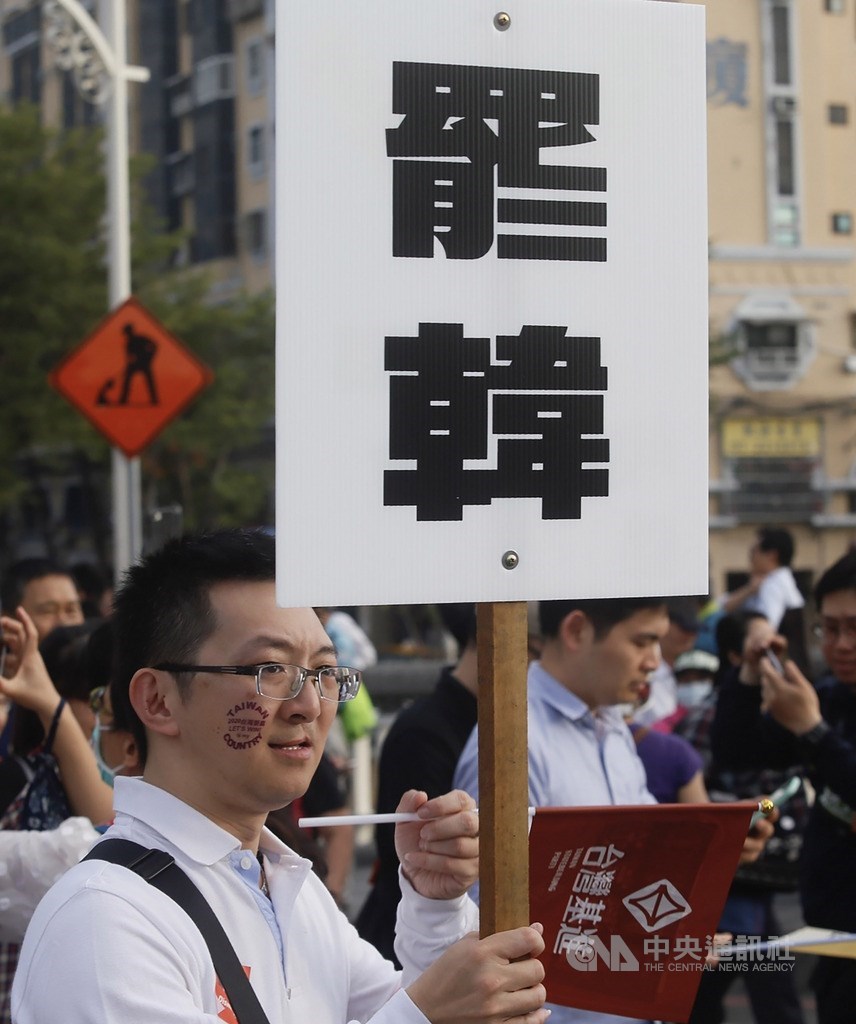 Wecare Kaohsiung founder Aaron Yin (尹立), one of four people who initiated a petition to recall Han, said they will send the initial 30,000 signatures to the Central Election Committee Dec. 26 to kick off an official procedure to recall Han. Yin's announcement triggered an ovation among the anti-Han marchers.
Wecare Kaohsiung and its partners, including Citizens Mowing Action and the Taiwan Statebuilding Party, launched the recall petition at the end of June.
In October, Yin said the petition to recall Han had reached 300,000 signatures, surpassing the estimated legal threshold.
Among the people marching against Han were ruling Democratic Progressive Party legislators Chou Chun-mi (周春米), Chiu Yi-ying (邱議瑩), Hsu Chih-chieh (許智傑), Liu Shyh-fang (劉世芳), Lai Jui-lung (賴瑞隆), Chao Tien-lin (趙天麟) as well as Minister of Labor Hsu Ming-chun (許銘春).
Some of the anti-Han marchers raised flags calling for Han's recall, while others held banners accusing Han of lying to Kaohsiung's citizens by failing to keep the promises he made during his campaign for the mayoral election, but instead threw his hat into the presidential election ring.