Japan prime minister thanks Taiwan for sympathy after deadly typhoon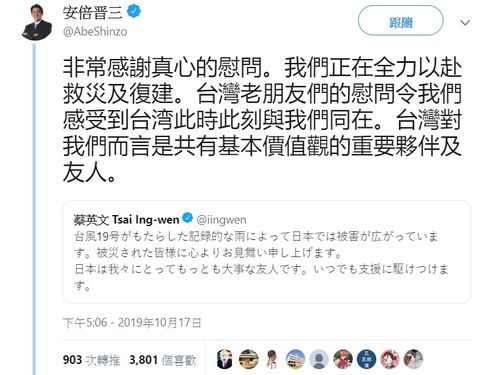 Tokyo, Oct. 18 (CNA) Japan Prime Minister Abe Shinzo on Friday tweeted his thanks to Taiwan for the sympathy expressed in the wake of a typhoon that killed about 80 people, injured hundreds and left thousands homeless last week.
Abe retweeted a message posted Oct. 13 by Taiwan's President Tsai Ing-wen (蔡英文), who expressed sympathy over the damage and loss of life caused by Typhoon Hagibis the previous day and said Taiwan stood ready to assist Japan.
In Abe's response, he tweeted in Chinese and Japanese that Taiwanese are old and valued friends.
"We are sparing no efforts on the rescue and restoration work," he said. "With the sympathy of our old Taiwanese friends, we feel that Taiwan is with us at the time. To us, Taiwan means important partners and friends sharing common basic values."
Typhoon Hagibis cut a path of death and destruction when it made landfall southwest of Tokyo on Saturday and churned up the east coast of Japan, carrying fierce winds and torrential rain that triggered flooding and landslides.
In its wake, the storm left at least 77 people dead, almost 400 injured and thousands of homes badly damaged or destroyed, according Japanese media.
Abe's tweet, which was reported in the Sankei Shimbun daily, drew many responses on Twitter by his followers, who lauded the friendship between Japan and Taiwan.
"Taiwan is not just an ordinary friend, but more like a brother," one follower tweeted.