Deputy foreign minister attends Czech conference on democracy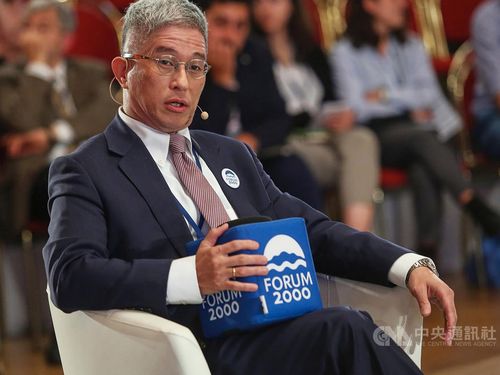 Taipei, Oct. 16 (CNA) Deputy Foreign Minister Hsu Szu-chien (徐斯儉) participated in this year's just-concluded Forum 2000 Conference in the Czech Republic.
At the forum, which was focused on strengthening democracy, Hsu said that Taiwan has had increasing space to participate in the event, as the country's existence in and of itself is a democracy success story.
Held in Prague Oct. 13-15, the Forum 2000 Conference was established in 1996 as a joint initiative of the late Czech President Václav Havel, Japanese philanthropist Yohei Sasakawa and Nobel Peace Prize Laureate Elie Wiesel, with the aim of mapping the progress of globalization and supporting democracy.
As the Taipei Economic and Cultural Office in Prague and the Taiwan Foundation for Democracy are both partners of the annual conference, Taiwan has designated envoys to the event for several years.
Hsu, who first served as a representative to the conference two years ago, told CNA that China's global impact was evident during the conference this year, as nearly every panel discussion mentioned China in some capacity.
Taiwan's existence as a democratic nation despite the threat from China, is a democracy success story that should be seen by the global community, he said.
According to Hsu, although Taiwan does not have formal diplomatic relations with the Czech Republic, it has maintained good relations with the Forum 2000 since Havel was in office.
Hsu was invited to speak at a talk titled "A collapsing global order?" Monday.
The theme of this year's conference, "Recovering the Promise of 1989," commemorates the 30th anniversary of the Velvet Revolution, which was Czechoslovakia's peaceful transition from communist rule to democracy.
The conference also featured discussions on censorship, human rights and communist rule in China, with many activists involved in the issue invited to attend.
They included China Digital Times founder Hsiao Chiang (蕭強), Tibetan government-in-exile President Lobsang Sangay, former Bishop Emeritus of Hong Kong Cardinal Joseph Zen (陳日君), Arnold Chung Chin Kiu (鍾展翹), founding member of the Hong Kong pro-democracy political party Demosisto, and World Uyghur Congress President Dolkun Isa.
Meanwhile, The Festival of Democracy, which is associated with the Forum 2000 Conference, will feature a talk titled "Taiwan Demystified," hosted by the Taiwan Foundation for Democracy in collaboration with the Czech think tank Sinopsis.
It was set to take place Wednesday at the Václav Havel Library with the aim of clarifying the current status of Taiwan in international relations, according to the organizers.