Petition calling for U.S. to recognize Taiwan passes threshold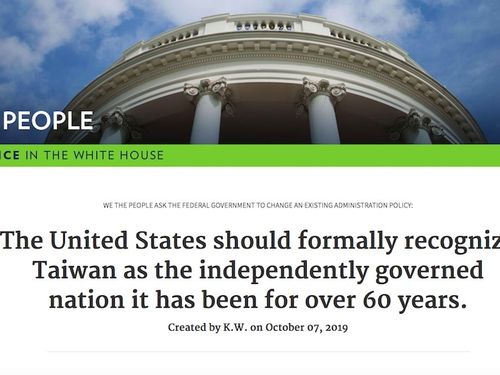 Washington, Oct. 13 (CNA) A petition submitted to a special American White House website, calling for the United States to recognize Taiwan as an independent country, passed the required threshold on Sunday, which means it now warrants an official response.
The petition, initiated on Oct. 7 by someone identified only as "K.W.," had collected more than 100,000 signatures as of 4:20 p.m. Sunday, Taiwan time.
According to the rules of the government's "We the People" website, a petition needs to gain at least 100,000 signatures within 30 days in order to obtain a White House review and response.
On the website, the White House says it usually gives a response within 60 days but it could take longer, depending on the issue and the volume of petitions submitted.
The person who initiated the petition on Taiwan-U.S. relations said the American government should formally recognize Taiwan as an independently governed nation, which it has been for more than 60 years.
"The 23 million Taiwanese who live in Taiwan, an island country independently self-governed for 60 years now, is a model for other Asian countries to follow, having transitioned from dictatorship into democracy in 1996 without bloodshed, when it voted for its first presidential election," K.W. says in the petition.
"It is a leader and partner to the United States, providing assistance to other countries with humanitarian aid and rescue teams during disasters," the petition states. "It is also a strategic partner in the Pacific, and an important ally in helping to contain China."
It also states that it is time for Taiwan's 23 million people to gain representation in the United Nations. That can only happen if the United States extends formal recognition to Taiwan, so other countries will follow suit, says the petition, which has a Nov. 6 deadline to collect signatures.
"We the People" is a platform that empowers the American public to petition the government to carry out reforms. It allows anyone, anywhere to speak directly to the government and become an agent for change, according to the White House.
The right to petition the government is guaranteed by the First Amendment of the U.S. Constitution, according to the White House.
The U.S. cut diplomatic relations with the Republic of China (Taiwan) in Jan. 1979 and switched recognition to the People's Republic of China in Beijing.
Since then, Washington has maintained unofficial ties with Taipei, based on the Taiwan Relations Act (TRA), which was signed into U.S. law on April 10, 1979.
The TRA provides the legal basis for unofficial ties between the U.S. and Taiwan and enshrines in law the U.S.'commitment to helping Taiwan maintain its self-defense capability.
Following the severing of official bilateral ties, the American Institute in Taiwan (AIT) was established to serve as the de facto U.S. embassy in Taiwan.