DPP passes resolution against 'one country, two systems'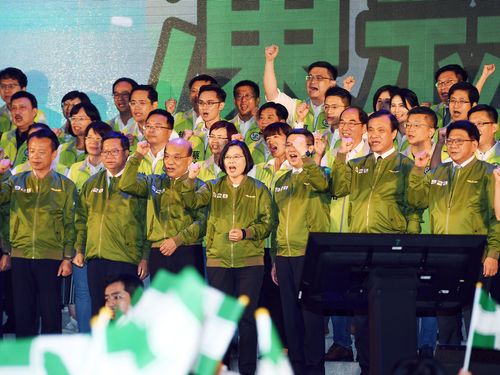 Taipei, Sept. 28 (CNA) The ruling Democratic Progressive Party (DPP) passed a resolution during its annual national congress Saturday, reaffirming its stance against China's "one country, two systems" formula.
The resolution is aimed at sending a message to the world that the party strongly opposes the "one country, two systems" principle formulated by former Chinese leader Deng Xiaoping (鄧小平) during the early 1980s, said DPP Chairman Cho Jung-tai (卓榮泰).
According to the principle, there is only one China, but distinct regions such as Hong Kong and Macau can provisionally retain their own economic and administrative systems.
The resolution will also be used as a guideline in the DPP's presidential and legislative election campaigns, the party said.
President Tsai Ing-wen (蔡英文), who will represent the party in her re-election bid, echoed the resolution and warned at the congress that there will be more political maneuvering as Beijing continues to try to manipulate the 2020 election.
"(Beijing) wants Taiwan to elect a president who will always bow to it, will dare not purchase fighter jets and will not support democracy in Hong Kong," Tsai said.
Tsai said Taiwan should escape from the current rhetoric of cross-Taiwan Strait affairs and position itself on the global stage.
The resolution also highlights the need for further cooperation between the public and private sectors, as well as social and economic transition in a fair and sustainable manner, as well as the values of democracy and human rights.
While former Premier Lai Ching-te (賴清德), who challenged Tsai in the DPP primary, did not attend the congress, the president said she believes Lai will join her in the election campaign.