CNA polls Solomon Islander opinion on Taiwan amid switch rumor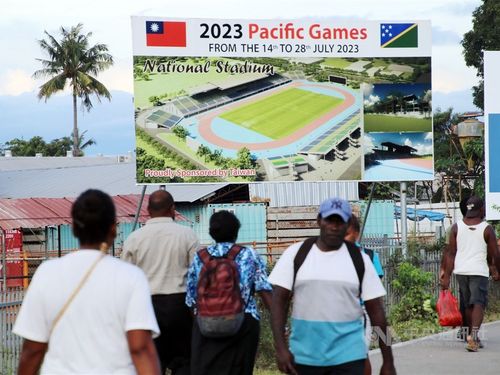 Honiara, Sept. 10 (CNA) Amid speculation of a possible diplomatic switch from Taiwan to China, CNA sent a correspondent to the Solomon Islands to see what people in the capital Honiara think about the prospect of ending diplomatic ties with Taipei, with many expressing concern at Beijing's growing influence over economic life in the Pacific island country.
Diplomatic relations between Taiwan and the Solomon Islands have been under the media spotlight since its new government took power after winning a general election in April, and formed a task force to evaluate the impact of China's assistance to other Pacific nations.
The task force has visited several Pacific island nations allied to Beijing in recent months and submitted a report to the executive department last week.
Meanwhile, a hearing at the Solomon Islands Parliament last week discussed the possible switch.
CNA has learned that some government officials expressed their support for recognizing Beijing, but almost all NGO representatives present supported Taipei.
In order to gauge public opinion in the Solomon Islands, CNA sent a correspondent to the Pacific ally earlier this week to talk with Taiwan's ambassador, local Taiwanese business representatives, scholars and the general public about the possible switch.
Mendara Ave at Honiara
Taiwan and the Solomon Islands established diplomatic relations in 1983, five years after the country gained independence from the U.K.
During an exclusive interview with CNA, Oliver Liao (廖文哲), R.O.C. (Taiwan) ambassador to the Solomon Islands, claimed that 80-90 percent of Solomons islanders support keeping diplomatic ties with Taipei.
Tsai Ming-hua (蔡明華), deputy head of the local Taiwanese business association, also said public opinion is on the side of Taiwan.
CNA talked with a number of Solomon Islanders on the streets of the capital Honiara. A majority of respondents supported Taipei and several expressed concern over Beijing's intentions.
Twenty-three-year-old taxi driver Ken Ilabae said Taiwan is a true friend to the Solomon Islands in times of crisis, which he said he had experienced personally.
He was referring to a long dispute between two ethnic groups from the main islands of Guadalcanal and Malaita from 1998-2003 that brought the country to the brink of collapse.
Ilabae said Taipei stuck with Honiara and helped the Solomon Islands rebuild.
"Taiwan is still there with us. It helped rebuild our country. Taiwan still sticks with us," he said.
The taxi driver said that like most Solomon Islanders he prefers to stay with Taiwan, but it is up to the politicians to make that decision.
Local fishmonger Eremina Damola told CNA that Taiwan has helped farms in the country improve their agricultural techniques.
"The relationships makes us good friends," she added.
Christopher Narasia, a 50-year-old fruit and vegetable vendor, also praised Taiwan for both its agricultural assistance and the scholarships it provides to local students.
According to Taiwan's embassy, the country offers scholarships to an average of 125 Solomon Islands students to study in Taiwan annually.
When asked about their impressions of China, many of those interviewed by CNA had a largely negative view of the second largest economy in the world.
pedestrians walk pass a billboard that reads 2023 Pacific Games
For instance, Sam Siru, a security guard at the country's central bank, told CNA that the Chinese employers in the country pay local employees only half the average salary which is not enough to pay the bills.
Narasia also said the Chinese are "literally everywhere here. They have been running shops, they have been running businesses."
The Chinese have "taken over the shopping industry and the locals are being pushed to the corners," he said, adding that it is a serious issue for the Solomon Islands right now.
Asked about the possible switch, Narasia said ordinary Solomons Islanders do not understand why the government is considering the move.
"They have to tell us, what is good about China because we still don't know. We know about Taiwan, we still don't know about China. We should know what is good about both sides before we can make a decision," he added.
However, it is debatable whether the government will take public opinion into account, said Robert Luke Iroga, a former advisor to former Solomon Islands prime minister, Gordon Darcy Lilo.
"If we go for a vote, I think public opinion would give almost seven or eight out of ten for Taiwan. China would be two or three percent," said Iroga, who now runs his own business magazine in the country.
mini van taxis at Honiara
Whether the politicians would listen to public opinion "is a big challenge," he added. Because the politicians "may have their own agenda" and they are the ones who have the final say in politics.
According to his understanding, China has been trying to solicit the support of more local politicians.
"In doing that, they have been encouraging politicians to visit China. They have sent people who have close relationships with the Chinese to talk to MPs," he added.
However, what concerns him most about China's promised investment is that it could cause the Pacific country to fall into a debt trap as has happened to other diplomatic allies of Beijing in the region, he said.
The fear is that future generation may not be able to repay those loans, he added.
"Things look good on the surface, benefits on one side, but there are problems," he said.