Delegation departs for U.S. to appeal for Taiwan's U.N. inclusion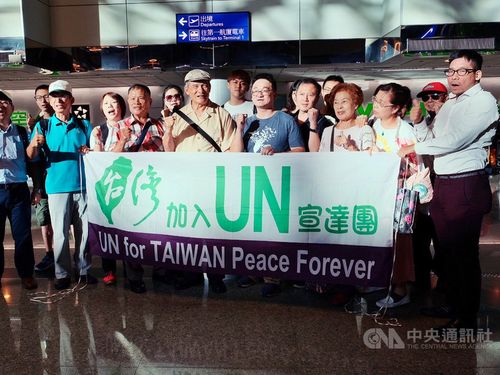 Taipei, Sept. 6 (CNA) A Taiwanese delegation comprised of civic group members departed Friday for the United States to express Taiwan's desire to join the United Nations, ahead of the latter's 74th session of the U.N. General Assembly from Sept. 17-30.
Michael Tsai (蔡明憲), president of the Taiwan United Nations Alliance (TAIUNA), said the 18-member group will hold a rally in New York together with local Taiwanese expatriates to highlight Taiwan's desire to join the international organization.
Among the participants, supporters from Hong Kong, Tibet and several Chinese human rights activists will also be joining the march, Tsai said.
After New York, the delegation will also tour Washington to meet with members of the United States Congress and White House officials to call on Taiwan's appeal, as well as to express Taiwan's support for Hong Kong's ongoing democracy movements.
TAIUNA spokesperson Tseng Tsung-kai (曾琮愷) said the 4.8-kilometer march in New York will start from Astor Place and end at the Chinese consulate general, which is located in the city's 12th Avenue.
Since TAIUNA was formed in 2003, the alliance's representatives have been heading to the U.N. headquarters in New York every year to call for Taiwan's inclusion in the U.N.
The delegation plans to mobilize up to 1,000 people in New York to make its wish heard.