President Tsai calls for talks with U.K. on free trade agreement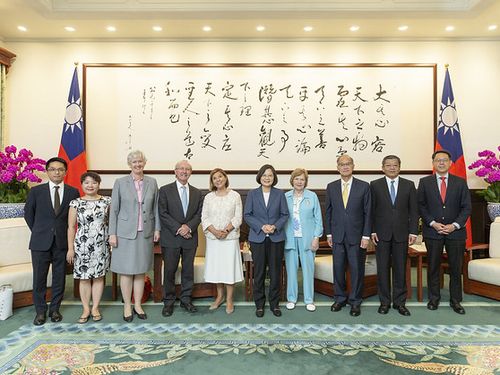 Taipei, July 30 (CNA) President Tsai Ing-wen (蔡英文) on Tuesday urged the United Kingdom to begin consultations with Taiwan on a free trade agreement (FTA) or a bilateral investment agreement (BIA).
Taiwan would like to build its bilateral partnership with the U.K. under its new leader, Prime Minister Boris Johnson, Tsai said at the Presidential Office while receiving three members of the British House of Lords.
Over the years, Taiwan and the U.K. have seen fruitful results of their bilateral exchanges in several areas such as technology, artificial intelligence and clean energy, Tsai told the British delegation, which comprised former Lord Speaker Baroness D'Souza, Deputy Lord Speaker Baroness Garden of Frognal, and Lord Best.
"We hope to build upon our existing foundation and further our partnership with the U.K. in various areas," Tsai said.
Some examples of the successful Taiwan-U.K. cooperation are Innovative Industries Researcher Placement Program, which was launched last year to provide subsidies to Taiwanese researchers to conduct short-term studies in British institutions, and a joint workshop held in Taiwan in March on the application of AI technologies in healthcare, she said.
Moreover, the U.K. is Taiwan's third largest trading partner in Europe, while Taiwan is the U.K.'s fastest growing export market, Tsai said, citing a 40 percent growth rate last year.
"To continue to facilitate bilateral trade, (we) hope Taiwan and the U.K. can enter into consultations on either an FTA or a BIA as soon as possible, so as to create a win-win situation," she said.
The president's call for talks on an FTA or a BIA come at a time when the U.K. is seeking to negotiate new trade agreements with its partners, in anticipation of its expected departure from the European Union, which Johnson has vowed to deliver before the Oct. 31 deadline.
During the six-day visit by the British delegation in Taiwan, they are scheduled to meet with the relevant government officials to discuss climate change, social housing, prison reforms and police affairs, according to the Ministry of Foreign Affairs (MOFA).
They will also be seeking to gain a better understanding of cross-strait issues, as well as Taiwan's foreign policy, national security situation and technological development, the ministry said.
Earlier Tuesday, Tsai also met at the Presidential Office with an American delegation led by California State Assembly Speaker Anthony Rendon, who arrived in Taiwan on Monday on a six-day visit.
Tsai's discussions with the delegation focused on ties between Taiwan and California in the areas of trade, education and culture.
Rendon and his delegation are scheduled to look at major aspects of Taiwan's infrastructure, including its high speed rail, as well as the country's economic development and industrial transformation, MOFA said.