Experts see debate, DPP primary format favoring Tsai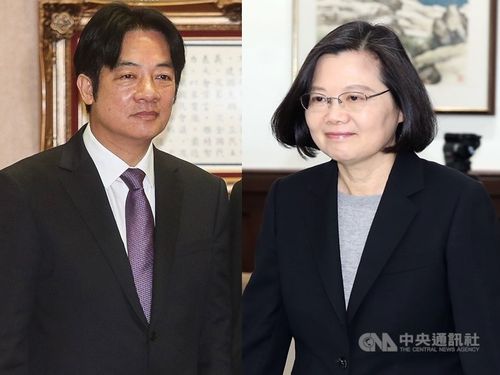 Taipei, June 7 (CNA) President Tsai Ing-wen (蔡英文) is a clear favorite to gain an edge on former Premier Lai Ching-te (賴清德) in their only public debate Saturday as the ruling Democratic Progressive Party's (DPP) presidential primary draws to a close, experts said.
The DPP will determine the winner of its primary based on public opinion polls conducted from June 10 to 14, and Saturday's debate will be one of the last opportunities the two candidates have to make an impression on potential poll respondents.
Lai could try to use the debate to show he has a better vision for the country while attacking Tsai's policies, but that may be a tough strategy to sell, said Fan Shih-ping (范世平), a professor of politics at National Taiwan Normal University.
Fan said that as Lai previously served as Tsai's premier -- the person responsible for putting the president's policies into action -- from September 2017 to January 2019, it may be awkward for him to come out and criticize Tsai's policy direction.
It is probably why Lai has stopped short of clearly articulating the changes he would like to make if elected president, Fan said.
"So far, he has talked about possibly making some adjustments to the nation's pension systems, but only in vague terms and without specifying how," Fan said.
Despite being designed to save cash-trapped pension systems from bankruptcy, Tsai's deep cuts in pensions for civil servants, public school teachers and military personnel in 2017 and 2018 drew much criticism from the affected groups and were considered a key factor in the DPP's major defeat in last November's local elections.
Lai may also be at a disadvantage Saturday because he seems to have relatively limited knowledge about foreign affairs and national defense, two areas for which a president is responsible and where Tsai is able to list many achievements, Fan said.
"As for cross-strait issues, Lai has mostly talked about safeguarding Taiwan's sovereignty and preventing the nation from becoming a second Hong Kong, which are things Tsai has also been doing," he said.
Fan said that since Lai announced his bid in the DPP primary in March, he has often cited his high approval rating to legitimize his decision to challenge a president from his own party seeking re-election.
"But that alone is not persuasive enough," especially considering that Tsai's support rate has rebounded recently, he said.
Saturday's debate will consist of opening and closing statements and both candidates responding to the same question from media veterans, which will give at last some opportunity for the candidates to spar verbally.
Liao Da-chi (廖達琪), a political science professor from National Sun Yat-sen University, said one area Lai may focus on Saturday is governing and leadership abilities, as Tsai has been criticized by some as a weak leader.
Instead of only stressing that he stands a better chance of defeating the opposition Kuomintang's (KMT) candidate, as he has done in the past few months, however, Lai should also tell the public what Tsai has done wrong and why he would make a better candidate, Liao said.
She also urged the former premier to elaborate on his recent proposal to change Taiwan's constitutional system into "one that is parliamentary but leans toward semi-presidential."
"He should explain how such a change could help the nation solve the problems it is facing," Liao said.
Although the upcoming debate has attracted intense media attention, Liao said she doubted it would have any noticeable impact on the outcome of the DPP primary polls.
She said the majority of swing voters will not be interested in a primary-level debate, while loyal DPP supporters have most likely already decided who they want to support.
At the moment, Liao believes Tsai stands a better chance of winning the primary due to the DPP's decision to incorporate cellphone interviews in its primary polls.
"Tsai knows the demographics of her supporters well," Liao said. "She understands it is difficult to reach young people via landlines and that most cellphone users are Internet users, the group of people she has invested a lot of energy and resources on over the years."
Following weeks of controversy, the DPP's Central Executive Committee reached an unprecedented decision in late May to use cellphone interviews for the first time in its presidential primary polls, with samples collected via cellphones and landlines carrying equal weight.
The poll will be conducted in a three-way manner and will compare the popularity of Lai and Tsai against the popularity of independent Taipei Mayor Ko Wen-je (柯文哲) and Kaohsiung Mayor Han Kuo-yu (韓國瑜) of the KMT, who are considered to be the two strongest potential presidential candidates if they enter the race.
The decision was believed to tilt the primary in Tsai's favor, as she enjoys a relatively high support rate among young voters.
Lai at the time criticized the move as being detrimental to democracy because it "forcibly overthrew" the primary rules the DPP had passed in March and set a bad precedent.
Eric Yu (俞振華), an associate research fellow at National Chengchi University's Election Study Center, said the use of cellphone interviews in opinion polls was inevitable because the number of Taiwanese people who only own cellphones has risen steadily.
About 15 percent of people relied only on cellphones in 2014, but the number climbed to approximately 20 percent in 2016 and is now close to 30 percent. By comparison, just 2 to 3 percent of people only use landlines.
He cautioned, however, that the DPP's new primary rule increases the chance of people who use both cellphones and landlines being randomly selected for a poll.
"This may raise the question of whether the results actually reflect the 'real public opinion' if the data is not processed properly," he said, urging political parties to pay more attention to the handling of polling results to ensure they uphold scientific principles.